← Back
Digging Up the Past on 125 MacDougal Street
Part of our work at GVSHP involves handling research requests from the public.  Recently, we received an inquiry all the way from Italy.  Not surprisingly, the building in question was in the South Village, known for its Italian-American heritage. Several years ago, GVSHP compiled historic research on every building in the area as part of our proposal for a South Village Historic District (one-third of the proposed area has been landmarked but we are still fighting hard to gain landmark protections for the remainder).
Together, Anna Maria from Italy and I uncovered a wealth of historic information about 125 MacDougal Street (aka 119 West 3rd Street), the address that her great grandfather listed on his World War II Draft Registration Card from 1942. Looking at building files and tax records I was able to offer Anna Maria the following chronology for the building:
1911 – Owner: Margaret E. Hughes; Use: Store and tenement – vacant for alterations
1926 – Owner: Charles Strauss; Lessee: Albert Strunksy; Use: stores & rooming house
1941 – Owner: Renee H. Canalizo; Use: Restaurant on 1st floor and apartments
1961 – Owner: Rosendo Laminer; Use: Granados Restaurant & apartments
And she was able to dig up some amazing historic photographs.
Unfortunately, sometimes no matter how hard we search, a building's exact construction date and architect cannot be  determined.  This can happen for a number of reasons – the New Building File may have been lost or the tax records may be illegible.
The physical structure of 125 MacDougal Street has been greatly altered, but, as you can see in the 1910 photograph, when built it resembled its neighbor at 127 MacDougal Street, a federal era rowhouse which GVSHP and the New York Landmarks Conservancy successfully proposed for landmark designation.  Further, various press sources have listed 125 MacDougal Street as belonging to the group of "four 1829 Federal style houses."  At this time developers typically constructed speculative developments, meaning they would have built on multiple consecutive lots at one time.  Putting together all of these facts, we can hypothesize that 125 was built in 1829 along with its neighbors.
Having an establishment name such as Granados is also helpful in uncovering historic information.  A blurb from a 1970 issue of New York Magazine describes the Spanish restaurant: "The walls are hung with original Goyas. The fluttering of the Flamenco guitarists fill the air while you have your fill of delicately-prepared Galician dishes."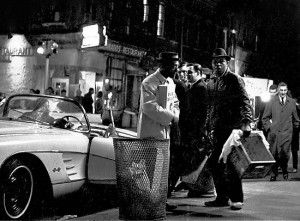 Anna Maria was also very interested in the history of her great grandfather, so I referred her to the the Municipal Archives where she can find death certificates and other information.  Using the information I gave her and everything she is finding herself, she is sure to piece together a very interesting history of her great grandfather's life in the South Village!
To find out more about how you can conduct your own research, visit our Guide to Researching the Village.  And don't hesitate to contact GVSHP with your research requests!