← Back
Katie Holmes Loves the Village!
In an article from the October issue of O Magazine actress Katie Holmes declares, "I love Greenwich Village."Back in 2009 it was widely speculated that Holmes and her husband Tom Cruise purchased a $15 million townhouse at 42 West 12th Street in the Greenwich Village Historic District.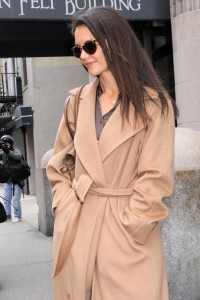 While that remains unconfirmed we do know that when in New York Holmes, Cruise and daughter Suri reside at the American Felt Building, an architectural gem in the East Village on East 13th Street between 4th and 3rd Avenues.  Built between 1909 and 1911with a distinctive pediment on the top floor, this building is one of many that GVSHP has researched in our survey of the East Village as part of our advocacy efforts.
In the article Holmes talks about her five favorite books, including Washington Square by Henry James and Lorna Graham's The Ghost of Greenwich Village.   Wow, two of Katie Holmes' most enjoyed reads are about the Village!
Washington Square, Henry James' 1880 novel about an ill-fated romance for a well-to-do young woman was set in the neighborhood surrounding the park in the mid-1800s.  James' book was turned into a movie in 1949 starring Olivia de Havilland and Montgomery Clift and the film's sets were based on the interiors of the Merchants House Museum.
Too bad Holmes missed our August book talk with The Ghost of Greenwich  Village author Lorna Graham. 
Who knew the Village had such a fan in Ms. Holmes?  If you love the Village as much as Katie Holmes you should attend GVSHP's November 7 Benefit, Much Ado About Noshing.  You never know who might be there to show their support for GVSHP and its efforts to preserve the Village.