← Back
Community Board Vote on Rudin/St. Vincent's Rezoning Tomorrow Night
AN IMPORTANT REMINDER: TOMORROW NIGHT COMMUNITY BOARD #2 WILL BE HOLDING A PUBLIC HEARING AND VOTING ON THE RUDIN REZONING APPLICATION FOR THE FORMER ST. VINCENT'S HOSPITAL SITE.  GVSHP STRONGLY URGES ANYONE INTERESTED IN THIS ISSUE TO ATTEND AND TESTIFY.
The meeting will be held at P.S. 130, 143 Baxter Street, starting at 6pm.  To speak, you must fill out a speaker's card between 6 and 6:30 pm.  Due to the expected volume of speakers, you may have to wait some time to speak.  Speakers are typically allowed 2-3 minutes, and longer written testimony can be submitted.
GVSHP does not believe that zoning considerations originally intended to benefit a hospital serving a public purpose should be given, in whole or in part, to a private, for-profit residential development, as is proposed in this case (read more HERE).  Sample testimony which can be used at Community Board #2 regarding the rezoning/residential development issues can be found HERE.  Click HERE to see more details about the proposed residential development, and HERE for more details on the rezoning application.
Community Board #2 will also be voting on recommendations for the proposed design of the open space which Rudin must provide at the triangle at 7th Avenue, Greenwich Avenue, and West 12thStreet. See the proposed Rudin design HERE.  Community Board #2 will also be considering an alternative proposal to include an AIDS memorial in the design given the critical role St. Vincent's played in the AIDS crisis (see the proposal HERE).  GVSHP has been advocating for a design for a green park similar in feel to other small traditional Village parks; that the park be green and secure; and that any park must remain open to the public in perpetuity, and cannot be built upon in the future.  We also feel that incorporating facets which memorialize or mark important elements of our history (as done in Village parks such as Washington Square or Abingdon Square), such as the impact of and response to the AIDS crisis, can be a welcome feature of the design.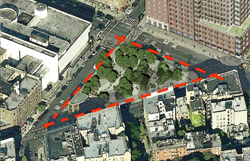 The Community Board's vote is advisory, and will be followed by an advisory vote by the Borough President.  Following this, the City Planning Commission and the City Council must each hold public hearings before voting on the proposed zoning changes.  The proposed zoning changes cannot be granted UNLESS they are approved by BOTH the City Planning Commission and the City Council.  GVSHP will let you know when future hearings have been scheduled.