← Back
Come 'Get Crazy' in the East Village!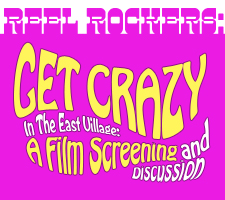 We hope that you can join us for our upcoming event Reel Rockers: Come 'Get Crazy' in the East Village — A Film Screening and Discussion! Presented by GVSHP's Brokers Partnership, this special event is taking place on Sunday, November 11th (rescheduled) Saturday, December 1st at Anthology Film Archives and you can click here to purchase tickets.
In 1982 director Allan Arkush (Rock 'n' Roll High School) collaborated with writer Danny Opatoshu to create a rock and roll fantasy set backstage at a legendary concert hall very much like the late lamented Fillmore East, where they had both worked. Earlier this year GVSHP posted about this history of this legendary rock venue and the building at 105 2nd Avenue (which now houses a bank) was included in the recently-landmarked East Village/Lower East Side Historic District.
The satirical musical film Arkush and Opatoshu created, Get Crazy, is a phantasmagorical pastiche of a very special time and place. The film stars Malcolm McDowell, Daniel Stern, Allen Garfield, Miles Chapin, Stacey Nelkin, and Ed Begley Jr. and includes some memorable cameos from musicians like Lou Reed and teen idols Fabian & Bobby Sherman.
The screening on November 11th (rescheduled) December 1st will be followed by an informal discussion about the film, the Fillmore East, and the East Village's music scene. The discussion will be moderated by Jesse Kornbluth (author and contributing editor to Vanity Fair), with Joshua White (Joshua Light Show), and more. The craziness will continue at Veselka Bowery, where 80s-era drinks and appetizers including famous Veselka pierogies (which sustained many a late-night reveler during Fillmore East Days) will be on tap.
Find out more information and get your tickets at gvshp.org/crazy.