← Back
Historic Storefronts of the Village and East Village
If you like wandering around the streets of Greenwich Village and admiring the architecture as much as I do, I think you will enjoy this blog post that was written by our colleague Chelsey Berryhill. Thanks, Chelsey – good eye!
GVSHP has been a tireless advocate for designation of historic districts. This blog post features some of the beautiful store fronts that are sometimes overlooked by the Landmarks Preservation Commission.
There are numerous cast iron and wooden store fronts attached to tenement buildings throughout the Village. Below are some examples of what can be found while traveling through the neighborhood.
Here in the Greenwich Village Historic District sits a six-story brick tenement built in the Romanesque Revival Style between 1898 and 1899. In the landmark designation report, written in 1969, the store is mentioned as having "cast iron columns occupying the corner" seen here. To read more about this beautiful street click here.
At 201 Bleecker Street, in the recently-designated South Village Historic District, stands one of the most well-known coffee, tea and spice stores of Greenwich Village. Porto Rico Importing Co. has been in the Village since 1907, and here at 201 Bleecker since 1965. In the late 1920s, the store front was remodeled from two stores to its current single store occupant. As I was walking through the South Village, I was not the only passer-by who found this store front interesting. As I admired Porto Rico, many people stopped to take pictures of this historic intact time capsule.
A short walk from Porto Rico is this beautiful store front on Carmine Street between 6th Avenue and Bleecker Street, located in a five-story brick tenement built in 1891. This South Village store front has cast iron pilasters framing the windows topped with operating transoms. NYPL had a great photo of the street from 1937 in their digital archives. Here you can see the former restaurant in action with an awning hanging over the side walk.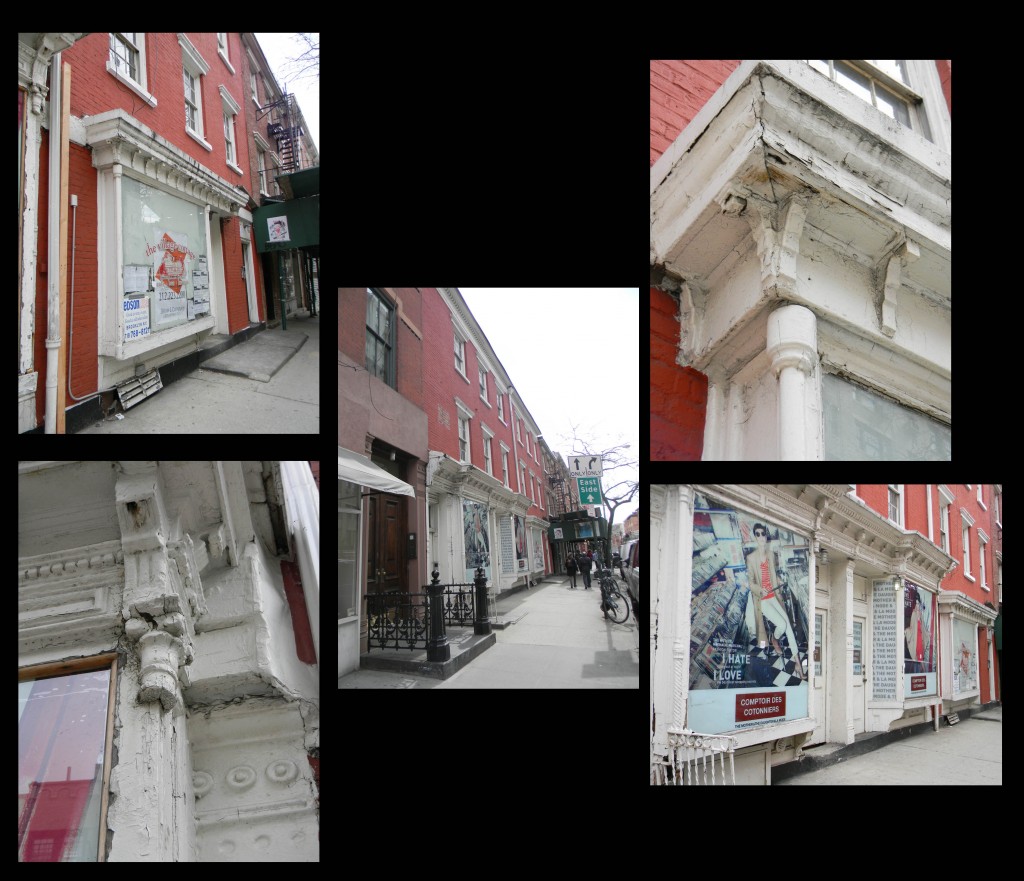 Also in the Greenwich Village Historic District are two unique store windows attached to very early Flemish bond brick buildings from 1830-19831. One of the very first owners at 343 Bleecker owned a shoe store here on the ground floor. What a great place to display merchandise! To read more about the vernacular buildings click here.
Stroll over to the East Side and there are even more unique and historic retail entrances.
In the East Village, some parts of which have been designated a historic district, one can also find intricate cast iron decorative elements on many streets. Located on the corner of East 7th Street and 2nd Avenue is a building dating from 1845 and remodeled as it is today between 1885-1886, with a restaurant including an elaborate store front.
These two store windows on East 5th are intriguing due to their commanding presence flanking the strong cast iron stoop. Through our research, we have found that the store fronts date from 1893 when they were altered from their original 1867 appearance.
The iron store front on East 13th Street is a prime example of just how valuable the East Village is – not only due to the number of historic buildings, but also the many unaltered, intact ground floor stores. The Neo-Classical style building dates from 1863 and originally served as the rear building to the corner lot on Third Avenue .
On the corner of St. Marks Place and 1st Avenue is an attractive brick Italianate tenement with a cast iron store front. The ornate cornice on the building leads one to believe the building was erected in 1871. The building went through quite a bit of alterations over the years, adding floors and altering the ground floor store. Dating back before all of the alterations, the original structure was first built in 1847. The last major alteration of the store was 1912 and it appears to have remained with these modifications today.
Do you have a favorite store front hiding in the East or West Village?