← Back
Summertime in Greenwich Village
Today, most New Yorkers are trudging through the snow and freezing rain, navigating those slushy street corners and not-yet-shoveled sidewalks. Yes, it's another beautiful day!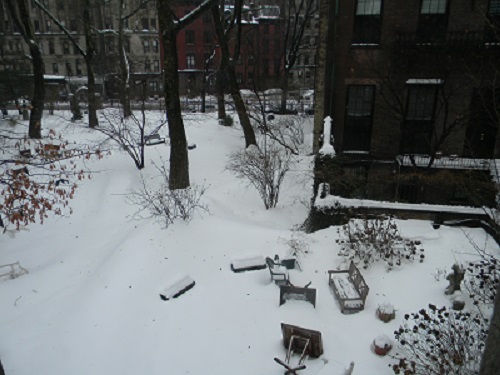 So as I look out the window at the snow-covered landscape, I think of how I spend summertime in Greenwich Village. One of my all-time favorite things to do, right around sunset, is to grab a slice of Joe's Pizza on Carmine Street. I either stand at one of their outdoor tables, or go across the street to sit on a bench in Father Demo Square, or in Sir Winston Churchill Square, and watch the world go by. (If you are NOT a people-watcher, you probably won't like this part, so just enjoy your slice.) But if you ARE a people-watcher, you couldn't be in better place than Greenwich Village. It's just a constant sideshow! Sometimes there is a guy playing piano (yes a real piano, not an electronic keyboard) in the square. Over the years I have seen acrobats, jugglers, and singers entertaining people here.
After your slice, treat yourself to a homemade lemon ice (or whatever other flavor you like) from Rocco's on Bleecker Street. You can stroll up and down Bleecker Street, or sit on the steps of Our Lady of Pompeii Church.
Hudson River Park is also a place you might want to spend some time on a nice summer day. It's great for running, bicycling, kayaking, sunbathing, and sports – there are tennis courts, basketball courts, skateboard courts, kids' playgrounds, and the Trapeze School New York at Pier 40. Public pools are available at the Carmine Street Recreation Center if you're in the West Village, or at the Dry Dock Pool if you're in the East Village. Another place to splash and see acrobats, jugglers, and musicians is Washington Square Park.
Last summer our friends at the Museum of Reclaimed Urban Space, located at 155 Avenue C in the East Village had an outdoor film festival in August. I had a great time seeing a film made by our friend Phil Hartman, owner of Two Boots Pizza. We all met at Orchard Alley, one of the East Village Community Gardens. Earlier in the summer, our friends at Green Guerillas took us on a tour of several of these greenspaces that flourish throughout the East Village. You really should visit them – or even get involved if you enjoy gardening, but don't have a back yard.
There is a lot more to do in summertime in Greenwich Village than I can mention in just one blog post. But  today, we all needed a break from winter.