← Back
Village Businesses of the 1930s
GVSHP has always been concerned about the status of small businesses, whether they be restaurants, theaters, or small shops. We also recognize outstanding local businesses as part of our Annnual Village Awards ceremony every June. Today we thought we'd take a look at some local businesses in our neighborhoods from almost eighty years ago.
The following photographs were taken by Berenice Abbott, who through the late 1930s photographed much of the architecture and daily life of New York as part of a New Deal Works Progress Administration program for artists. As we noted previously, Abbott in 1929
began to photograph streetscapes with a large format camera. When the Federal Arts Project began in 1935, she was hired to photograph the city's changing architecture. The project, which became known as Changing New York, contained over 1,000 images and was eventually deposited at the Museum of the City of New York. Abbott expressed that, through the project, she hoped to preserve the architectural and social history of New York, while at the same time interrogating the relationship between old and new buildings.
Let's take a look at some of the places she captured:
Zito's Bakery at 259 Bleecker Street in the Greenwich Village Historic District Extension II. You can read more about it here.
Mandaro Latticini Freschi at 276 Bleecker Street was one of many businesses catering to the large population of Italian-Americans in the South Village in the late nineteenth and early twentieth centuries.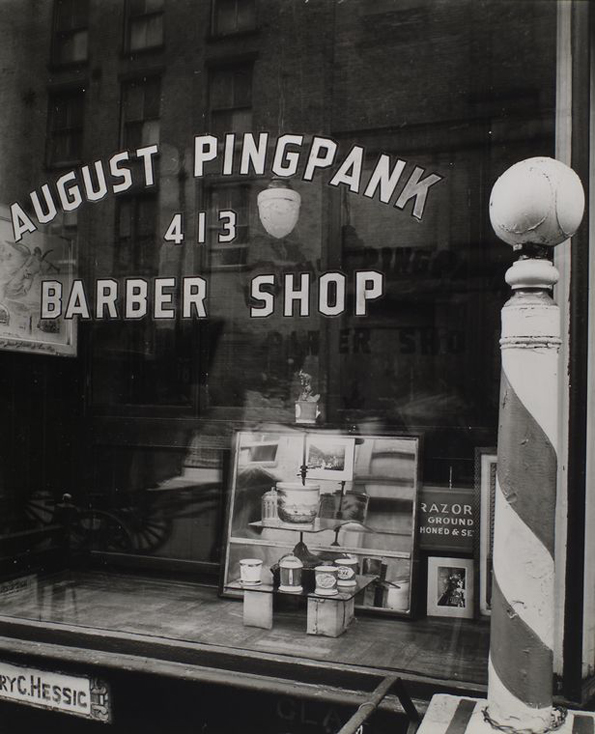 The Pingpank Barber Shop was located at 413 Bleecker Street in the West Village.
Also on Bleecker Street at number 144 was Mori's Restaurant. In 1883, the townhouse was converted to a restaurant named Mori's, after its owner Placido Mori. In 1920, Mori expanded to include both buildings, and a new façade, designed by architect Raymond Hood and featuring a Doric colonnade, was added. For a while Mori's was the home of the Friday "Four Hour Lunch Club" which included Hood, Joseph Urban, Ely Jacques Kahn and visitors such as Ralph Walker and Frank Lloyd Wright. Mori's restaurant closed in 1937.  You can read more here.
Moving East, we come to the three-story William Goldberg men's clothing store at 771 Broadway at East 9th Street.
The Stuyvesant Curiosity Shop at 48 Third Avenue had quite a diverse collection of merchandise. You can read more about the building's history here.