← Back
A Historic New Home for St. Mark's Bookshop
Now in its fourth home, the St. Mark's Bookshop has become a kind of movable landmark, so it's fitting that the two-month-old store on East Third Street is in a landmarked building: First Houses, the first federally-funded public housing complex in America.
Whether or not they were aware of this historic significance, the customers browsing and buying one sunny afternoon this week were going with the flow in the attractive new shop. One middle-aged man in a t-shirt and glasses asked a perfect East Village question: Do you have a Jarmusch section? (Yes, there's a small one in back.)
Like their customers, co-owners Bob Contant and Terry McCoy are getting used to the place. The design is fresh – with a flagstone floor left from a previous tenant – and there are some empty bookshelves yet to be stocked, but regulars will be happy that obscure magazines still fill a window display, behind the familiar store logo. Contant, who's been a bookseller practically all his life (except when he was a librarian), says of East Third and Avenue A, "This is more of a neighborhood." The former location on Cooper Square/Astor Place became more corporate and student-saturated over the shop's 21 years there, he said. (And college students don't have time for recreational reading.) But this location has a real diversity of customers – including more of a constituency for kids' books, what with plenty of young families in the area and P.S. 63 across the street.
"Everybody's welcomed us to the neighborhood. That's been very gratifying," Contant said.
First Houses is thrilled with the new tenant, said Resident Association President Brenda Santiago (not that they didn't like previous tenant Landmark Bicycles, which moved just across the street to the northwest corner of East Third and A). Santiago and her board would like to have an event to introduce the bookshop and the tenants in a celebratory way. A resident there since 2004, she has gotten to know the relatively small development very well. It has a lovely private back courtyard. The New York City Housing Authority (NYCHA) is in charge of leasing the complex's several retail spaces facing East Third as well as First Avenue, while Santiago stays more on top of the gardens' condition and which roof needs fixing. NYCHA has been much in the news lately for its financial and maintenance problems, and while First Houses has significant needs, Santiago does not seem overly distressed about them.
In a history of the East Village forthcoming from GVSHP, historian Rebecca Amato writes: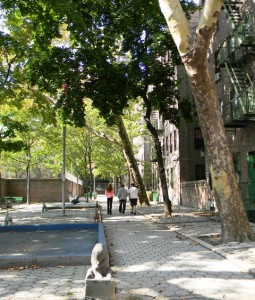 First Houses was completed in 1935 and its first tenants moved into their new homes that December. Constructed from twenty-four rehabilitated tenements, the project was designed by Frederick Ackerman, a leading housing reform advocate, with Howard McFadden and George Genug, all of whom would later help design additional public housing in the city. It comprised eight total buildings, boasting 122 apartments with central heating, fireproofing, and modern conveniences like electric refrigerators and state-of-the-art stoves. Each building had a laundry room. The grounds between buildings offered manicured lawns and playgrounds. Indoor recreation rooms and meeting halls in First Houses were intended to build a sense of community. So attractive was the prospect of living in the project that 3,100 families applied for the opportunity to live there. The New York City Housing Authority (NYCHA), which had been created the year before and was responsible for handling site selection, financing, design, tenancy, and upkeep for the city's public housing, sent investigators to the home of every applicant, finally settling on a mix of families that represented what the New York Times called "a cross section of the wage-earning lower East Side." These were bakers, garment workers, sales clerks, and painters, among others.

First Houses has been rightfully acknowledged by historians, government officials, and preservationists alike as a turning point in both city planning and government intervention in poverty alleviation. The success of First Houses paved the way for further experimentation in public housing, particularly through increased federal funding for such enterprises. …Honored for its pivotal role in this history, First Houses was designated a New York City Landmark by the Landmarks Preservation Commission on November 12, 1974. Today it houses 192 low-income tenants in its current 126 apartments.
You can read the LPC's designation report here and see all designation reports in our neighborhoods through our web portal here.
Contant and McCoy, who now live in the Gramercy and Union Square areas, respectively, founded St. Mark's Bookshop (along with three other partners) in 1977 at 13 St. Mark's Place, then moved across the street to No. 12 – which is also a New York City Landmark. That ornate building was built in 1888 as the German American Shooting Society, and still has "Deutsch-Amerikanische Schutzen Gesellschaft" emblazoned on the facade, as well as "Einigkeit Macht Stark," or "unity makes strength."
Speaking of unity, the entire bookshop staff made the move to the new location, Contant said. Money is tight and staffers' hours have been reduced, but the state's little-known Shared Work Program has been a boon, he said.  This enables "full-time" workers to work fewer than 40 hours per week, and have the state make up much (but not all) of the difference in pay, because it's cheaper than paying full unemployment.
Musing on the changes he's seen in New York since moving here in 1972 and renting an apartment for $63 per month, Contant said of the store's new home: "It's more like it used to be on St. Mark's Place 30 years ago."