← Back
The Small Business Spring of 2015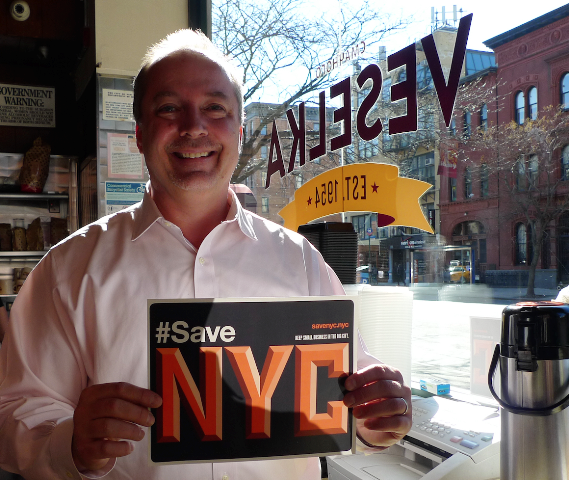 It was just shy of a month ago, on March 5, that a forum called "Solutions to Save Small Businesses, Art and Cultural Institutions" was held at Judson Memorial Church, sponsored by The Villager and Village Independent Democrats. It was attended by an audience fed up with seeing treasured independent businesses driven out by high rent, and the spaces often turning into either chain stores, or vacant storefronts.
The mood on that cold night was curious, passionate – and determined. Most of the panelists promoted a bill called the Small Business Jobs Survival Act (SBJSA) as the best available answer to the problem. The bill, which Village Preservation supports, would require landlords to negotiate with responsible businesses at lease-renewal time, rather than just refusing to renew, or else raising the rent well out of reach. It has not progressed since being introduced into City Council's Small Business Committee last June. But audience members declared that "a movement" was beginning that night.
And maybe it did – a lot has happened between then and now. For those trying to keep track, here's a roundup of recent developments:
#SaveNYC – Jeremiah Moss, author of Jeremiah's Vanishing New York, set up a separate #SaveNYC website as a hub of activism. #SaveNYC is tweeting up a storm to try to get more City Councilmembers to back the SBJSA. The Brian Lehrer Show had Moss as a guest on March 26. SaveNYC'ers also rallied to prevent the eviction of Adele Sarno by the Italian American Museum, and more.
Manhattan Borough President's initiative – On March 23, Gale Brewer announced her own plan to aid NYC "storefronters," as she calls them, by "taking the pressure off lease renewals, modernizing policies governing street vending, helping established small businesses threatened by rent increases by encouraging 'condo-ization' of storefront space, and creating 'low-intensity' commercial districts." The Brian Lehrer Show had Brewer as a guest on March 30.
Naming a "small business advocate" – City Councilwoman Margaret Chin, who is signed on as a sponsor of the SBJSA (along with local Councilmembers Corey Johnson and Rosie Mendez) yesterday introduced a bill into Council to create a small business advocate within the city's Small Business Services (SBS) department.
SBS, by the way, is a key part of Mayor de Blasio's Small Business First interagency initiative announced Feb. 17. These kinds of moves are considered superficial by the Small Business Congress of NYC – the chief promoter of SBJSA – because while "simplifying the regulatory landscape" is welcome to small business owners, a more reasonable rent landscape would be even more welcome.
Zoning out chain stores – From the city of San Francisco to small towns in New York state, municipalities have written local zoning rules to regulate how and if chain stores may locate there. The East Village Community Coalition has been studying the possibility and plans to release a report soon. In parallel, the Economic Development Committee of Community Board 3 is examining the possibility of creating a Special District in some parts of the East Village/Lower East Side to limit the number of chain stores and/or bars.
Honoring the good guys and gals  – Here at Village Preservation, we continue to recognize outstanding small businesses through our Business of the Month program and the annual Village Awards – both selected by you! Nominate a favorite business here or potential Village Awardee here.