← Back
Business of the Month: Tea & Sympathy, 108 Greenwich Avenue
Your input is needed! Today we feature our latest Business of the Month — and we need your help selecting the next. Tell us which independent store you love in Greenwich Village, the East Village or NoHo: just click here to vote for your favorite. Want to help support small businesses? Share this post with friends.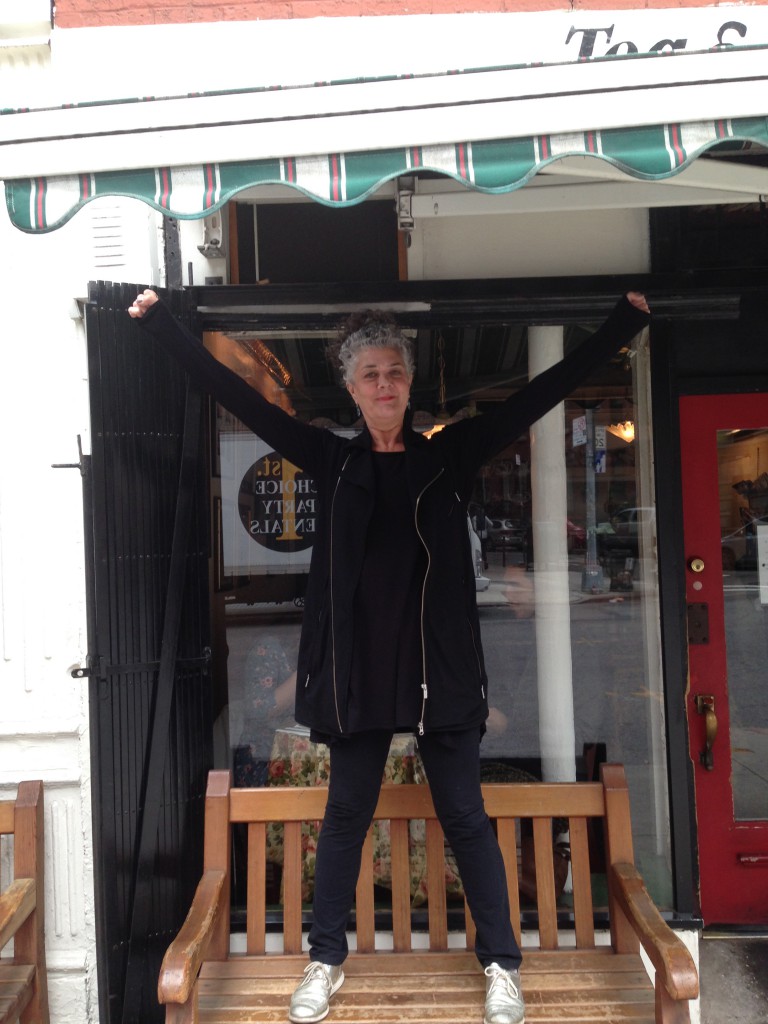 On Greenwich Avenue near 13th Street, Tea & Sympathy has been a West Village staple for 25 years. Described as "a quintessential corner of England in the heart of Greenwich Village," T&S offers a taste of Britain through both their selection of teas and traditional meal offerings, as well as through the import goods that can be purchased in the adjoining store. According to their website, "Our menu includes such favourites as bangers 'n mash, shepherd's pie, welsh rarebit, roast beef with Yorkshire pudding. Finish off with a treacle pudding or rhubarb and custard." Recently, we sat down with owner and operator Nicky Perry to learn more about what brought her to the village, why she decided to open a tea shop, and what makes it such a special place for so many people.
Nicky Perry came to New York City from London in 1981. She came to the city with $200 in her pocket and an unwavering feeling that New York City was always where she needed to be. She decided to open up a shop in 1982 but had to wait until the end of the 80's before she could formally begin the process, as her immigration status was sorted out. The shop opened December 23, 1990. She chose the present location for her shop in the West Village because she worked in the area and always had her sights set on the space.
"I used to work down on Jane Street in a kitchen; I was running a catering company. I lived on 13th Street, and when I walked home at night I used to see this all shut and I used to look in the window all the time and think 'oh that would make a really sweet tea shop.'"
Nicky has always had a fondness for the West Village. Originally from London, Nicky jokes that she has gone from "Greenwich to Greenwich."
"It's very liberal here and I find that this part of town is the only part of town I ever lived in where it's quite neighborly. You talk to your neighbors and you knock on their door and ask for a cup of sugar. Much more friendly around here, much more like London, much more neighborly, and beautiful."
Yet despite being such a well-known institution of the Village and New York City, T&S has felt the effects of the out-of-scale development that currently continues to threaten the neighborhood. For her, the loss of St. Vincent's hospital was the first domino to fall and take many small businesses and Village institutions with it.
"That hospital has destroyed the whole neighborhood," Nicky quickly pointed out. "We've had all these people go out of business, lucky for us we have people come from all over the world, otherwise I would have been gone five years ago. 4,000 employees every day, all spending their money in the neighborhood: lunch, or dinner, or coffee, or magazines, or cigarettes. Plus all the visitors, about 1,000 visitors every day, and all the babies that were being born over there, every day we would have people over here buying gifts for babies. Then all the gift shops went out of business, BOOM immediately, because that was the commerce of the neighborhood."
However, in spite of the troubles that have affected the neighborhood, T&S still continues to remain a special place, especially for lovebirds.
"Twenty-two of us have found our spouses here, including me," Nicky tells me. "We just had one recently, they got married five months ago and they met here. He went next door to the fish and chips shop, got a bag of chips, put the ring in the chips and then came in here and got down on one knee with the chips. We've had a few weddings here actually; I think that's one of the most amazing things."
The shop is also a go-to destination for well-known public figures and celebrities, and the intimate atmosphere helps ensure they will not be overcrowded and disturbed by fans and paparazzi.
"The Dalai Lama's been here. We have lots of celebrities that have come in here, and the good thing about how small it is, is nobody talks to them. If they get up and go over and talk to them, everyone can see them doing it, so it's really good because people leave them alone."
Whether it's beverages, British fare, or to take in the charming atmosphere of this wonderful space, T&S proves that small businesses still play an important role in making Greenwich Village such a unique and special part of New York City. Next month marks their 25th Anniversary, and with continued support from neighborhood residents, they hope to see it celebrate 25 more years and still go strong.
What special small business would you like to see featured next? Just click here to fill out a brief form. Thank you!