← Back
Merchant's House Round-Up!
This year marks the 80th anniversary of the founding of the Merchant's House Museum. The museum is the only historic house museum in the Greenwich Village/Soho/NoHo neighborhoods, and is considered one of the finest surviving examples of domestic architecture from the period, the late-Federal and Greek Revival styles (the house dates to 1832). On Wednesday, September 21st, the museum will be celebrating their 80th anniversary at their "Party in the Garden" celebration from 6:30-9:30pm. Over the years, we here at GVSHP have written much about the Merchant's House on our blog, Off the Grid. In honor of their historic milestone, we have rounded up all our posts on the museum, it's history, and other interesting tidbits that help show why the museum is such a unique, fascinating, and engaging part of the Village.
Happy 80th Birthday, Merchant's House Museum!
While this is the museum's 80th year, their exact birthdate was May 11. This post from this past May gives more information on the history of the house and how it came to be a museum.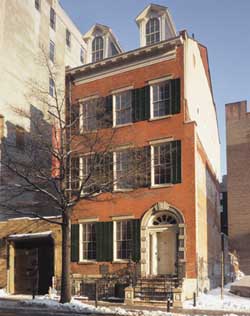 Photos of the Merchant's House as a Young Museum
Check out some historic photos of the museum!
If These Walls Could Talk: Merchant's House Museum Edition
GVSHP love a good renovation story! Learn more about and see some photos of the Merchant's House Museum's $598,000 structural restoration project from back in 2011.
Did you know the Merchant's House Museum is considered one of the most haunted places in New York City? Stop by for a visit and maybe you will be greeted by the ghost of Gertrude Tredwell!
You guessed it! Back in 2011, the Merchant's House Museum was one of the facades in our "Spot the Shot" series.
Celebrating the 50th Anniversary of the Landmarks Law
The Merchant's House Museum was the first building landmarked in the borough of Manhattan following the passage of the Landmarks Preservation law in April 1965. It is one of only 117 interior and exterior landmarks in the City. In 1966, the Merchant's House was recognized as a National Historic Landmark (one of only 2,400) and listed on the National Register of Historic Places.