← Back
Announcing the 2017 Village Awardees!
Join us on Tuesday, June 6th at 6:30 pm for the 37th GVSHP Annual Meeting and 27th Village Awards — RSVP required; click here.
Co-hosted by The New School
The Village Awards recognize the people, places, and organizations which make a significant contribution to the quality of life in Greenwich Village, the East Village, and NoHo. The Awards and Annual Meeting will be held at The New School Auditorium at 66 West 12th Street. The striking 500-seat art deco auditorium, designed in 1931, was designated an interior New York City landmark in 1997 — one of the very few in New York City, and one of the only ones in Greenwich Village. Read its designation report and see pictures here and read additional history and see more picture of the space here.
Congratulations to the 2017 Village Award Recipients: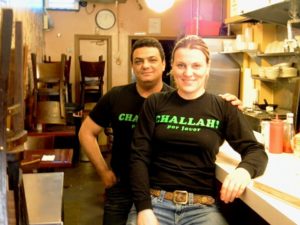 B & H Dairy– B & H has been a mainstay in the East Village since 1938, located at 127 2nd Avenue. In 2015, B & H narrowly escaped serious damage due to the tragic and deadly 2nd Avenue gas explosion just a few doors down. The restaurant was forced to close for about five months and nearly didn't reopen, but thanks to support from countless regulars, they made a triumphant return in August 2015. Owner's Fawzy and Ola have continued the tradition of maintaining the neighborhood feel of B & H. Challah por favor!
Good Old Lower East Side (GOLES)– "Good Old Lower East Side" is an apt name for this group, which works hard to preserve the spirit and character of the Lower East Side. Celebrating is 40th anniversary this year, GOLES directly serves over 2,000 families each year, and thousands more through their advocacy, training, and education work. GOLES advocates quality, affordable housing for the people of the East Village and Lower East Side, and for services which add to that quality of life. GOLES takes a very holistic view, combining affordable housing advocacy with maintaining the scale and character of the neighborhood, and fighting for cultural resources and green space which help make communities thrive.
Public Theater- The Public Theater was founded by Joseph Papp and opened in 1967 with the world premiere of the musical Hair. Now one of our city's preeminent cultural institutions, The Public is a national treasure in which varied voices, rhythms, and cultures converge. Each year, more than 350,000 people attend Public Theater productions and events at six downtown stages, including Joe's Pub and Shakespeare in the Park. The Public is dedicated to embracing the complexities of contemporary society and nurturing both artists and audiences, as it continues Joseph Papp's legacy of creating a place of inclusion and a forum for ideas. The Public's trailblazing adaptive reuse of an abandoned library was one of the first and most successful efforts to breathe new life into old buildings.
Dinosaur Hill– Since 1983, Pam Pier, owner of children's toy store Dinosaur Hill located at 306 East 9th Street, has striven to offer goods that actively engage children, encouraging them to move, make, color, build, connect and puzzle things out. "One of my major objectives nowadays is to try to interest kids enough that they stay out of cyberspace. We want them to learn by doing, and to develop hand-eye skills, and to become makers and builders." From the beginning, Dinosaur Hill has encouraged neighborhood artists and craftspeople to get involved. Pam has been very active in the community, volunteering at the Green Oasis community garden, participating in reading encouragement programs at local schools, and providing gifts to children who complete a reading challenge.
Patisserie Claude- Patisserie Claude at 187 West 4th Street is a Village treasure. The patisserie was founded by Claude, a French-born baker of impeccable pastries and viennoiserie, whose standards have been carried on by his equally talented former assistant of twenty-two years, Pablo, now the current owner for the past seven years. The croissants are buttery; the quiches are filled most delicately with ham or mushrooms or spinach or endive; the tarts brim with fresh plum or apricot, and don't miss the eclairs, mille feuilles, or pain au chocolat. The welcome is warm, the coffee is strong, and the small shop a slice of Paris in Greenwich Village.
Frank Collerius- Branch manager of the Jefferson Market Library since 1999, Frank's motto is "just say yes!" and says "there's always something new to find and offer." Frank has truly succeeded in making this beloved landmark very much a living breathing component of the neighborhood, teeming with activity that resonates throughout the Greenwich Village. He has instituted successful educational programs including "Jefferson Market University", GED and ESL classes, The Jefferson Market Players Theater, The Little Underground Gallery, Your Village, Your Story: Greenwich Village Oral History Project, The Greenwich Village Ephemera Project, and The Urban Explorers Group.
Regina Kellerman Award Winner: Restoration of 30 7th Avenue – Lenox Health Greenwich Village/AIDS Memorial/St. Vincents Triangle Park- The restoration of the O'Toole Building, the new AIDS Memorial and St. Vincent's Triangle Park have transformed this important Village intersection. A thoughtful restoration, during which the original architect of the building Albert Ledner was consulted, restored the Theresa O'Toole Medical Services Building (now Lenox Hill Greenwich Village) into a beautiful landmark, while also providing a much-needed state of the art stand-alone emergency room, ambulatory surgery center, and imaging area. Studio ai won the competition to design the AIDS memorial. Their design features an 18-foot steel canopy as the dramatic gateway to the new St. Vincent's Triangle Park. The architects created an opportunity for engraving in the paving stones of the memorial, the text for which was selected and designed by world-renowned visual artist Jenny Holzer, and features selections from Walt Whitman's "Song of Myself". The hope for the text of the memorial is that it will have "emotional permanence" and the poem will still move people hundreds of years from now. The St. Vincent's Triangle Park is a cozy, verdant haven in the middle of a crowded intersection, serving as a lovely neighborhood respite. The park created a place of rest and remembrance for those visiting the AIDS Memorial and for neighborhood residents lacking in usable green space. While none of these can bring back St. Vincent's Hospital, the medical center, park, and AIDS memorial provide much needed reflection, peace, and services to this corner of the neighborhood.