← Back
Congratulations to 2017 Village Awardee: B & H Dairy
Off the Grid is highlighting the 2017 Village Awards winners in the lead up to the June 6th Annual Meeting & Award Ceremony. Click here for more information about the event and to RSVP. Read about other awardees here.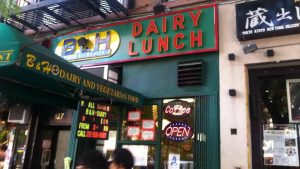 B & H Dairy has been a mainstay in the East Village since 1938, located at 127 2nd Avenue. In 2015, B & H narrowly escaped serious damage from the tragic and deadly 2nd Avenue gas explosion just a few doors down. The restaurant was forced to close for about five months and nearly didn't reopen, but thanks to support from countless regulars, they made a triumphant return in August 2015. Owner's Fawzy and Ola have continued the tradition of maintaining the neighborhood feel of B & H. Challah por favor!
As stated by one ardent B & H fan, "I grew up in a household that believed 'food is love.' And I feel this is evident in B & H. The restaurant is a special place and is very much a part of the fabric of the East Village neighborhood. And fabric is what holds neighborhoods together!"
The following is a re-post on B & H by Karen Loew when it was also honored as Business of the Month:
Call it a Second Avenue love story.
A decade ago, when Fawzy Abdelwahed, the owner of B & H Dairy, wanted a break from work at his crowded lunch counter, he would cross the avenue for a breather at the Stage Restaurant, an establishment with a similar cozy vintage atmosphere. A new waitress – and new immigrant from Poland – named Aleksandra "Ola" Smigielska not only took his order, but wiped his smudged eyeglasses clean.
That was it: Fawzy pursued Ola, a friendship was born, and the couple was married at Brooklyn Borough Hall in 2007. Ola became co-owner of B & H, and thus a Catholic from Poland and a Muslim from Egypt became the proud standard-bearers of a kosher restaurant founded by Jews in the late 1930s. (Inspired by her husband's positive approach to life, Ola has since converted to Islam.) Indeed, B & H's hechsher, or kosher certification, is up to date and posted prominently; Ola says the rabbi who administers it often enjoys a meal at B & H as well.
Whether or not they come for the kashrut, customers are mad for B & H. The vegetarian menu includes Jewish-Polish-Ukrainian soul food like pierogis, knishes, blintzes, borscht and lox, as well as diner essentials like omelets, pancakes, grilled cheese and tuna salad. It's the ambience as much as the food that keeps people coming back, though.
"Everybody owns this place," said Fawzy, who has a knack for remembering customers' names. "Sometimes you can't work, you're laughing so hard," said Ola. Diners get into big conversations, she said, and "they're going to come back the next day to finish what they were talking about."
The couple lives in Queens with Fawzy's son Shreef, 12. The family is content making home in Ridgewood, but considers B & H's neighborhood uniquely special. "You know the old movies? It's exactly like this," says Ola, who likes the block's "old-fashioned" feeling. Fawzy likes that all kinds of people – poor, rich, middle-class – live and eat together. "Everybody's friendly. Everybody knows us. It makes us happy," he says.
B & H Dairy closed on Thursday, March 26, when an explosion and fire destroyed the three buildings on the southern end of its block, Nos. 119, 121 and 123. Ola was at work in the basement that afternoon when she heard the boom. Her right ear still hurts, her hearing is impaired, and she has trouble sleeping. Fawzy was driving into Manhattan at the time, and saw the plume of smoke from the Williamsburg Bridge.
Their business was lucky: It suffered little physical damage, and the landlord is benign, feeling a personal fondness for B & H. The Abdelwaheds envision re-opening for business before the weekend. The couple is grateful for the outpouring of support from the community since the fire, especially the over $20,000 raised via crowdfunding. Ola says the money will be used to re-stock the kitchen, and give back pay to the team of five.
"They preserve a slice of New York that has vanished for the most part," wrote a fan who nominated the restaurant for GVSHP's Business of the Month.
Fun Facts About B&H:
Fawzy Abdelwahed bought B & H from a Polish man named Ziggy in May 2003.
B & H originally stood for Bergson and Heller, the founders' last names. The sign outside also says "better health."
The mural painted on the wall across from the lunch counter portrays the local area 200 years ago, when it was lightly-populated farmland.
B & H is called "Dairy Lunch" because a kosher restaurant sells either milk or meat, not both.
(Eggs and fish are considered pareve, neither milk nor meat, so they are sold at B & H.)
The shop's tee shirts read "Challah! Por favor" in a nod to the place's diversity, with Jewish (and other) food served by Latinos, Arabs and Poles.