← Back
New York City's 1940 Tax Photos — Now Online!
New York history buffs have been waiting a long time for this — the New York City Municipal Archives has digitized all 720,000 of its tax photos of every building in New York City, taken 1939-1941, and placed them all on their website. The city agency had already posted digitized versions of its ca. 1980 tax photos, but until now, ca. 1940 photos remained tantalizingly out of reach, at least via the internet. This collection is a dream come true for researchers, historians, and all New York lovers, as it provides a thorough visual documentation of the city at a critical moment in time, allowing us to see what has changed, and what has stayed the same.
Between 1939 and 1941, the New York City Department of Taxation and the federal Works Progress Administration collaborated to put teams of photographers to work taking pictures of each and every structure in the five boroughs. The original purpose was to aid the Department of Taxation in determining property value assessments (hence they are referred to as "tax photos"). But for historians and researchers, this collection has provided invaluable visual information about building histories ever since.
Until now, the only way for the public to access these photos was through microfilm at the Municipal Archives. Anyone who has used microfilm knows what a time consuming and a tedious chore doing so can be. However, now a simple search using a property's block and lot number on the Municipal Archives website yields instant gratification and a glimpse into the pre-World War II appearance of the property (click HERE for the NYC map to determine a property's block and lot numbers).
Here are just some interesting images from our area: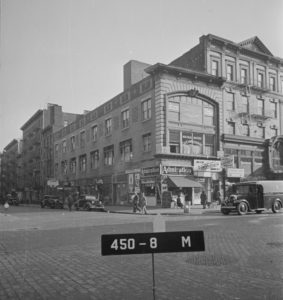 Prints of the photos are also available for purchase through the Municipal Archives HERE. A word of warning: browsing through these photos can be quite addictive. In writing this post I found myself at times wandering aimlessly through this sea of images of yesteryear. Enjoy!