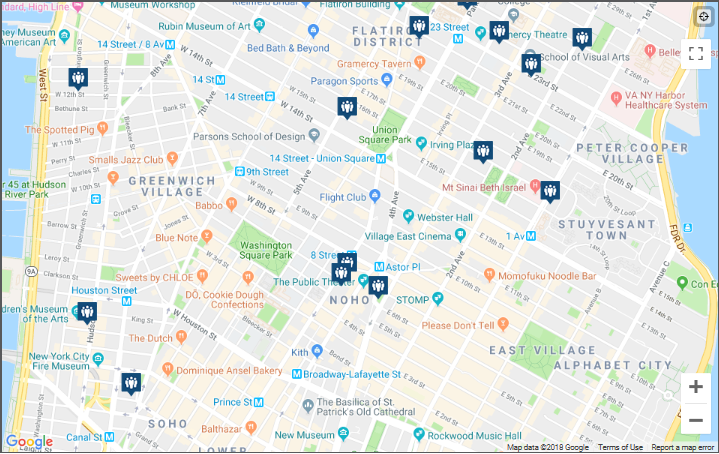 Privately owned public spaces, or POPS, are public areas adjoining or adjacent to buildings created through incentivized zoning. What this zoning means is that by providing a public space, developers are given a floor area bonus, allowing them to build a larger building with a greater Floor Area Ratio (FAR) than they would have been able if they did not provide a POPS. POPS became a formal part of NYC zoning in the 1961 zoning resolution. Since the inception of this zoning, NYC has seen the addition of about 525 POPS to its landscape.
While POPS can be seen as a boon for adding public space to the city landscape, management of these spaces falls into the hands of the developers and the building. To top it off, oversight by the city planning department to make sure these spaces are truly working in a public manner, as well as to make sure they are designed to encourage public engagement, is spotty at best. Some POPS have been designed without any spaces for people to sit or congregate, while others utilize design elements that actively discourage engagement with the space. For the most part, individuals and nonprofit entities have stepped in to take over the monitoring and advocacy for these spaces.
The Advocates for Privately Owned Public Space (APOPS) was founded by Harvard Professor Jerold S. Kayden in 2002 to "invigorate and steward New York City's…privately owned public spaces for the use and enjoyment of the city's multiple publics." Kayden is the author of 2000's "Privately Owned Public Space: The New York City Experience," a book that goes over the NYC POPS zoning history and regulations. Shortly after APOPS was founded, it partnered with the Municipal Art Society (MAS) and the New York City Department of City Planning to work on issues of public space activation. In 2005 APOPS became a stand-alone nonprofit, but in last couple years has renewed its collaboration with MAS, which now maintains a map of all the NYC POPS.
While POPS are more associated with the tall buildings of midtown, there are a four that are located in the Village-one in NoHo, two off Mercer St., and one in the Far West Village. Each space has its own unique design and provides their own unique amenities for building residents and visitors alike. Below we'll take a look at each and the ways that Kayden and the MAS have analyzed these spaces.
99 Jane St. is a market rate development in the Far West Village just south of Gansevoort Market built in 1997. Kayden describes the space:
Occupying the full blockfront on the west side of Washington Street between Jane and Horatio Streets, the space is rectangular, comfortably proportioned, surfaced in brick, relatively open, and surrounded on its three street sides by a red iron fence that enforces the restricted hours of access.
Inside, a long, serpentine, stone ledge makes its way around the northern, western, and southern sides, providing numerous places for sitting next to a landscaping of plants. In the middle of the western edge is a water wall, with five cascading vertical chutes topped by decorative metal medallions sporting images of beavers, a pilgrim, and a Native American. Four old millstones placed on the park surface reinforce the connection to American history. Fixed benches and movable aluminum chairs furnish added seating among the several trees.
Although the space is physically detached from the residential building's front entrance, it is nonetheless well integrated. Apartment windows and balconies look out onto the space, making it feel like a well observed backyard in service of "defensible space" principles articulated by such urban observers as Oscar Newman. The combination of time-tested amenities, pleasant proportions, integration with host building, and nearby residential population makes this a valuable neighborhood space.
Built in 1965, 60 E. 8th Street is a mixed-use development located at the corner of Broadway and 8th and adjacent to Mercer St. Again described by Kayden:
Several steps above the street, this U-shaped concrete plaza grips street and nonstreet sides of the building. From East 8th Street, a canopied corridor cuts through the space to the building's front door. In an area that reads as more public, along the east side of Mercer Street, a small, round fountain encircled by an unsittable slanted ledge sprays water out of and around dark sculptural elements. Planters line the perimeter and, with small concrete planters, display trees, flowers, and shrubs. At a recent site visit, the southernmost nonstreet portion of the space was closed to the public for construction. The large arcade is not part of the public space.
Another mixed-use development and built in 1976, 300 Mercer St. is next to 60 E. 8th St. at the corner of Broadway and Waverly. Kayden's description of this POPS highlights the sightlines it provides to the surrounding historic Village architecture:
This L-shaped plaza on the east side of Mercer Street and the north side of Waverly Place is replete with built-in concrete seating that is well used during the summer. Circles and curves are the ruling geometric motif. A disk-shaped paving pattern laid into the main portion of the plaza on Waverly Place is echoed in the three high-backed, cone-shaped, concrete planters with benches and two built-in concrete benches in the adjacent arcade. The perimeter planter with sittable ledge undulates sympathetically to the planters and fountain near the street corner.
Access to the space is available at two points. A canopied entrance path for building residents cuts through the northernmost corner of the space from Mercer Street, and a gated entryway from Waverly Place at the southernmost corner is also available. Since the space is required to be open 24 hours a day, the gate is superfluous.
With its plentiful seating, the plaza offers numerous vantage points for studying the historic architecture of the neighborhood. The four smaller buildings southeast across Waverly Place and Broadway display a varied vocabulary of façade embellishment and fenestration, while the massive building across Waverly Place offers impressively rusticated pilasters on its lower floors.
Built in 2004, 26 Astor Place is a large glass-and-steel tower in NoHo across the street from Cooper Union. Kayden doesn't have a description of this space, but it offers amenities such as immovable tables (with chessboards), seats, and benches made of stone, bike racks, trees, and a drinking fountain.