← Back
Viewers Choice: Top 5 Village Preservation Program Videos of 2018
Each year, Village Preservation hosts more than sixty public programs. They cover our neighborhoods from the western edge of Greenwich Village to the easternmost reaches of the East Village. Topics cover a diverse range of areas including rock and roll, restoring artists' studios, terracotta mosaics in the subways, street photography, women's poetry, and so much more.
Recording our programs and making those videos available to the public on our YouTube page allows us to preserve the knowledge which has been shared, and reach an even a wider audience beyond the thousands of people who attend our programs each year. The videos bring us back through a year of programs filled with wisdom, history, art, and architecture, as well as some amazing discussions and anecdotes. Our top five program videos of 2018 are just as varied and eclectic as our programming. Check out our full catalog of past program videos here, and join us at a program – or 60 – in 2019!
#5 – Book Talk: Lou Reed, A Life with Anthony DeCurtis


Our speaker Anthony DeCurtis is himself a music world rock-star writer. Of his biography Lou Reed: A Life, U2's Bono wrote: "a sublime and subtle book… Anthony is a great storyteller, a writer's writer, turning pain into beauty the way Lou did in his songs." Lou Reed, a Villager among a great many other things, invented alternative rock music, at once a source of transcendent beauty and coruscating noise, speaking to millions of fans and inspiring generations. At this program, we learned some tabloid-ready tales, and many insights into Reed, his loves, life, particularities, and his career. Gritty, intimate, and eloquent, DeCurtis gave an illuminating tribute to one of our most incendiary artists.
#4 – Illustrated Lecture: Journey of Hope, the Irish in New York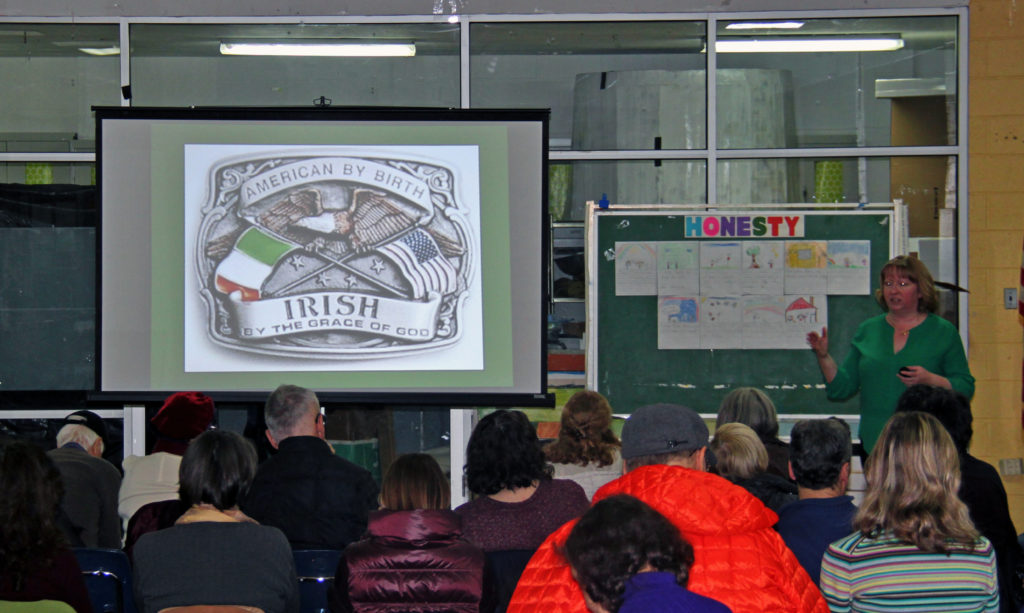 Irish scholar Tara Rider is also the director of SUNY Stony Brook's international academic programs to Ireland and England. She shared a long, varied, and in-depth history of Irish immigration, in a talk for Irish Heritage Month last March. To escape religious persecution, poverty, and famine, waves of Irish immigrants arrived in New York from the 18th century on. By the mid-19th century, one-quarter of the City's population was Irish. Their journeys are reflected in the shared experiences of all immigrants coming to America.
#3 – A Fillmore Happening
On March 8, 1968, the Fillmore East opened its doors and changed the city and the music world forever. Former employees, fans, Villagers, neighbors, and music aficionados joined together at Theater 80 to remember The Fillmore as a place of warmth, spirit, innovation, and the finest music. The great Bill Graham brought performers including The Doors, B.B. King, Tina Turner, The Grateful Dead, Janis Joplin, Pink Floyd, and many more to the stage of the Fillmore East. We shared memories, details, and histories to celebrate the three years that the Fillmore East defined the music scene. Our master of ceremonies was Rolling Stone music critic Anthony DeCurtis (his second appearance in our top-five video list!), and our panel included Joshua White of The Joshua Light Show, booking agent Jonny Podell, photographer Elliott Landy, and photographer and Fillmore employee Amalie Rothschild.

#2 – The Street Gangs of the Lower East Side
With The Street Gangs of the Lower East Side, Jose "Cochise" Quiles and Clayton Patterson provide a brutally honest, self-reflective and moving account of one person's struggle to break the cycle of violence and poverty since birth through creativity and compassion for others in the East Village / Lower East Side. Quiles pulled no punches – in his book or in our book talk – about the experiences that took him from gang leader to historian of gangs, artist, and author who creates with a joyous yet desperate edge, for the sake of sheer survival.

#1 – How Gay Girls Owned the Village from the 30s to the 90s and How They Want (Some of) It Back
Our winner!
Since even before the 1930s, lesbian culture has flourished in Greenwich Village. This panel discussion about that scene included:
Lisa E. Davis (Under the Mink; Undercover Girl: The Lesbian FBI Informant Who Helped Bring Down the Communist Party) who told the story of self-described "gay girls," welcomed at a number of bars and protected from police by mafia payoffs in the 1930s-50s.
Alana Integlia of Queer Visibility Collective and Dyke Bar Takeover illuminated her work documenting queer spaces of the Village from the 1970s and 80s, creating space for self-identified womyn, transgender and non-binary people of all races.
Wanda Acosta showed excerpts of film Sundays at Café Tabac, her and Karen B. Song's dazzling documentary of Village lesbian culture in the wake of the AIDS crisis in the 1990s. The essence of "lesbian chic," the film explores that generation's defiance and determination to preserve lesbian spaces in the Village.