← Back
It's Theater Thursday! We Love The Cherry Lane Theatre's Mentor Project
How do we love thee? Let us count the ways! I was treated to my very first Off-Broadway show at The Cherry Lane Theatre as a child, and so it holds a very special place in my heart. It is a dream of a little place situated in a landmarked building on one of the most adorable blocks in our fair city. One could say that The Cherry Lane is truly the artistic heart of the Village.
The Cherry Lane Theatre was the brainchild of poet, playwright, actress, and ultimate Villager Edna St. Vincent Millay, a woman who did indeed burn her candle at both ends. While most famous as a poet, Millay was originally a member of the Provincetown Players, the group which founded the Provincetown Playhouse. Millay moved away from that group in 1924 to form her own experimental theater at the Cherry Lane with a group of local artists. The space they chose was a former brewery and box factory building, which dated back to 1836. The plot of land had belonged to the Gomez family farm, and on that particular parcel stood a silo prior to it becoming a brewery.
Since its founding, The Cherry Lane has been home to some of America's most innovative movements in theater and theatrical literature. The Cherry Lane claims to be the space where "Off-Broadway" was born. Plays by some of the world's most distinguished writers have been born there. From F. Scott Fitzgerald, John Dos Passos, and Elmer Rice in the '20s to O'Neill, O'Casey, Odets, Auden, Gertrude Stein, T.S. Eliot, and William Saroyan in the '40s and '50s to Beckett, Albee, Pinter, Ionesco, and LeRoi Jones in the '60s to Sam Shepard, Lanford Wilson, Jean-Claude van Itallie, Joe Orton, and David Mamet in the '70s and '80s, the little theater has seen its fair share of pioneering, culture-shifting work.
Now, under the stewardship of Founding Artistic Director Angelina Fiordellisi, it serves as a vital lab for the development of new American works and a home for groundbreaking productions of both new and classic theater of the highest caliber. As New York's longest continuously running Off-Broadway theater, the Cherry Lane Theatre continues to define American drama, fostering fresh, daring, and relevant work.
The Cherry Lane's marquee program is their Obie Award-winning Mentor Project. Each year they pair three early-career playwrights in season-long, one-on-one mentoring relationships with experienced dramatists. Mentors guide their fellows through an intensive developmental process consisting of readings and rehearsals while serving as a trusted source of career advice and professional support. The program culminates in fully-staged productions that remain critic-free to avoid commercial concerns that would inhibit the creative process.
The Mentor Project was established in 1998 by Ms. Fiordellisi, and was inspired by an important precursor in residence at Cherry Lane in the 60s: ALBARWILD, a collaboration between producers Richard Barr, Clinton Wilder, and playwright Edward Albee, who created production opportunities for such early-career playwrights as Sam Shepard, LeRoi Jones (Amiri Baraka), A.R. Gurney, and Jean-Claude van Itallie.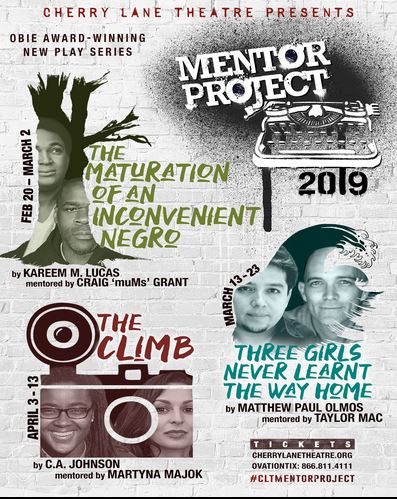 The 2019 Mentor Project heralds its 21st season, having nurtured the careers of 65 emerging artists to fuel the next generation of American playwrights. Past fellows include Rajiv Joseph (mentored by Theresa Rebeck in 2005), Katori Hall (mentored by Lynn Nottage in 2006), Sheila Callaghan (mentored by Michael Weller in 2006), Anne Washburn (mentored by Craig Lucas in 2000), Julia Cho (mentored by David Henry Hwang in 2002), Christopher Shinn (mentored by Charles Fuller in 1999) and Bathsheba Doran (mentored by Michael Weller in 2003).
To purchase tickets to see the productions that have grown out of this year's Mentor Project, please visit The Cherry Lane Theatre's website. The plays run from February 20th through April 13th. We'll see you there!