← Back
Theater Thursday: Novenas for a Lost Hospital at Rattlestick Playwrights Theater
Rattlestick Playwrights Theater has been on quite a journey this past year, and Village Preservation has been thrilled to be a companion on the ride. Novenas for a Lost Hospital is a communal experience to remember, honor, re-imagine and celebrate St. Vincent's Hospital. Inspired by the caretakers and patients of St. Vincent's Hospital, and guided by Saint Elizabeth Ann Seton, this unique play/public art experience takes a 60-person audience on a journey from an enclosed garden, to Rattlestick's intimate West Village theater, to the NYC AIDS Memorial Park ( a 2017 recipient of Village Preservation's Regina Kellerman Award). It will have its world premier at Rattlestick Playwrights Theater on Thursday, September 19th, 2019!
Rattlestick has done a remarkable job of including many community partners in the making of this piece of art. As it is a play by a Villager for the Village, community partners were invited to participate and help make the work known to their own audiences, who may not otherwise know of the work of this fine Off-Broadway Theater, and to tell the story of monumental events that happened at St. Vincent's Hospital. The partnership includes Broadway Cares/Equity Fights Aids, The Lesbian, Gay, Bisexual, & Transgender Community Center, The New York City AIDS Memorial Board, NYU Rory Meyers College of Nursing, PrEP4All, St. John's in the Village, Visual Aids, and of course, their original partner, Village Preservation. Artistic Director Daniella Topol recognizes that the theater is a part of a diverse community of educational, cultural and social organizations. The theater seeks deep relationships and partnerships with organizations like Village Preservation and The Center, which gives new audiences the opportunity to be stimulated and uplifted by new theatrical experiences. We are in great company and are proud of our involvement in the making and promoting of innovative theatrical art created in our neighborhood about our neighborhood.
Created by Villager Cusi Cram, the play's dramaturg is Villager Guy Lancaster and the star of the show is the transcendent Kathleen Chalfant, a one-time (long-time!) Villager (now transplanted to Brooklyn). Novenas theatrically explores the 161-year history of St. Vincent's Hospital.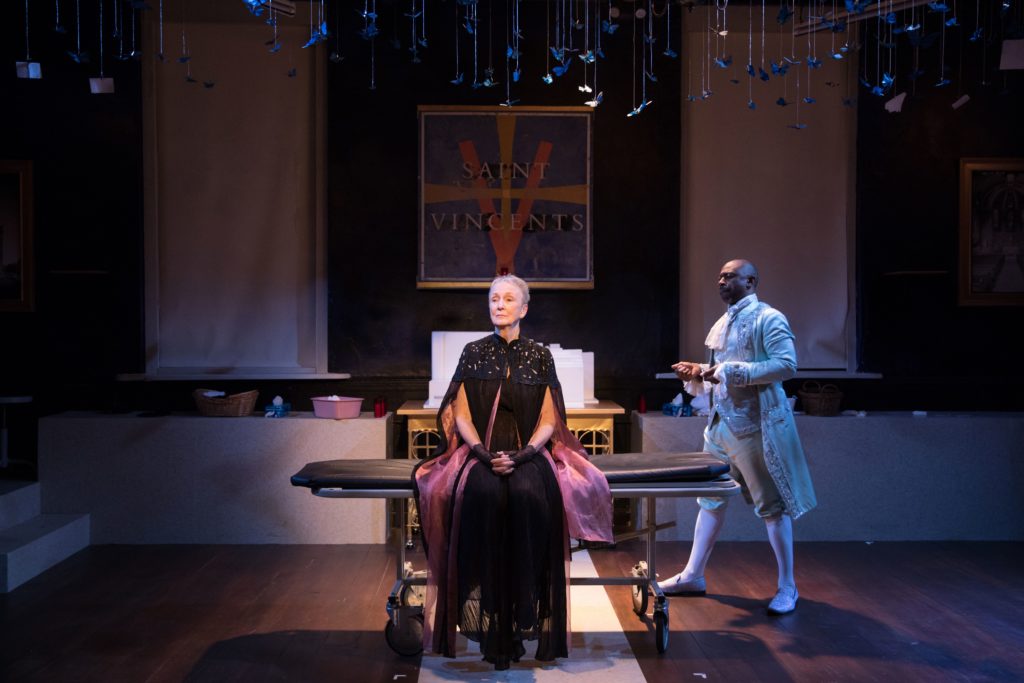 The play evolved as the result of an idea that Cusi had been thinking about for close to 5 years. She envisioned a walking tour through the Village that would have a theatrical component to it. The event was called Storytelling through the West Village, and this writer was invited to be a part of that intimate event in November of 2016.
Storytelling Through the West Village was intended to be an on-going, interactive, multi-media performance piece, which combined elements of oral history, architectural and social history, theater, visual art, performance art, and the organizing principle of the walking tour to explore and mine the untold stories of the West Village. Perfect for Village Preservation! And I was thrilled to be there.
The experience was remarkable; one that was completely surprising and unlike any I have encountered. (more on that at another time!) But the thing that stood out most that evening was the moment when we arrived at the last destination on the tour before we headed back to the theater. As we all stood at the corner of 11th Street and 7th Avenue, looking at the spot where St. Vincent's once was, and further looking at the newly built AIDS Memorial at St. Vincent's Triangle Park, a sort of volcano of opinions and controversy erupted on the sidewalk. Everyone there had a story to tell about St. Vincent's and everyone there had a differing opinion and idea of what happened and what should have happened to the hospital. Then and there, I said "There is a play to be written here." And Rattlestick is uniquely positioned to tell this epic story. It is located steps away from where St. Vincent's was and the experience of the play is rooted in a trip to the AIDS Memorial, situated in the spot where the hospital's mechanical and storage buildings once stood.
Cusi, Guy, and Daniella asked Village Preservation to assist with the initial research for the project, which we were thrilled to do. As our readers are probably aware, Village Preservation was deeply involved in the fight over the fate of St. Vincent's, and after its demise to ensure that the proposed development on the property was executed in keeping with the character and scale of the neighborhood, as well as in keeping with the rules governing development within historic districts, especially the Greenwich Village Historic District, where St. Vincent's was located. Our archives are rich with materials about the hospital, its evolution, and its ultimate undoing.
The play, now two years in the making, will run September 5th, 2019 through October 13th, 2019. Members of Village Preservation are offered a discount code to see the play, so please contact us at 212-475-9585 in order to receive the code.
To learn more about Novenas for a Lost Hospital, click here.