← Back
Eat Vegan and Support Local Businesses!
No matter where you are in Greenwich Village, NoHo, or the East Village, you are within walking (or ordering) distance of a wide range of culinary options. There are dozens of vegetarian and vegan venues here, some of which opened when the term "vegan" was still unfamiliar to most, while others are new to the scene but already making their mark. The list below is far from exhaustive, but does include some of our favorites. The common thread here is high-quality food and great service to diners regardless of food restrictions.
Spicy Moon, 328 East 6th Street and 68 West 3rd Street
With both East Village and Greenwich Village locations, Spicy Moon has grown to be a huge local favorite, serving up favorite Szechuanese dishes like Mapo Tofu, Dan Dan Noodles, and dry pot dishes featuring tofu, meat substitutes, and other vegan staples.
While many customers first come to Spicy Moon because it is vegan, many repeat customers (myself included) are not actually vegan at all, but just have a strict requirement for high-quality, delicious food! Spicy Moon also leads by example, supporting animal rescue nonprofits and encouraging their customers to adopt vegan principles to prevent cruelty to animals.
Caravan of Dreams, 405 East 6th Street
Our Business of the Month in April 2021, Caravan of Dreams was founded by Spanish ex-pat Angel Moreno in October 1991. It was the first organic vegan restaurant in the neighborhood, even before the beloved Angelica.
The menu is inspired by the Mediterranean diet, but leans international and has adjusted to organic vegetarianism. According to Zagat, though, it does the seemingly impossible: "A dream come true for "healthy food" fans, this East Village vet offers a kosher vegan "alternative" in "bohemian" quarters; fair prices, "mellow" vibes and occasional "live music" complete the flashback to "hippie days."
Urban Vegan Kitchen, 41 Carmine Street
Urban Vegan Kitchen (UVK) offers great service, amazing food, and an awesome start for those who are trying to live a vegan lifestyle. Pamela Elizabeth started her business back in 2016. UVK offers a variety of vegan comfort foods, such as quesadillas, bowls, and burritos, mocktails and cocktails, as well as a catering menu, private event space, and a great outdoor dining setup.
UVK spreads the vegan lifestyle through their shop, and by supporting a nonprofit organization that provides nourishing, plant-based meals for children & families, seniors, homeless & domestic abuse shelters, food banks, and LGBTQ+ centers in marginalized communities.
Avant Garden
Avant Garden opened in 2015 as part of the Overthrow Hospitality hospitality group (founded 2006). Overthrow is a mission-driven vegan restaurant and bar company from proprietor Ravi DeRossi, whose legacy in New York City's East Village spans twenty years and dozens of venues. Their core values include compassion for animal rights, workers' rights, guests' rights, and the environment. Their mission also includes inclusivity, sustainability, and charity.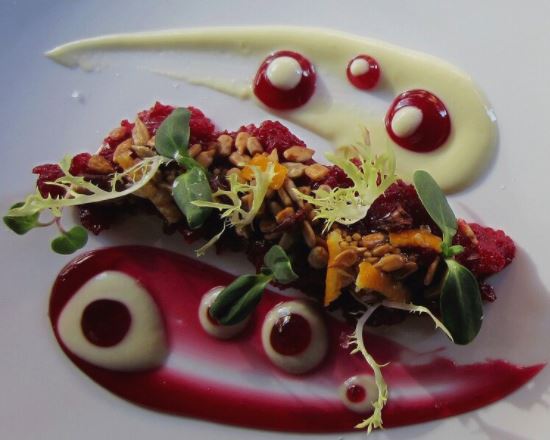 According to the Michelin Guide, "This is excellent food that just happens to be vegan" – and they are also known for their excellent wine list.
Overthrow Hospitality also currently runs a number of East Village venues, many of which focus on vegan menus, including Amor Y Amargo (445 East 6th Street), Cadence (122 East 7th Street), Café de L'Enfer (95 Avenue A), Etérea (511 East 5th Street), Ladybird (111 East 7th St), Soda Club (155 Avenue B), and Death and Company (433 East 6th Street).