← Back
Exploring Black History in the East Village and NoHo
On January 3, 2017, we launched our Civil Rights and Social Justice Map, a unique online resource that marks more than 200 sites in our neighborhoods significant to the history of various civil rights and social justice movements. Since history is never finished, we continue to add new sites and stories with connections to civil rights movements for African-Americans, LGBTQ+ people, women, Hispanics, Asian-Americans, Jews, immigrants, and workers.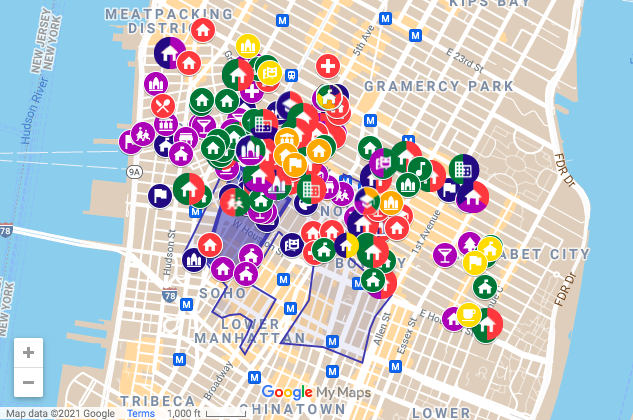 Among the interesting tours afforded by the map, today we'll take a look at the unique history of African-Americans that can be found in the East Village and NoHo, starting with a theater group in the early 19th century.
African Grove Theater
The African Grove Theater was the first known black theater troupe, founded in 1816 by William Alexander Brown, a free African American and a pioneering actor and playwright. Through his work as a ship's steward, he traveled extensively in England and the Caribbean, and was exposed to many different types of theater. Upon his return to New York City, he founded the African Company in a house he bought at 38 Thompson Street. The company originally met in his backyard, but complaints forced him to move first to Bleecker and Mercer Streets, then to Mercer and Houston Streets.
The troupe — which included James Hewlett, considered the first professional Black actor in the U.S. — performed both Shakespearean plays and original works. The African Company and the African Grove Theater were disbanded in 1823 as a result of financial distress and government intervention: Police shut the theater in response to complaints about the behavior of African-American theatergoers, behavior that was considered normal when displayed by working-class white patrons.
Elizabeth Jennings Graham
In 1854, activist and educator Elizabeth Jennings Graham boarded a streetcar of the Third Avenue Railway Company on her way to play the organ at the First Methodist Congregational Colored Church, which had been located at present-day 228 East 6th Street. At the time, public transportation typically did not serve African-American passengers, but Graham boarded the streetcar despite the reluctance of the conductor. Soon after boarding, she was forcibly removed by the conductor and a policeman at the corner of Chatham Street (today, Park Row) and Pearl Street. Her forced eviction due to race sparked protests against the Third Avenue Railway Company and led her father, inventor and tailor Thomas Jennings, to hire an attorney and take legal action. New York had no official streetcar segregation laws, and the court ultimately ruled in favor of Elizabeth Jennings Graham, awarding her $225 in damages and stating, "Colored persons … had the same rights as others and could neither be excluded by any rules of the company nor by force or violence."
While the case certainly did not prevent all instances of African-Americans being denied the use of public transportation, it did impact and set precedent for transit discrimination trials in the future. The forced removal of Elizabeth Jennings Graham from a streetcar occurred about 100 years before Rosa Parks' historic refusal to give up her seat on a bus in Montgomery, Alabama. Today, the former church site at 228 East 6th Street is occupied by a tenement building that was built in 1890.
Civil War Draft Riots
On July 11, 1863, the federal Conscription Act had taken effect, requiring all male citizens between the ages of 20 and 35 and all unmarried men between 20 and 45 to submit to a lottery for military duty in the Civil War; anyone could pay a $300 fee or hire a substitute to get out of the draft, and African-Americans were not allowed to serve. These rules enraged white workers. July 13 marked the start of rioting throughout the city, notably on First Avenue between 11th and 14th Streets.
The streets quickly became unsafe for African-Americans: Over the course of five days, mobs killed scores of African-American men by lynching and other deadly means. The riots, one of the worst incidents of civil unrest in American history, only came to an end when regiments fresh from the Battle of Gettysburg were brought to New York to bring order to the city.
LeRoi and Hettie Jones
In early 1962, artist LeRoi Jones and then-wife Hettie Jones moved into 27 Cooper Square. Together, Hettie and LeRoi produced their magazine Yugen and Totem Press books from here, and were frequently visited by writers and artists working under the Beat and Black Mountain labels, including Allen Ginsberg and Frank O'Hara. In the 1960s and mid-1970s, the house was a focal point for the Black Arts Movement, which included dramatists, novelists, essayists, and poets who used their work as a forum for political critique during this volatile era for civil rights.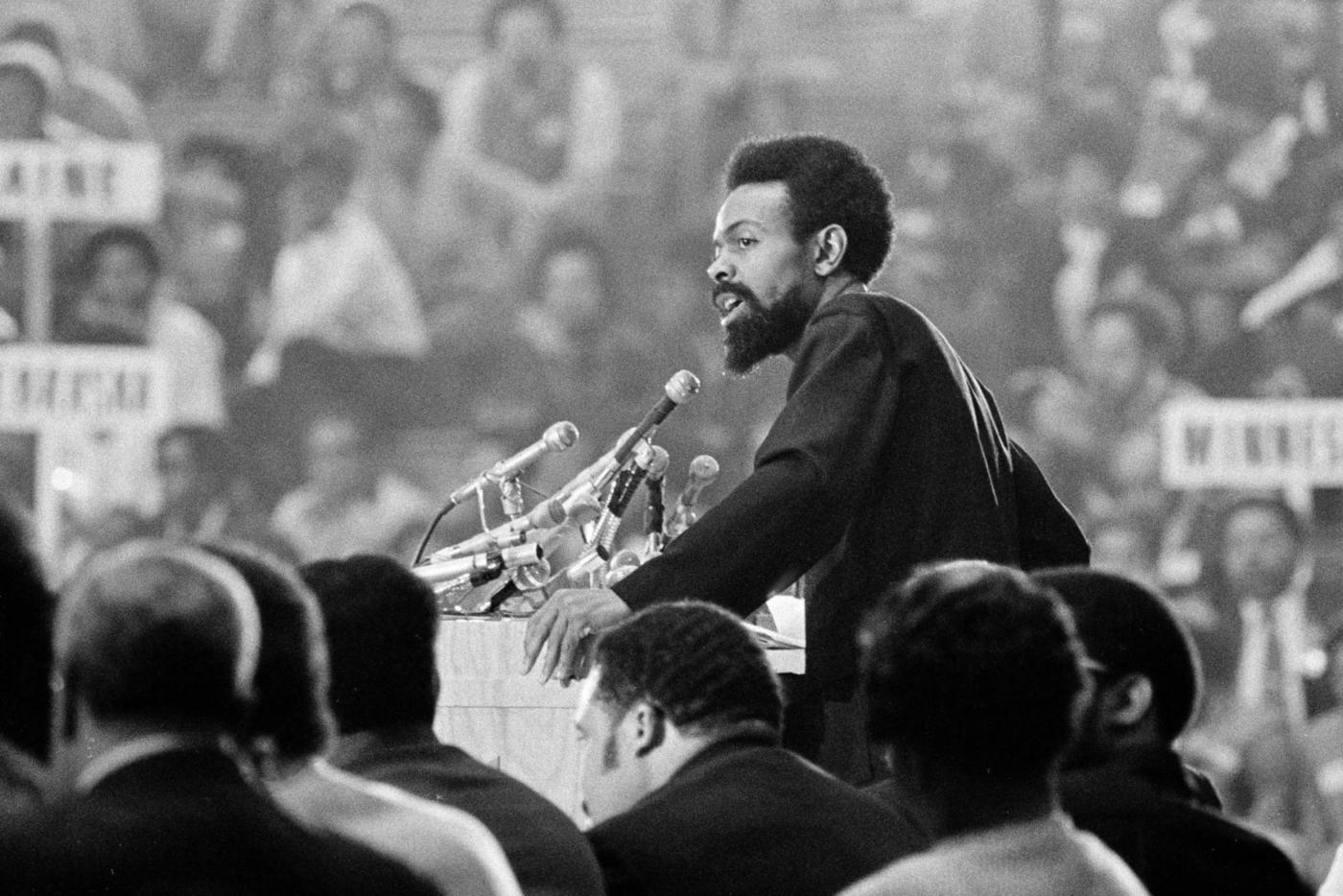 Leroi, who later became Amira Baraka, was an African-American writer of poetry, drama, fiction, essays, and music criticism whose themes ranged from black liberation to white racism. Many within the African-American community compare him to James Baldwin and recognize him as one of the most respected and widely published black writers of his generation. Much of Hettie Jones's work focused on her struggle to find her identity as an outcast in a Jewish family and as the wife of a black artist during the Civil Rights Movement. She also ran a writing workshop at the New York State Correctional Facility for Women at Bedford Hills from 1989 to 2002.
Honoring Baraka's literary legacy and the influence other Beat poets had on our neighborhoods, Village Preservation placed a plaque on his residence at 27 Cooper Square in 2017.
Jean-Michel Basquiat
From 1983 until his death in 1988, artist Jean-Michel Basquiat lived and worked in a former stable located at 57 Great Jones Street, owned by his friend Andy Warhol. Basquiat, whose parents were from Haiti and Puerto Rico, gained fame as a member of the graffiti duo SAMO during the 1970s. His work mixed poetry, drawing, and painting in a variety of forms to explore such dichotomies as wealth versus poverty and integration versus segregation.
Basquiat's painting "Defacement (The Death of Michael Stewart)" decried the death of an African-American Pratt Institute student and graffiti artist while in police custody after his arrest at the First Avenue L subway station. "It could have been me," Basquiat would say.
Jean-Michel Basquiat was one of the first black artists to achieve superstar status in the art world. In 2016, Village Preservation honored Baquiat's life and accomplishments with a plaque on his former Great Jones Street studio.
Learn more …
Our Civil Rights and Social Justice Map highlights over 50 local sites of note in Black history plus many more of importance to many civil rights movements. To explore more African-American sites in East Village and NoHo, visit the African American History Tour on our East Village Building Blocks site, or watch our video on the subject below.