← Back
Business of the Month: Fragrance Shop New York, 65 East 4th Street
Your input is needed! Today we feature our latest Business of the Month — help us to select the next. Tell us which independent store you love in Greenwich Village, the East Village, or NoHo: click here to nominate your favorite. Want to help support small businesses? Share this post with friends.
I think we could all agree that city life would be a bit more pleasant if we all smelled a little better (and it's not even summer yet!). Luckily, there is a store in our neighborhood where you can walk in reeking of medieval life and walk out fragrant as a floral dream, or a wooded dream, or any dream of your heart's desire. And that's what sets apart our May 2022 Business of the Month, Fragrance Shop New York, 65 East 4th Street (btw. 2nd Ave. and the Bowery). Before you follow your nose there, here's the story behind this great small business.
Fragrance Shop was founded in 1992 by Lalita Kumut, who was born in Bangkok, Thailand, blessed (or cursed, depending on where she was standing) with prodigious olfactory acuity. By age five, she could identify the ingredients in her grandmother's homemade perfume. When, as an adult, she became a nurse, she could discern the severity of infections by smell alone. In 1979, Lalita came to New York. Here, she resumed her nursing career, but eventually decided that her adoptive city needed her to pursue her talent for fragrances full time.
When I came to this city, it smelled so bad, and I said to myself, "one day, I'm going to have something smell good in this city."
And soon enough she did. It took several years of visiting every good smelling store she could find in town and dozens of fragrance trade shows across the country. But Lalita eventually made good on her promise and launched a fragrance store. Her choice of neighborhood was never truly in doubt.
I love East Village. East Village, the people is so beautiful, so friendly. And it's a lot of architecture that is still around. For me, something about me crazy. I like to look up the old building. That, I love. Like this block [4th street], I love it. That's why i want to be here. And I live close to here; and I don't want to live anywhere in NY. If you [offer me] a house in Central Park, I won't go. I refuse.
The heart of the Fragrance Shop consists of a custom fragrance service. The store boasts dozens of all natural oils that you can choose from to develop your own personal fragrance (with some expert assistance) from scratch. You can also bring a favorite fragrance to use as inspiration in preparing something that you'll like all the better. It doesn't even have to be a fragrance. A customer once came in with an old book, wanting a scent that summoned the image of her reading this old tome in the woods. She walked out with the evocative fragrance she was looking for. And the scent doesn't even have to be from this world. A few days ago a medium paid a visit, wanting to reproduce a odor from the world beyond that came to her in her dreams. It was milky, claylike, and literally divine. She also left the store olfactorily transported.
Although personalized fragrances are the store's specialty, Fragrance Shop offers much more than that. For those looking for pre-blended options that have stood the test of time, it sells several fragrances concocted by Lalita, some of which have sold briskly for decades. Beyond the fragrances, the store also carries a full range of essential oils, for those interested in aromatherapy, and a wide selection of beauty products from select lines, whose owners, in Lalita's estimation, share her own passion for quality. These include soaps and candles, as well as bubble baths, oils, lotions, and shower gels, many of which can be customized at the store.
Over the past thirty years, Fragrance Shop has been one of those rare shops that has managed, at once, to embed itself deeply in the local community and to develop a customer base that reaches well beyond the neighborhood and even the city. The store has long been a member of local associations, a steady promoter of nearby businesses, a regular participant at 4th street fairs, and a frequent donor of gift baskets and certificates for fundraisers at PS 363 and neighboring theaters. It has also, on the other hand, gradually become a well known destination for people from all over looking to customize their scents. The recent pandemic forced the Lalita to rely on both networks to stay afloat. Fragrance shops, after all, don't mix well with mask requirements. The store had to close its doors for a couple of months and operated at a loss for many more, relying exclusively on called-in orders from near and far for its revenues.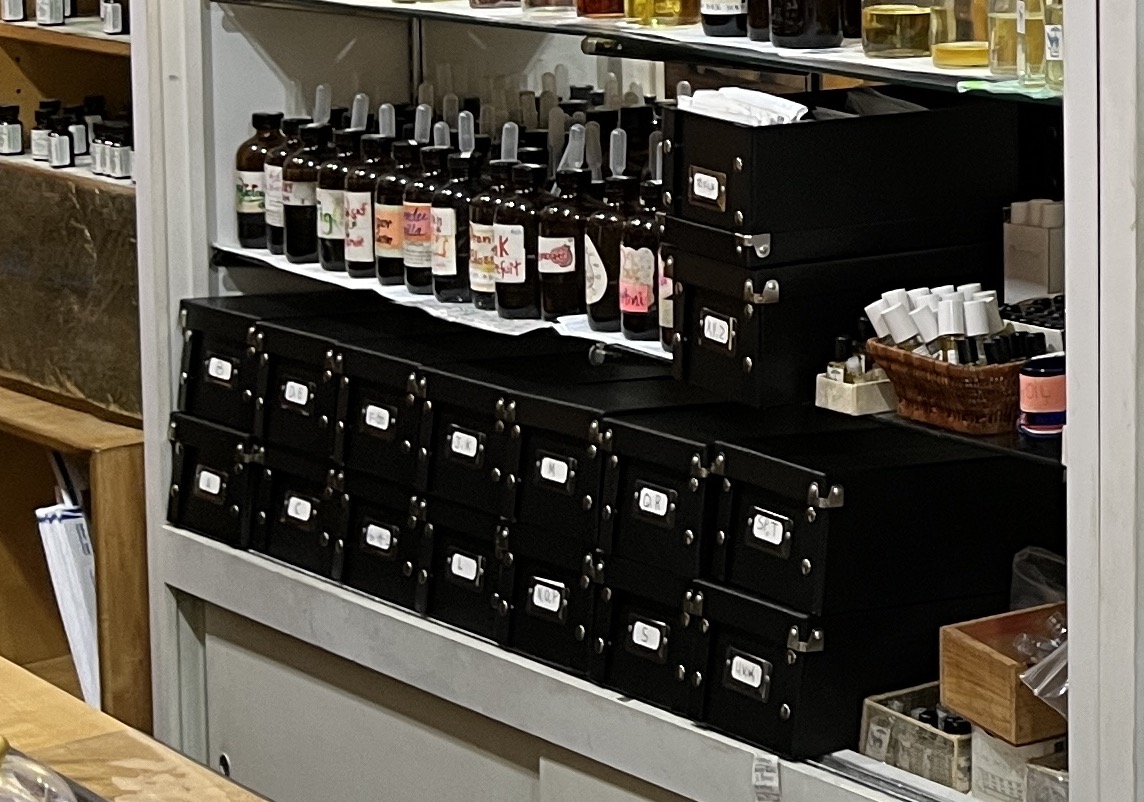 But the decades of accumulated customers and records of their personal fragrance recipes paid off, and the store made it through to the other side. At around this time, the trajectory of Fragrance Shop took an unexpected turn.
Claire Lewis fell in love with perfume making during her honeymoon — at a course that she came across unexpectedly, and for which she altered her itinerary and had to overcome a language barrier. Inspired by that experience, she started blending fragrances back home at perfume parties and events. Not long ago, during a visit to the East Village with her husband, she decided to swing by Fragrance Shop, which she had long frequented, to pick Lalita's brains about ways to advance her career. Out of nowhere, Claire's husband asked Lalita if she would ever be willing to sell the store, to which Lalita replied that she, in fact, had been contemplating retirement. Lalita said, though, that she would only sell to someone who shared her passion for fragrances, whereupon Claire exclaimed, "That's me! That's me!" Lalita then put Claire through a waiting period, to give her time to reconsider, and through a trial period, to see if she was the right person. It turns out that she was. Claire recounts, "it gives me the goosebumps that God said, here, here's your dream." Since taking charge, Claire has picked up where Lalita left off. She is, however, working to develop the store's online business with an eye toward eventually allowing remote customers to approximate through the shipping of small sample assortments the process of in-person fragrance making.
After handing over the reins of the store, Lalita went on a well deserved vacation. But she apparently couldn't stay away for long. So it's not uncommon to find her at the store, now in the capacity of consultant. What's more, both Claire and Lalita believe that they may well end up embarking on a joint business venture at some point in the future. In the meantime, Lalita's legacy at Fragrance Shop appears to be in safe hands.
For providing an olfactory oasis for the neighborhood and for the city, and for inviting us to smell like our better selves, we are thrilled to name Fragrance Shop NYC our May 2022 Business of the Month.
Stop by at 65 East 4th Street or visit their website.
What special small business would you like to see featured next? Just click here to nominate our next one. Thank you! #shoplocalnyc
Here is a map of all our Businesses of the Month: