← Back
Small Business, Big History: Mapping Neighborhood Stores and Stories, Past and Present
Modern life presents us with a perpetual binary choice, especially when it comes to shopping and dining: go out and explore the world, seeing what surprises it has to offer; or tap a screen and see what algorithms bring to your attention and delivery services may bring to your door. To us, the advantages of engaging the world in real life are clear — especially when our neighborhoods offer some of the most exciting small businesses around and ample opportunity to encounter sites replete with history and noteworthy architecture. To help you find both, we created the Small Business, Big History map a few years ago. It was intended to help aid local small businesses, and to offer the public a new way to enjoy and explore the unique riches our neighborhoods have to offer in terms of both storefront experiences and history and architecture.
Now, we're relaunching an expanded version of the map and program, with 60% more local independent establishments and the fascinating histories connected to their homes and surroundings. You can access it here, or by using the QR code on the Village Preservation decals displayed in the windows of participating businesses throughout Greenwich Village, the East Village, and NoHo.
The Small Business, Big History map features a wide range of establishments likely to satisfy your consumer proclivities. If you are looking for gifts for someone (including yourself), you can find a store specializing in rare books and one focused on new ones, a shop focused on antiques, and another focused on funky vintage gifts. If you have decided to upgrade your wardrobe, you'll be able to choose from among items created by local designers or carefully curated vintage wear. There is even a hatworks and millinery shop, in case you want to put a hat on it.
Feeling peckish? The map can guide you to a casual coffee shop, a high-quality fast-casual restaurant, a high-quality slow-and-linger restaurant, or even an inventive doughnut shop where you can get a second dessert.
If the eating leaves you thirsty, you can visit stores specializing in fine tea and coffee, or if you prefer something to take the edge off, ones offering craft beer and wine. And if all that indulging leaves you shaken up, you can seek a remedy at one of several independent pharmacies or perhaps a few sun salutations at a yoga studio.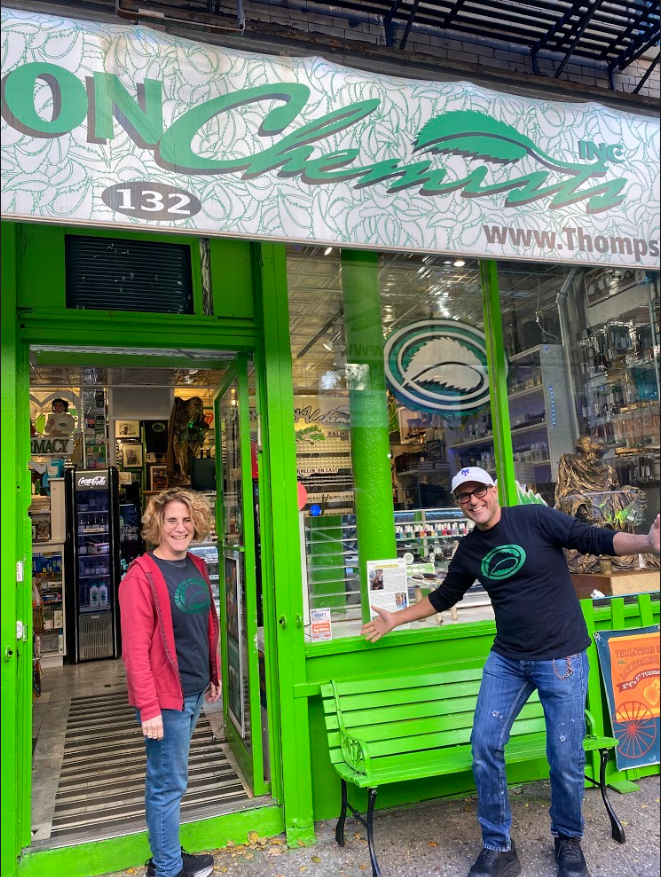 These businesses are housed in buildings that date from the early 20th to the beginning of the 19th century, so they've seen a lot of history. This period saw a complete transformation of these areas from rural retreat to dense urban neighborhoods, and often from exclusive addresses to gritty locales and back again. Waves of immigration led developers to replace many of the area's earlier single-family houses with tenements and factories that could accommodate the surge in new residents and workers. In addition, public safety and hygiene concerns resulted in the enactment of landmark building codes that fundamentally impacted the shape of new construction. Within these constraints, buildings of the period followed a number of architectural fashions, showcased on the map, from Victorian styles like Queen Anne and Second Empire to revivalist ones including Greek Revival, Renaissance Revival, and Romanesque Revival, among others. The map calls attention to some of the characteristic features of these styles, as well as to early and distinguished examples of innovations in construction. So you'll get to admire stone quoins and belt courses, incised brickwork, and elaborate cornices, as well as some of the most imposing early masonry archways in the city.
The transformation of the built profile of the neighborhood coincided with dramatic changes in the local population. Irish, Italian, and German immigrants and then Russian Jews, Ukrainians, and Puerto Ricans formed sizable communities in various parts of the Village. These, among other groups, each left a stamp on their corner of downtown. The buildings on the Small Business, Big History map offer a window into these cultural shifts, while also helping to recount momentous events in the history of our neighborhoods and of our city: a deadly industrial disaster; a catalytic labor strike; a watershed protest for gay rights; and the opening of the city's first library. In addition, they allow you to encounter some of the many major cultural figures whose work has intersected with the Village, including luminaries in the fields of modernist poetry, realist painting, and hard hitting rock 'n roll.
We invite you to use our map as a way to explore some of the wonderful independent stores in the East Village, NoHo, and Greenwich Village, and to learn a little more about the rich history and architectural legacy of these neighborhoods.