← Back
#SouthOfUnionSquare, the Birthplace of American Modernism: Mabel Dwight
"South of Union Square, the Birthplace of American Modernism" is a series that explores how the area south of Union Square shaped some of the most influential American artists of the 20th century.
This area, which Village Preservation has proposed be designated an historic district, has attracted painters, writers, publishers, and radical social organizations throughout the 20th century. The neighborhood birthed a namesake social realist art movement — the Fourteenth Street School — and later hosted a number of influential artists and movements like Abstract Expressionism, the Ninth Street Five, and "The Club." Art, politics, industry, commerce, the New York elite, and the working class collided to create an eclectic culture and built environment in this neighborhood that helped shift the center of the global art world to New York City.
Mabel Dwight née Mabel Jacque Williamson (January 31, 1875 – September 4, 1955) was an American artist known for the compassionate satire she captured in her lithographs. Born in Cincinnati and raised in New Orleans, Dwight moved to San Francisco with her family by 1890 to study painting at the Mark Hopkins Institute of Art, now the San Francisco Art Institute. While living in San Francisco, Dwight became an ardent leftist and socialist. Throughout her life she remained loyal to these political movements, which deeply influenced her art. She then spent a number of years traveling through Egypt, Sri Lanka, India, and Indonesia, before settling in Greenwich Village with her family in 1903.
However, it wasn't until 1926 at the age 51 that Mabel Dwight took up lithography, following a trip to Paris. In 1927, she began working with famed print dealer Carl Zigrosser and began to earn fame as a satirist and lithographer. In 1938, Mabel Dwight rented a studio at 55 East 10th Street, a 1929 fifteen-story Gothic Revival former apartment hotel designed by Victor Farrar, now a dorm owned by NYU (which has unnecessarily destroyed a significant amount of the historic exterior architectural detail) in Village Preservation's proposed South of Union Square Historic District.
Dwight, who was deaf, was a keen observer of the nuances of human expression and comedy. She was particularly adept at depicting the absurd in everyday life without condescension. In her landmark 1930s essay, "Satire in Art," Dwight stated that "satire may play lightly with man's foibles [and] in kindly, ironic vein portray him not as much a bad fellow after all but at times a rather absurd." She believed that artists should look at their subjects "with sympathy and translate them into art just as tragic and humorous as he may wish." This ethos allowed Dwight to approach the complex political subject matter of the Great Depression such as homelessness, poverty, and unbridled corporate greed with sophistication and sensitivity as an ally instead of a voyeur.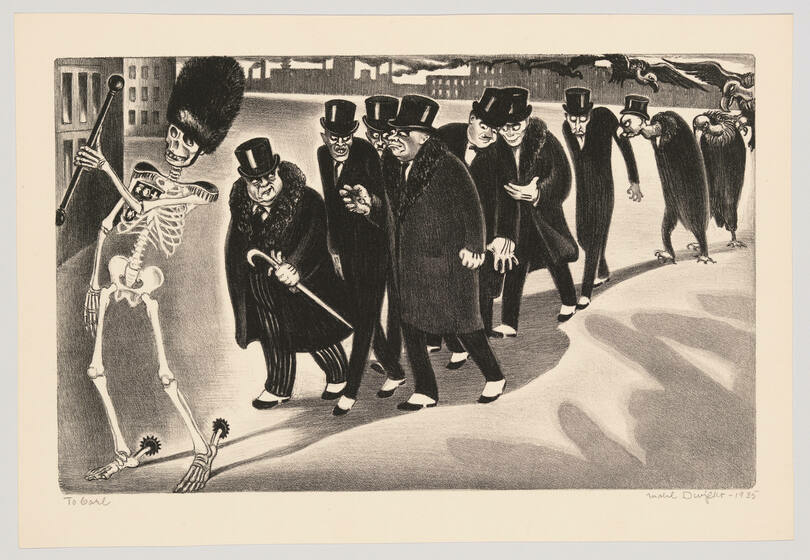 Mabel Dwight created a number of works for the Work Progress administration from 1934-1939. Her work was included in the Whitney Museum of American Art's First Biennial Exhibition of Contemporary American Sculpture, Watercolors, and Prints in 1933. Today, her work is in the collections of the Metropolitan Museum of Art, the Museum of Modern Art, New York, the Museum of Fine Arts, Boston, the Victoria and Albert Museum, London, the Art Institute of Chicago, the Fogg Museum at Harvard University, the Bibliothèque nationale de France, Paris, and the Smithsonian American Art Museum, among many others.
Village Preservation's proposed South of Union Square Historic District was recently named one of 2022-2023's "Seven to Save" — the biannual list of the most important endangered historic sites in New York State — by the Preservation League of New York State. This designation shines a spotlight on the incredibly valuable and varied architecture of this neighborhood, and its deep connections to civil rights and social justice history as well as transformative artistic, literary, and musical movements.
To learn more about the neighborhood, check out our new and frequently updated South of Union Square Map and Tours. We have received a series of extraordinary letters from individuals across the world expressing support for our campaign to create a historic district for the neighborhood South of Union Square. To help protect these incredible historic structures and other buildings in this neighborhood, click here.