← Back
Village Awards: Your Nominations Help Celebrate Our Neighborhoods
It's the final week for 2023 Village Award Nominations! Get your nominations in by Friday, March 31st!
We will be celebrating our award winners at our 33rd Annual Village Awards & 43rd Annual Members Meeting 2023 on Tuesday, June 13th at The Cooper Union's Great Hall.
It just takes a few moments to submit a nomination for a Village Award. When you are nominating, remember, past awardees cannot receive a second award! Check out our list of past awardees to get some inspiration and know who is out of the running for 2023.
Here are some great reasons to nominate:
Recognizing their achievements. The Village Awards are an opportunity to honor individuals, organizations, and businesses that have made significant contributions to preserving the unique character and heritage of Greenwich Village, the East Village, and NoHo. By nominating someone, you can recognize their hard work and dedication to the community.
Encouraging further preservation efforts. The Village Awards help raise awareness of the importance of preserving the historic architecture and cultural identity of our neighborhoods. By highlighting the achievements of award winners, the awards program can inspire others to get involved and continue the work of preservation.
Building community. The awards ceremony is a chance for community members to come together and celebrate the people and organizations that make our neighborhoods special. By nominating someone, you can help to strengthen the sense of community and pride in our neighborhoods.
Promoting awareness. By nominating someone for an award, you can help to bring attention to their accomplishments and raise awareness about the issues and challenges facing our neighborhoods. This can help to generate support and resources for future efforts.
Still need some ideas for potential nominees? Here are some past award winners to inspire you.
Frank Collerius: Stewarding Jefferson Market Library
Frank Collerius is the longtime library branch manager for Jefferson Market Library. He has been instrumental in helping to preserve and maintain the historic library building, which was originally a courthouse built in 1877 and was converted into a library in the 1960s. Beginning his work at the library in 1999, Frank has overseen great growth and preservation at the Jefferson Market Library–both in the stacks and the building itself.
Collerius has been involved in a number of initiatives aimed at improving the library's facilities and services, including fundraising for building repairs and renovations, organizing cultural events and exhibitions, and advocating for increased funding and support for the library.
He has also been a vocal advocate for the preservation of Greenwich Village's unique character and architecture, including its historic buildings and public spaces. In addition to his work with the library, Collerius has been involved with a number of other community organizations and initiatives focused on preserving the cultural and historical heritage of the neighborhood.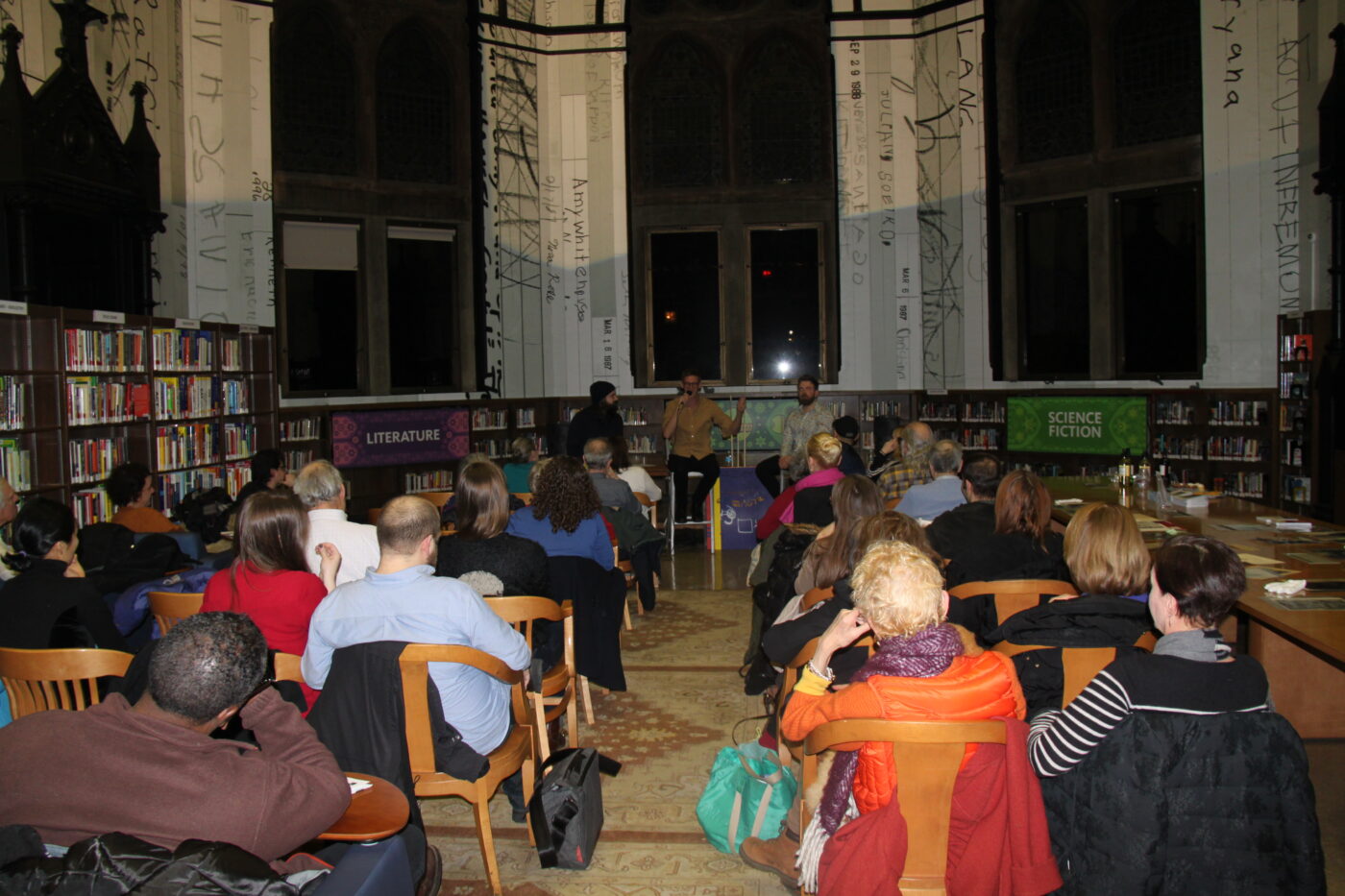 For his contributions to the Jefferson Market Library and the Greenwich Village community, Frank Collerius was awarded a Village Preservation Annual Village Award in 2017.
Village Preservation is very grateful to Frank for his work in the community as well as his programming partnership with Village Preservation. We partner on a number of programs each year. Last year, Frank welcomed Village Preservation into the library for a number of programs, including the Village Voices gala event.
The Bitter End: Recognizing the places that make our communities a center for artistic achievement.
The Bitter End, a historic music venue located in Greenwich Village, was awarded a Village Preservation Village Award in 2019. We recently held a living history chat with Bill DeSeta who was a manager at The Bitter End. In this conversation, one begins to see the longterm significant impact The Bitter End has on the music scene in Greenwich Village.
At the 2019 Annual Village Awards, The Bitter End was recognized for its important role in the cultural and social history of Greenwich Village, having hosted performances by some of the most significant artists of the 20th and 21st centuries, including Bob Dylan, Joan Baez, and Lady Gaga. The venue has also been a platform for emerging and independent artists, providing a space for them to showcase their talents and connect with audiences.
The Bitter End has been a steadfast presence in the Greenwich Village community since it opened its doors in 1961, and has weathered numerous challenges over the years, including changing musical tastes and economic downturns. Despite these challenges, the Bitter End has remained committed to preserving the spirit of Greenwich Village's music scene and supporting the local artistic community.
The Village Preservation Village Awards recognized the Bitter End for its contributions to preserving the cultural heritage of Greenwich Village, and for its continued role as a vibrant and important part of the neighborhood's cultural landscape.
Now that you've gotten to know some of the inspiring past winners of the Village Preservation Annual Village Awards, we hope you will take a few minutes to nominate your favorites from the East Village, NoHo, and Greenwich Village for a 2023 annual award. The nomination form is online and easy to use.
Just fill out the nomination form with the required information, including the nominee's name, contact information, and a description of their contributions to preserving the Village's unique character and architecture. Be sure to submit the completed form before the nomination deadline, Friday, March 31st at 11:59pm.
Alternatively, you can also contact Village Preservation directly via email at rsvp@villagepreservation.org to request a nomination form or ask any additional questions about the nomination process. You may have received a paper nomination form in the mail, or can pick one up at a local business or organization.