City Releases "Special Permit" Requirement Proposal For Hotels South of Union Square; Plan Would Promote Office Tower Development and Destruction of Historic Buildings, Expands "Midtown South" to Greenwich Village and East Village, Rewards Mayor's Campaign Donors and Fails to Deliver on Rivera's Neighborhood Protection Campaign Pledge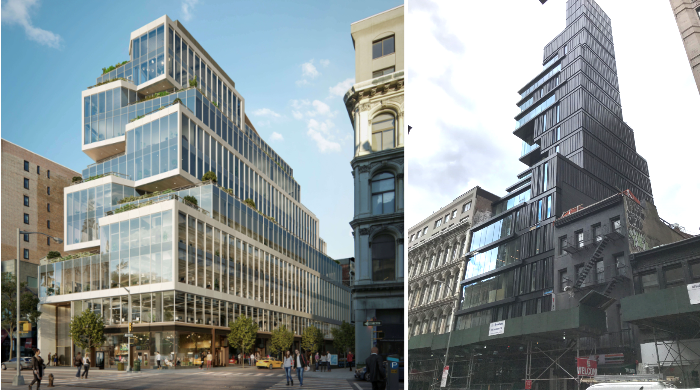 Today the city released its plan to add a requirement that new hotels in Greenwich Village and the East Village south of Union Square must receive a "special permit" from the City Planning Commission and City Council in order to be built. While ostensibly a response to concerns about inappropriate development in the area in the wake of the City and Councilmember Rivera's approval of the 14th Street Tech Hub upzoning last year, the city's analysis for the plan envisions that where hotels might have been developed office towers will rise instead, thus accelerating the spread of "Midtown South" and "Silicon Alley" through the area that the Tech Hub has already catalyzed. The plan also identifies locations on East 10th and 12th Streets for new office tower development resulting from this plan that would entail the destruction of multiple historic 19th-century buildings that housed artists including Willem de Kooning and Reginald Marsh — buildings which Village Preservation and other neighborhood groups had urged be landmarked. Adding insult to injury, in its analysis for the hotel special permit proposal, the City affirms that it will continue to deny landmark protections to these historic properties and greenlight their demolition.
Multiple press accounts have indicated that the true reason for the city moving ahead with this plan is the Mayor paying back the powerful Hotel Trades Council for being the only union and one of the very few entities to support his failed presidential campaign. It has also been reported that large hotel developers who have contributed to the Mayor's campaign support this provision, as it will help limit competition for their highly lucrative establishments.
When running for City Council in 2017 and after entering office in 2018, Councilmember Carlina Rivera pledged that she would only support an upzoning on 14th Street for the creation of a Tech Hub if the City agreed to comprehensive landmark or zoning protections for the Greenwich Village and East Village neighborhoods to the south to prevent a spillover of oversized and tech-related development. Instead, she approved the plan with almost no protections for the neighborhood. Instead of the 193-building historic district advocated for by Village Preservation and neighbors, the city cherry-picked seven unthreatened buildings (3.6% of those proposed) for landmark designation and has refused to consider more (as evidenced by this proposal which supports the demolition of several historic buildings proposed for landmark designation). Instead of comprehensive zoning protections, now the city is offering a special permit requirement which will, at best, turn hotel development into office tower development.
Last week, the developers of the14th Street Tech Hub issued a press release confirming our worst fears and suspicions about the project. Now redubbed "Zero Irving," the developers tout the project as being located in "Midtown South" and the luxury amenities it will provide to its high-end tech clientele. The press release admits that only 3 of the project's 21 above-ground floors will provide training or services for the public, while the remainder will be for-profit, high-end "trophy-class" commercial space (largely tech offices) with amenities like roof decks and terraces for their tenants (read coverage here and here). Yet this development scheme was chosen by the City and Councilmember Rivera over other proposals that offered more public benefits in a smaller building that did not require the commercial upzoning neighbors opposed, and which would have paid a higher price to the city for this incredibly valuable public land originally earmarked for affordable housing. In fact, Village Preservation uncovered that the developers (who are major campaign donors to the Mayor) were chosen with no written scoring or official record of why they were picked over other proposals, and will be paying less for the land on which they will build a luxury office tower than a 2-story PC Richard appliance store did for use of the same public land. Read more here.
In response, Village Preservation Executive Director Andrew Berman released the following statement:
The proposed special permit requirement for hotels south of Union Square is clearly not intended to control out-of-character development in the area, nor will it have that effect. Published reports demonstrate that the true intended beneficiaries of this plan are the Hotel Trades Union following their solo endorsement of the Mayor's failed presidential campaign, as well as the large hotel developers who fear competition from new hotels, who've also donated generously to the Mayor. This proposed measure comes nowhere near Councilmember Carlina Rivera's campaign pledge to condition her support for the 14th Street Tech Hub upon comprehensive neighborhood protections for the surrounding Greenwich Village and East Village community, which this fails to deliver. In fact, according to the city's own analysis, this measure will merely result in more high-rise office towers being built in these low-to-mid-rise predominantly residential neighborhoods, as well as the destruction of more historic buildings such as the former homes of artists Willem de Kooning and Reginald Marsh — buildings which the city reiterates in its filings for this plan that it will not landmark, in spite of repeated requests from this organization and the local community. This special permit measure is cold comfort to these neighborhoods, especially given that the decision-making process for approving new hotels goes to Mayor de Blasio and Councilmember Carlina Rivera, the same people who gave us the 14th Street Tech Hub without promised neighborhood protections which is leading to the transformation of these neighborhoods into an extension of "Midtown South" and "Silicon Alley." Much as the Tech Hub was recently redubbed "Zero Irving," this measure offers "Zero Help" for Greenwich Village or the East Village.
The city's south of Union Square Hotel Special Permit plan was released late Friday, and will be discussed in the City Planning Commission review session Monday at 1pm (item 8).
For more information on the campaign to protect the area south of Union Square and the impact of the Tech Hub, see villagepreservation.org/savemyneighborhood.
October 28, 2019