Wednesday, November 16
6:00pm-7:15pm E.T.
Zoom Webinar
Free. Pre-registration is required.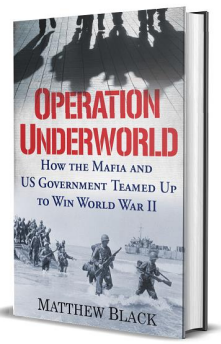 Join Village Preservation for a book talk that explores the question "How could America's most powerful mobster be honored with the military's highest decoration?"
In February 1947, noted broadcaster and gossip columnist Walter Winchell reported that infamous gangster "Lucky" Luciano was being considered for the Congressional Medal of Honor. The new book Operation Underworld (on sale December 27, 2022) is the account of the war effort's clandestine coalition between the Mafia and the U.S. government. Journalist and crime historian Matthew Black reveals the Faustian bargain that brought homefront enemies together and ultimately succeeded in helping the Allies win World War II.
As a last resort to protect American interests, U.S. Naval Intelligence hired notorious Mafioso boss Charles "Lucky" Luciano, in partnership with Meyer Lansky, to serve as government informants, patrolling the vulnerable docks of New York City, and reporting back to federal authorities. This is a thrilling, unbelievable account of America during the war that reads like an alternative history, changing the lives of everyone involved.
Hear from author Matthew Black as he describes his research and the book that looks at this unique moment in New York City history, including characters familiar in the neighborhoods of Greenwich Village, the East Village and NoHo. Hear stories about when New Yorkers looked to the sky in horror as a giant plume of black smoke turned day into night. Thousands of people were inside their offices when a sight from the harbor drew their attention away from their work. Even miles away people on the ground could see the smoke — the second largest ship in the world, the SS Normandie, was ablaze while in port at Pier 88 on the Hudson River. The sight was eerily similar to what people had seen in recent newsreels, like the blazing ships recently destroyed in Pearl Harbor. Was New York under attack?
The operation proved so successful that the Navy used informants from Operation Underworld to take the fight to the enemy in Italy and Germany. Find out more about the new book Operation Underworld on sale December 27, 2022.

Matthew Black (he/him): Based in San Diego, CA, Matthew is a labor and crime historian who was recruited by James P. Hoffa's office in 2016 to write Dave Beck – A Teamsters Life. Black has also worked as a writer for The San Diego Union-Tribune and has written articles for Alaska Airlines magazine. Black has published dozens of articles on History101.com, where he has individually brought some 42 million readers to his work. Born and raised in Seattle, he is a graduate of the University of Washington with an honors degree in history. Read more at www.operationunderworldbook.com.