After Nine-Year Campaign, Julius' Bar Landmarking Proposal to Finally Get Hearing November 15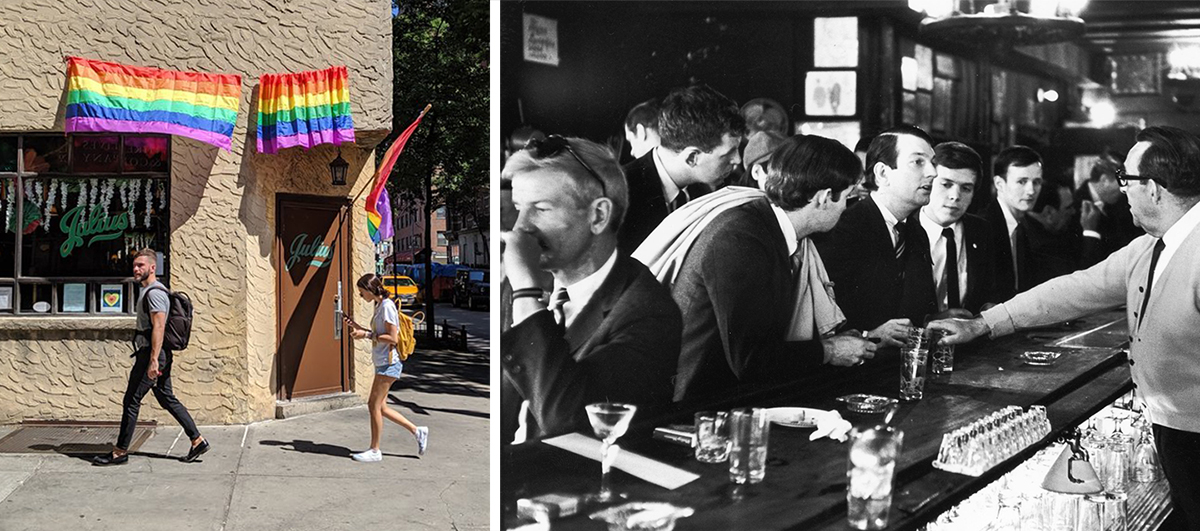 After a nine-year campaign by Village Preservation, the NYC Landmarks Preservation Commission (LPC) will finally hold a hearing on November 15 to consider 159 West 10th Street/188 Waverly Place, which houses Julius' Bar, for individual landmark designation. Village Preservation first proposed the building for landmark designation along with the Stonewall Inn, the LGBT Community Center, and the Gay Activists Alliance (GAA) Firehouse; at the time, there were no landmarks designated by New York City primarily for their significance to LGBTQ+ history or the LGBTQ+ civil rights movement. The upcoming hearing follows the September "calendaring," placing the building under formal consideration for landmark status.
Following our proposal and an ongoing campaign for designation, in 2015 the city landmarked the Stonewall Inn, and in 2019 the LGBT Community Center and GAA Firehouse. But until now, the LPC resisted designating Julius' Bar, NYC's oldest gay bar and the site of the 1966 "Sip-In," a pioneering act of civil disobedience three years before the Stonewall Riots that confronted discriminatory rules that criminalized spaces allowing LGBTQ+ people to gather openly.
We are thrilled that the LPC is finally taking this action and recognizing the historic significance of Julius' Bar. However, it must be noted that the building already enjoys landmark protections as it's within the Greenwich Village Historic District (the proposed designation will make clear that the rationale for landmarking is its significance to LGBTQ+ history, currently not acknowledged by the 1969 Greenwich Village Historic District designation). But the LPC has not yet acted upon requests by Village Preservation and others to landmark sites in our neighborhoods completely lacking in landmark protections and vulnerable to demolition, alteration, or compromise.
TO HELP:
Learn more about LGBTQ+ history in our neighborhoods here and civil rights history here.

Learn more about our historic plaque program, which includes Julius' Bar, here.

Learn more about our efforts to help preserve and promote small businesses, including Julius' Bar, here and here.

And support Julius' Bar, and keep a great historic local independent business in our neighborhood going!
October 31, 2022