Community Groups Form Save SoHo-NoHo Coalition in Light of Rezoning Push – Support Us
Village Preservation (GVSHP) has joined forces with the Bowery Alliance of Neighbors, the Broadway Residents Coalition, Lower Manhattan Loft Tenants, the NoHo Neighborhood Association, and the SoHo Alliance to form the "Save SoHo-NoHo Coalition" in response to a city-initiated push to consider zoning changes for these neighborhoods. We are also responding to the recent formation of a coalition of real estate companies and developers known as the "Fix SoHo NoHo Coalition" seeking to utilize the process to advocate for zoning changes favorable to their interests, and proposals coming out of New York University for zoning changes to allow the university's further expansion in NoHo and to double the allowable size of new development there.
In January, Mayor de Blasio's Department of City Planning, Borough President Gale Brewer, and City Councilmember Margaret Chin announced the launch of "a public engagement process to inform future planning efforts in…SoHo and NoHo," the current zoning for which they said, "presents increasing challenges to the continued vitality of SoHo/NoHo." An advisory group was formed to guide the process in which Village Preservation (GVSHP) was not allowed to participate, although the Real Estate Board of NY (REBNY) and NYU were both given seats on the board. An initial 'Open House' for the planning process saw an unanticipated crowd of hundreds of residents expressing skepticism about the process and the meeting, which the press described as "chaotic." Three more public workshops are planned through May 2, with a scheduled public "Summary of Recommendations" scheduled for June 6 (see www.envisionsohonoho.nyc/).
The Save SoHo-NoHo Coalition has outlined the following principles we will advocate for in response to the potential rezoning and the push for changes by real estate and large institutional interests:
Preserve the existing rights and protections for residents, esp. artists/those in JLWQA (Joint Living-Work Quarters for Artists)
Maintain the existing allowable FAR (density of development as measured by floor area)
Uphold existing limits on the maximum allowable size of retail
Keep public review for developments or uses not currently allowed
Limit types of university uses to those allowable under existing zoning
Keep the creative character of SoHo and NoHo
We have additionally asked that a certified artist be added to the Advisory Group, and that the process be extended until at least the fall.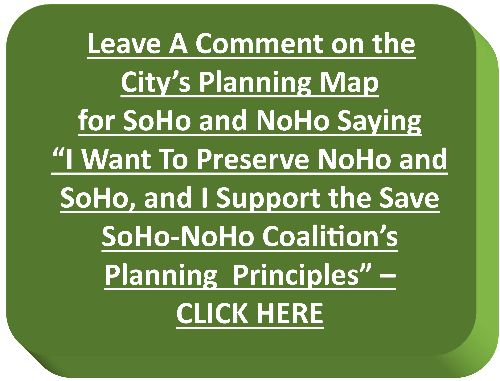 March 6, 2019