De Blasio SoHo/NoHo Plan Even Worse Than We Expected
De Blasio's Just-Released SoHo/NoHo Plan
Would Change the Face of Historic Neighborhoods
With Massive Upzoning
Plan Has Devastating Implications for
Neighborhoods and Historic Districts
Across the City
Late yesterday the de Blasio administration released details of their planned upzoning of SoHo and NoHo — and it's even worse than we imagined.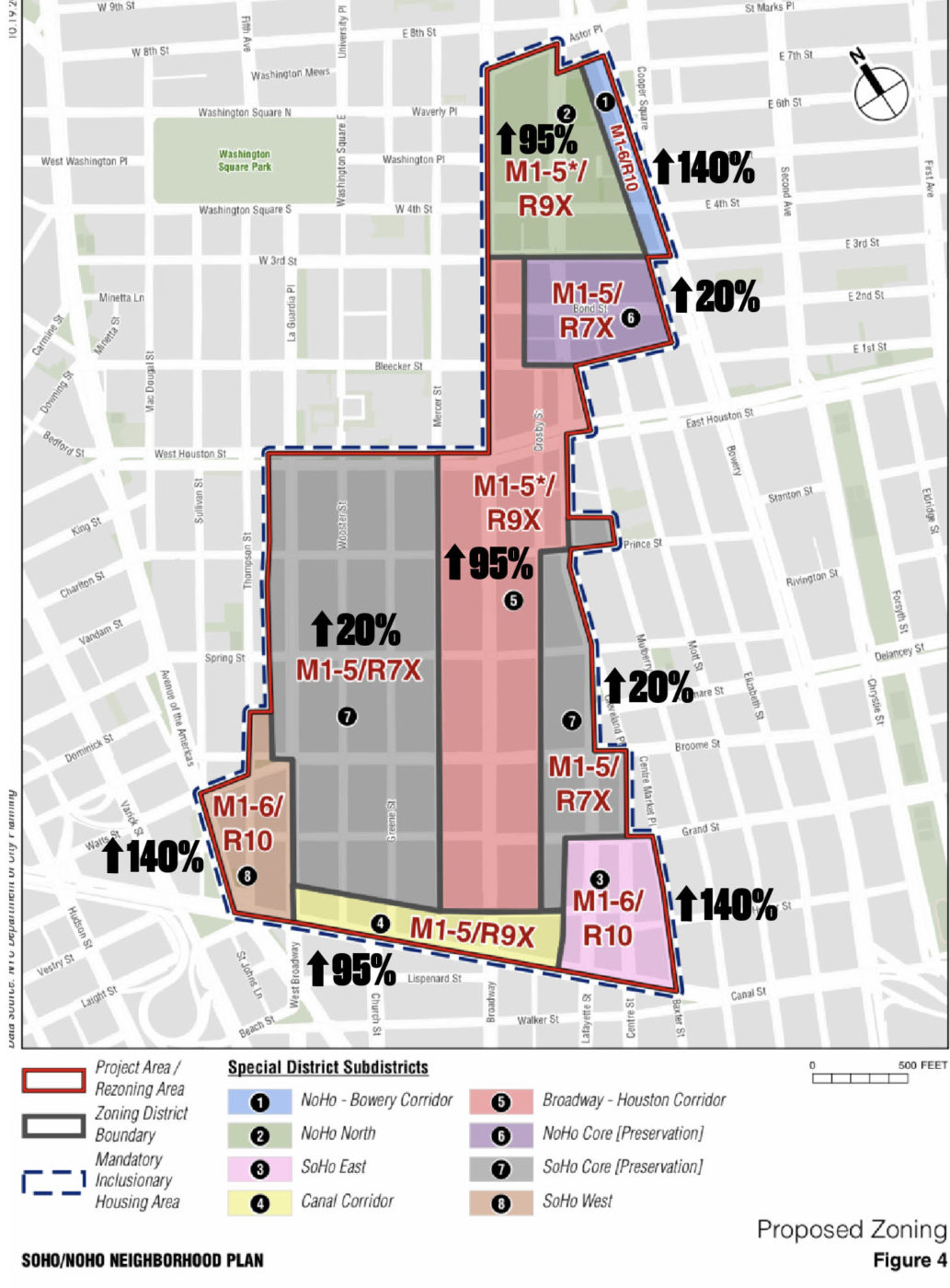 Here are some highlights:
Virtually the entirety of the two neighborhoods, including historic districts/landmarked areas, would be upzoned by a minimum of 20%, with increases to as much as nearly two-and-a-half times the size of currently allowable development in some areas, including some sites within designated historic districts.
The maximum allowable floor area ratio of 12 which would be introduced here is generally found in Midtown, the Financial District, and on Billionaire's Row.
Much of the two neighborhoods, including much of their historic cores, would see a near doubling of the allowable size of new development.
The new zoning would allow + encourage the proliferation of big box chain stores throughout the area, and offers no assistance to independent businesses who face unprecedented hardship now, and would likely face increased pressure to be pushed out under new rules.
In some super-sized new buildings, a fraction of the space would be required to be "affordable," though the affordability can vary widely (some for fairly high income residents), as can the amount of space, which would never be more than about 25%. Therefore the price for every new unit of affordable housing would be at least 3 (or more) units of luxury condos, in structures often vastly larger than what current rules allow.
Developers who lobbied for the rezoning, funded non-profit groups behind it, and generously donated to the Mayor's campaign and his scandal-plagued now-shuttered non-profit would be rewarded particularly handsomely. Edison Properties, owners of the largest development sites in NoHo and SoHo, would see allowable development on their sites increase to double and nearly two-and-a-half times what current rules allow (and what was allowed when they bought them), gifting them a tremendous windfall. They would also be allowed to include previously-prohibited big box chain stores in their developments.
You can read more of the Mayor's plan for SoHo and NoHo here and here.
This proposal, which must still go through a long public review and approval process, has extremely troubling implications not only for SoHo and NoHo, but for neighborhoods and historic districts throughout the city. It would allow new development of between 20% larger and two and a half times the size what current rules allow. Those current rules for SoHo and NoHo have resulted in some very contextual and some very out-of-context new developments in the neighborhood — about 60 new buildings by our count in recent years. The city identifies an additional 90 potential development lots in the neighborhoods under the upzoning, though a cursory review shows they are leaving out several large sites which would become potential development sites under the massive upzoning proposed. Development on those sites would likely be vastly out-of-scale and character for these neighborhoods, given the differences between their size and those of other recent developments in the neighborhood.
But this is also indicative of a concerted push by this administration, big real estate, and some advocates to gut existing landmark and zoning protections for our neighborhoods, as outlined in the city's recently-released WhereWeLiveNYC report. That report points to neighborhood zoning and landmark protections as impediments to our city's future, and proposes weakening or undoing them. Some Mayoral candidates are echoing some of those calls.
The Mayor, his big real estate allies, and advocates of this plan will try to frame it as being about affordable housing, and opposition to it as opposition to this much-needed resource. Make no mistake — Village Preservation unequivocally supports affordable housing and the need to create and preserve it in all neighborhoods, and our work reflects that. We would welcome requirements for affordable housing in new developments in our neighborhood AT THE VERY GENEROUS SCALE WHICH CURRENT RULES ALLOW, and would welcome 100% affordable housing built by affordable housing providers in our neighborhood.
That's not what this plan is. It's a scheme for massive giveaways of development rights to developers/donors to the Mayor, which would create a flood of luxury condo development, with the fig leaf of a small amount of "affordable" housing as the transparent veneer to grease this plan through the public review and approval process, and the court of public opinion.Our neighborhoods and our city need and deserve better.
The next meeting on this proposal will be on December 3; stay tuned for more information.
Ultimately City Councilmembers Margaret Chin and Carlina Rivera will decide if this gets approved, and Borough President Gale Brewer will get an advisory vote as well. Be sure to let them and all relevant city officials know where YOU stand on this outrageous plan.
October 27, 2020