Five-Year Lawsuit Against Village Preservation Dismissed; Continue the Fight for CHARAS/El Bohio at the Former P.S. 64 this Saturday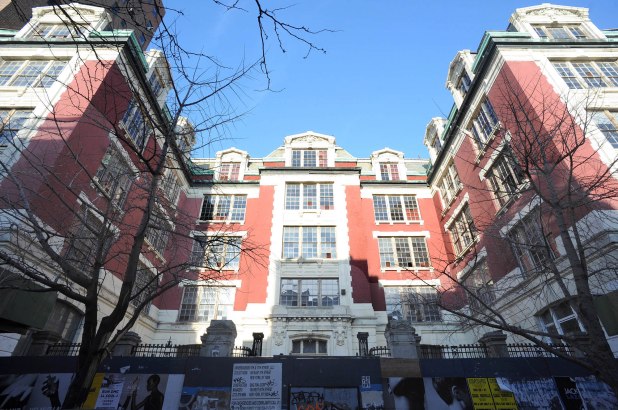 In 1999, Mayor Rudolph Giuliani auctioned off the once-abandoned former P.S. 64 at 605 East 9th Street (east of Avenue B), which had for years been productively used by community group CHARAS/El Bohio to offer much-needed social and arts programs to the neighborhood. Developer Gregg Singer bought it and tried to tear the historic building down (even as it was being landmarked) and to site uses there that violated zoning regulations and the terms of a restrictive deed upon the property. Village Preservation, among many other East Village groups and leaders, fought these multiple attempts to destroy and compromise this beloved local landmark.
Five years ago, developer Gregg Singer sued Village Preservation (among many others), alleging our advocacy to prevent his destruction of the landmarked East Village property and to build or install illegal uses there violated his rights. While ludicrous on its face and clearly intended to try to intimidate us and prevent our doing the work at the core of our mission, Singer spent untold amounts of money dragging his case through the courts, attempting to keep us wrapped up in litigation even as judge after judge ruled against him.
Finally Singer, who now also faces foreclosure proceedings against him for this property, has had his final appeal dismissed, ending his years of litigation against us. We continue to work with allied community and preservation organizations to ensure the former P.S. 64 is preserved and to advocate for its return to a real and productive community use, as it had for many years before Singer's purchase. We're jointly holding a rally toward this end this Saturday at noon as part of the Save Our Community Center coalition (see flyer below) — join us to continue the fight!
Learn more about the fight to preserve CHARAS/El Bohio at the former P.S. 64 here. 
December 12, 2022