RECOGNIZING AND PRESERVING LGBT HISTORY IN THE VILLAGE Urge the City to Landmark Civil Rights Pioneer Julius' Bar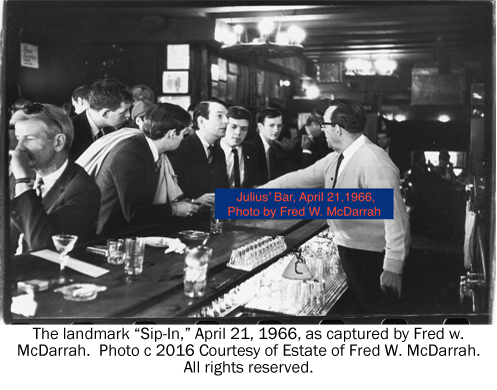 The Village has a long and rich history in connection to civil rights movements. Perhaps none is more closely intertwined with the history of the Village than the struggle for LGBT (lesbian, gay, bisexual, and transgender) civil rights.

GVSHP has worked hard to document and preserve that history. In 1999, GVSHP helped get the Stonewall Inn listed on the National Register of Historic Places, and in 2015 led a successful campaign to get it landmarked. In both cases, this was the first time any site had been so designated based upon LGBT history.

In 2012, GVSHP got Julius' Bar ruled eligible for the State and National Register of Historic Places – one of only a handful of LGBT history-related sites at the time to receive such recognition. This year, thanks to the efforts of the LGBT Historic Sites project, it was listed.

But a site like Julius' is still vulnerable without individual landmark designation by the New York City Landmarks Preservation Commission. Only the LPC can protect a site from demolition or alteration, and in spite of the fact that Julius' played a critical role in the LGBT civil rights movement fifty years ago this year (three years before the riots at Stonewall), the city has still not moved ahead with GVSHP's request to landmark it. Julius' is also one of the oldest bars in New York City (more than 150 years old), and the city's oldest gay bar.

As we approach 2016's LGBT pride celebrations, let's push the City to finally recognize and protect the historic significance of Julius' Bar.
HOW TO HELP:
Find out more about Julius' history from our recent Village Awards presentation. And attend our program June 22nd, Marking LGBT History in the Village and Beyond: A Panel Discussion with REPOhistory.
June 22, 2016