St. Mark's Place Air Rights Transfer Gets Landmarks OK, Still Faces Many Hurdles
As expected, on Tuesday, the Landmarks Preservation Commission approved the application to allow an air rights transfer from the landmarked house at 4 St. Mark's Place across the street to a planned new office tower at St. Mark's Place and 3rd Avenue, increasing the tower's size by 20%. One Commissioner spoke out strongly against the plan, and voted against it (read more here). Village Preservation strongly opposes the plan, which would make the out-of-character office tower that much more out of place in the neighborhood, and further abet the spread of 'Silicon Alley' and 'Midtown South' into this part of the East Village and Greenwich Village, which the recent Tech Hub upzoning is already abetting. The lobbyist for the plan is Capalino+Co. – a firm noted for their prodigious fundraising for the Mayor, and their successful efforts to secure or avoid needed land use approvals, transforming this and other neighborhoods.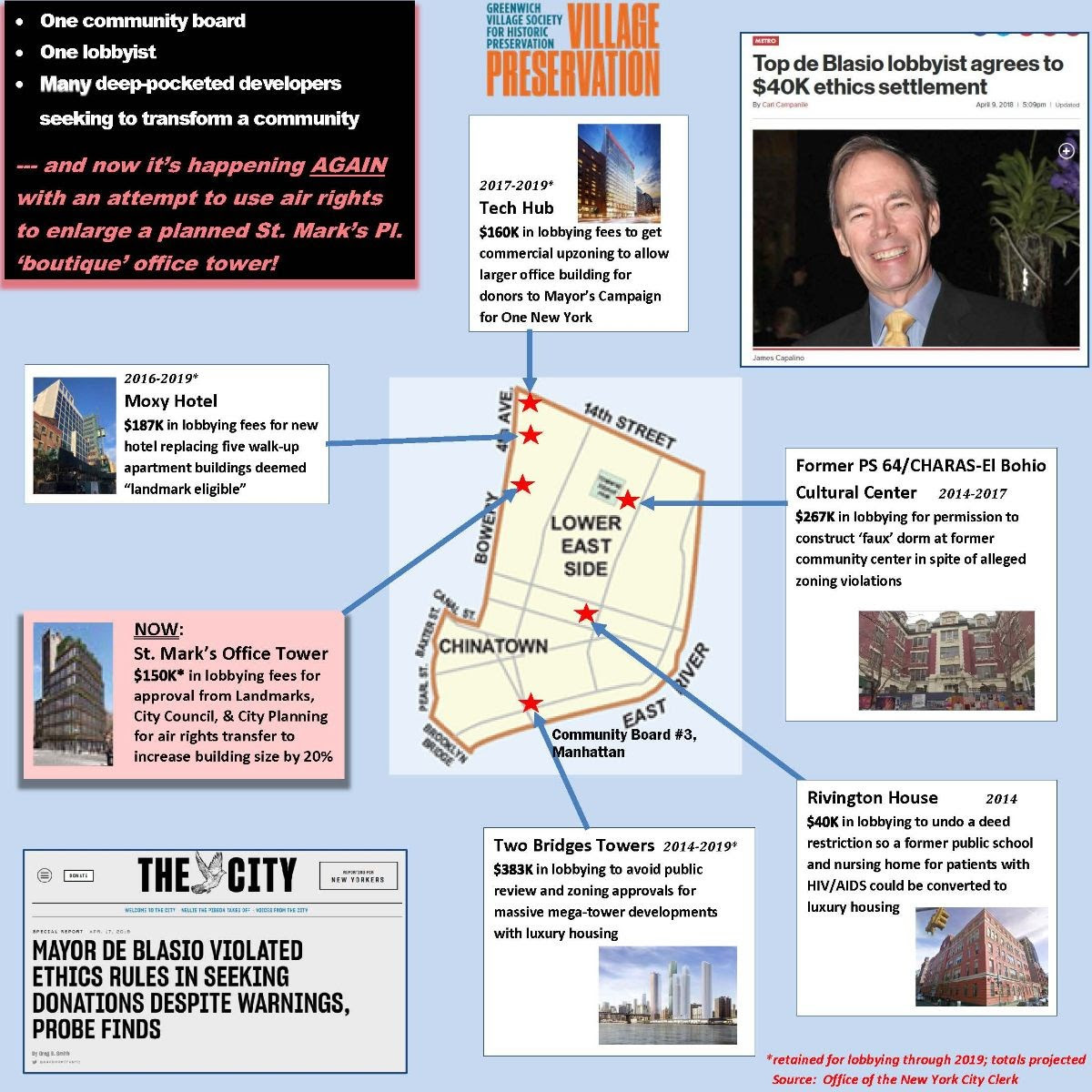 In addition to Village Preservation, Community Board #3 has unanimously opposed the plan, Assemblymember Deborah Glick and State Senator Brad Hoylman have testified against it, and now Borough President Gale Brewer has also stated her opposition to the air rights transfer. The application next goes to the City Planning Commission, which is controlled by the Mayor, and which is also expected to approve it.  However, it must then be approved by the City Council, which will follow the lead of local Councilmember Carlina Rivera in deciding whether or not to allow it. We have reached out to Councilmember Rivera about our opposition, and she has received hundreds of letters urging her to oppose it. 
June 20, 2019