Village Preservation Joins Doctors, Patients, and Staff for Press Conference to Save Historic New York Eye and Ear Infirmary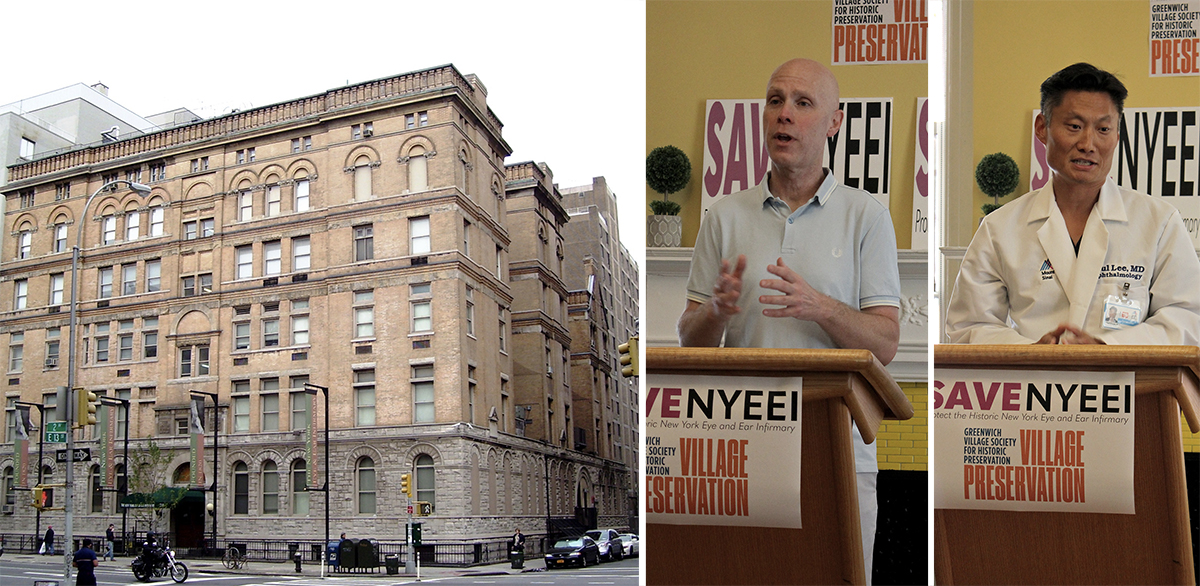 Last week, Village Preservation joined staff, doctors, and patients from the New York Eye and Ear Infirmary, as well as Assemblymember Harvey Epstein, for a press conference at our offices decrying the plan to close the facility that has stood for over 165 years at the northeast corner of Second Avenue and 13th Street, which would likely lead to the historic building's demolition. Village Preservation has been leading a campaign in coordination with the "Save New York Eye and Ear Infirmary" group of doctors, staff, and patients to landmark the striking historic building, which is supported by fellow preservation groups and State Senator Brad Hoylman and Assemblymember Harvey Epstein (City Councilmember Carlina Rivera has not supported the landmarking effort, and Manhattan Borough President Mark Levine has said that he will not). In response to this campaign, the Landmarks Preservation Commission has said that the building "may merit consideration as an individual landmark," but has not yet taken any action.
You can watch video of the press conference here and see pictures from the press conference here. You can see coverage of the press conference on NY1 and in AM New York, Gothamist, Patch, and the New York Post.
The New York Eye and Ear Infirmary is the second oldest specialized hospital in the Western Hemisphere and NYC's second oldest hospital, where groundbreaking care for those with vision and hearing impairments have taken place over two centuries. Helen Keller spoke in 1903 at the ribbon cutting for the final phase of the historic building we are seeking to save at Second Avenue and 13th Street. To help save the building and keep its services intact, send the letter below. If you've already sent it, ask friends, family, and neighbors to do the same. 
August 17, 2022