Village Preservation's 19th Plaque Unveiled Marking Julius' Bar and the 1966 Sip-In
Last Thursday, April 21, we unveiled our 19th plaque marking historic sites in our neighborhoods, this time honoring Julius' Bar at 159 West 10th Street and the 1966 "Sip-In" that took place there — a seminal event in the early LGBTQ+ rights movement. We were joined by our partners in this plaque unveiling, the NYC LGBT Historic Sites Project, Julius' owner Helen Buford, original 1966 Sip-In participant and longtime LGBTQ+ activist Randy Wicker, and actor, writer, producer John Cameron Mitchell (who hosts a monthly party at Julius' celebrating the Sip-In). State Senator Brad Hoylman dropped by, as did scores of activists, neighbors, fans, and writers, including Lucy Komisar, the author of the original 1966 Village Voice piece about the Sip-In. Watch the video here and see pictures here.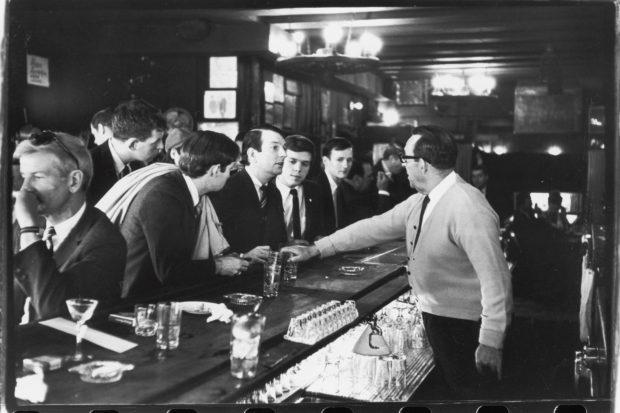 Julius' is the city's oldest gay bar, operating in a space that has housed a bar since at least the 1860s (making it also one of the oldest continuously operating bars in NYC), in a building that originally dates to around 1825. The Sip-In was one of the earliest public actions protesting discrimination against gay people, and rules at the time that essentially criminalized LGBTQ+ people and spaces in which they openly gathered. Inspired by the lunch counter sit-ins in the South, activists from the Mattachine Society demanded that they be served as customers even if they openly identified as "homosexuals." The action helped lead to the dismantling of discriminatory rules regarding LGBTQ+ people and gathering spaces three years before the nearby Stonewall Riots.
Village Preservation's plaque program has honored historic neighborhood figures from James Baldwin to Jane Jacobs; Lorraine Hansberry to LeRoi Jones; Anais Nin to Alex Haley; Frank Stella to Frank O'Hara; painter Jean-Michel Basquiat to "Picasso of Dance" Martha Graham; and many more.
April 25, 2022