Take Action on an Advocacy Campaign
---
City Still Refusing to Guarantee 100% Permanent Affordability at 388 Hudson Street and Pushing Inefficient, Out-of-Scale Tower — Demand Better!
City officials are continuing to refuse to guarantee 100% permanently affordable housing for a development on City-owned land at 388 Hudson Street at Clarkson Street, as well as refusing to eliminate a wasteful and inefficient tower configuration for the development in favor of a lower, bulkier building that minimizes height and shadows, fits into its context, maximizing use of space in the building for housing. We must demand better!
---
Demand the City Recognize + Preserve Our Lady of Guadalupe, NYC's First Spanish Church
Our Lady of Guadalupe Church at 229-231 West 14th Street was New York City's first church for a Spanish-speaking congregation or for congregants from the Spanish-speaking world. Unfortunately, the church is now endangered, and the City has refused to act. The City should reconsider its refusal and landmark this historic structure, before the opportunity to do so is lost.
---
Support landmarking the proposed South of Union Square Historic District NOW!
The announcement of plans to demolish nearly an entire blockfront in South of Union Square, on Third Avenue between 10th and 11th Streets, including buildings nearly 200 years old and sites of great importance to the development of 20th-century art and film, speaks to the urgent need for landmark designation to finally move ahead.
---
Help Bring Back the CHARAS/El Bohío Cultural Center
A critical opportunity presents itself for the City to re-acquire the former P.S. 64 building and work with the community to restore it and bring back the vital cultural center that it once housed, CHARAS. At long last, the property has been foreclosed upon and will soon be auctioned. This juncture offers an opening for the City to intervene on the community's behalf, as it promised to do. Send a letter to the Mayor and ask him to act now.
---
New York's Diverse Histories Are Endangered and Require Landmark Protections, On and Off 14th Street
Village Preservation is fighting to secure landmark protections for an array of sites on and just off 14th Street that represent so much about the diverse histories of New York City. Several are imminently endangered. And all have been proposed for landmark designation by Village Preservation, but the city has so far failed to act.
---
Save Theatre 80 and 78-80 St. Mark's Place!
Now that Theatre 80 and the buildings in which it's located at 78-80 St. Mark's Place have been sold at auction, the City MUST step up to ensure this vital cultural institution and New York City landmark is preserved.
---
Cuts to the Landmarks Preservation Commission Budget Must Be Restored
This spring Mayor Adams proposed budget cuts to the Landmarks Preservation Commission that would result in fewer landmark designations, weaker oversight of existing landmarks, and longer wait times for issuing permits with appropriate review and oversight. Now the Mayor has proposed even deeper cuts to the LPC, which would only exacerbate these problems. Tell him to restore those cuts and build a more robust agency.
---
The City's Plan to Save Landmarked Buildings from Destruction Needs Teeth and Specifics to Back It Up
The city's recently released plan to address the destruction of landmarked properties on its watch says a lot of the right things, but doesn't offer many specifics about how it will get there. Urge the Mayor, the Landmarks Preservation Commission, and the Department of Buildings to add teeth to their plan so that it can actually protect the historic structures that are now or will be endangered.
---
Remarkable Film History Is One More Reason to Landmark South of Union Square
The incredibly important role the area of Greenwich Village and the East Village South of Union Square has played in over a century of the development of the film industry is just one more reason this endangered historic area needs and deserves landmark protection.
---
Recognize and Preserve Black History Landmarks
Village Preservation has been waging campaigns to seek landmark designation for key Black history sites in Greenwich Village and the East Village that are unprotected and vulnerable to demolition. These sites represent the rich array of African American history in our neighborhoods over the last 200 years, from battles for abolition, civil rights, and voting rights, to vibrant cultural, literary, artistic, and musical movements. Much of this history has been overlooked, ignored, or undervalued.
---
Stop the Siting of Oversized and Unnecessary 5G Towers in Our Neighborhood
Demand the City rethink its program to place ungainly, 32-ft.-tall Link NYC 5G towers in our community; consider impacts upon landmarks and historic districts; allow for true public review and input; and stop the installation of huge concentrations of these towers in areas where they are clearly not needed and would have unmitigated negative impacts.
---
Save the Historic Eye and Ear Infirmary at 13th Street and Second Avenue!
The historic Eye and Ear Infirmary at 13th Street and Second Avenue is in danger of being lost forever. This striking building housed what is the oldest specialized hospital in the Western Hemisphere, founded in 1820 by two doctors known as the "fathers of American ophthalmology." This institution became an icon of comprehensive and accessible care for the public. Unfortunately the building's fate is now clouded. This striking piece of our city's history deserves to be spared from the wrecking ball and designated a landmark.
---
With Julius' Landmarked, City Must Protect Other Civil Rights and Social Justice Sites
The city just landmarked Julius' Bar at 159 West 10th Street after a 10-year campaign by Village Preservation. The action should be commended, but there are still many more historic sites connected to the struggles and histories of LGBTQ+ people, African Americans, women, people with disabilities, and many others that need landmark protection.
---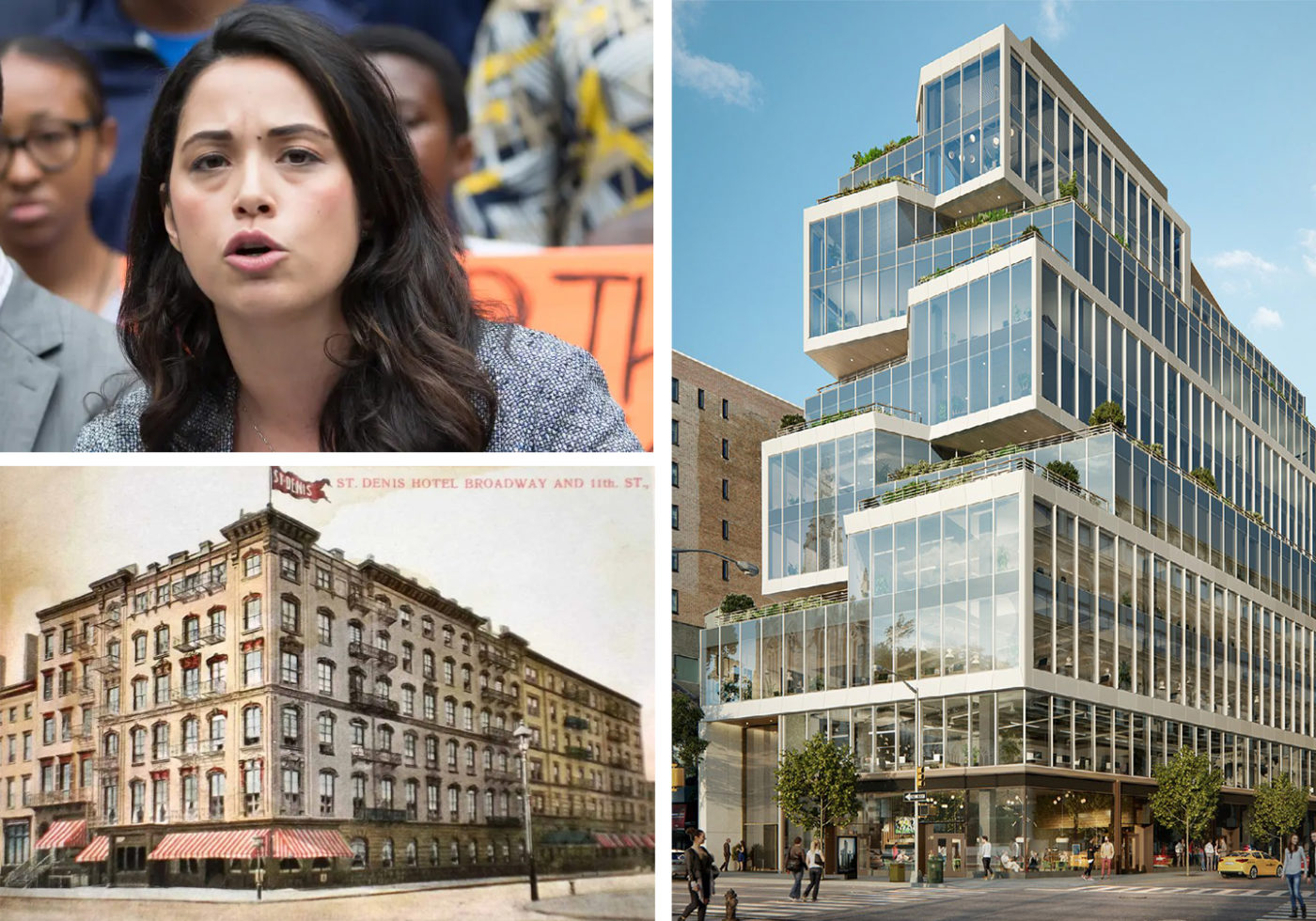 Tell Councilmember Rivera to Finally Keep Her Promise to Support Needed Protections for the Neighborhood She Represents
When she ran for City Council in 2017, Councilmember Rivera publicly pledged that she would not support the Mayor's Tech Hub plan unless it came along with comprehensive zoning or landmark protections for the surrounding neighborhood. Four years later, she has not only not secured a single additional neighborhood protection, she has failed to publicly support a single one.
---
Preserve + Protect Women's History Landmarks South of Union Square
Recognize and protect more than 20 women's history sites South of Union Square and support designation of the area as a historic district as proposed by Village Preservation.
---
Landmark 50 West 13th Street, Home of 19th-Century Abolitionist and Voting Rights Crusader Jacob Day
The 1846 house at 50 West 13th Street in Greenwich Village, home of 19th-century African American voting rights and civil rights crusader Jacob Day as well as the 13th Street Repertory Theater, is endangered. We must renew our push to preserve and protect the building.
---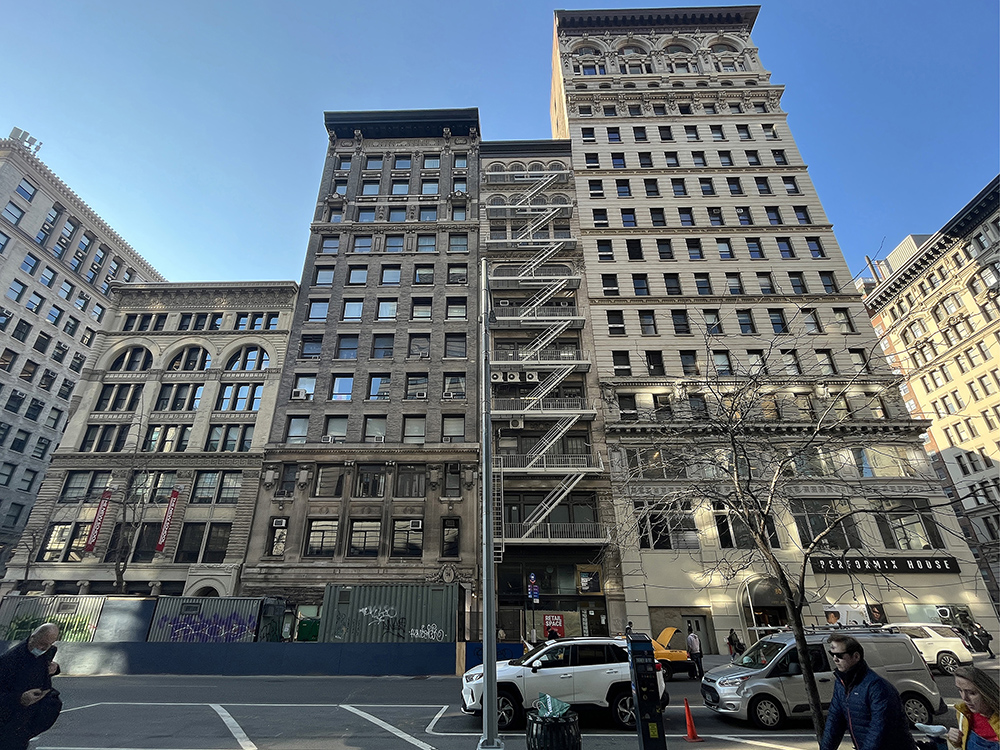 Recognize and Protect LGBTQ+ Landmarks South of Union Square
There is a rich array of sites connected to LGBTQ+ history in the area of Greenwich Village and the East Village South of Union Square that lack landmark protections. As a result, these enormously important historic sites are vulnerable to compromise or demolition, and more are being lost every day. Send a message that we must protect or support protections for this incredibly important and underrepresented history
---
Don't Destroy Our Neighborhoods with Unnecessary or Overblown Zoning Changes
The Mayor has released a three-pronged plan for changing zoning regulations and development rules for NYC. Send a message to the Mayor, the City Council, and other city officials that improving sustainability, regulations for small businesses, and opportunities for truly affordable housing are all important goals to work toward — but they can't be an excuse for real estate giveaways, unnecessarily oversized developments, and removal of regulations on businesses that help protect neighborhoods.
---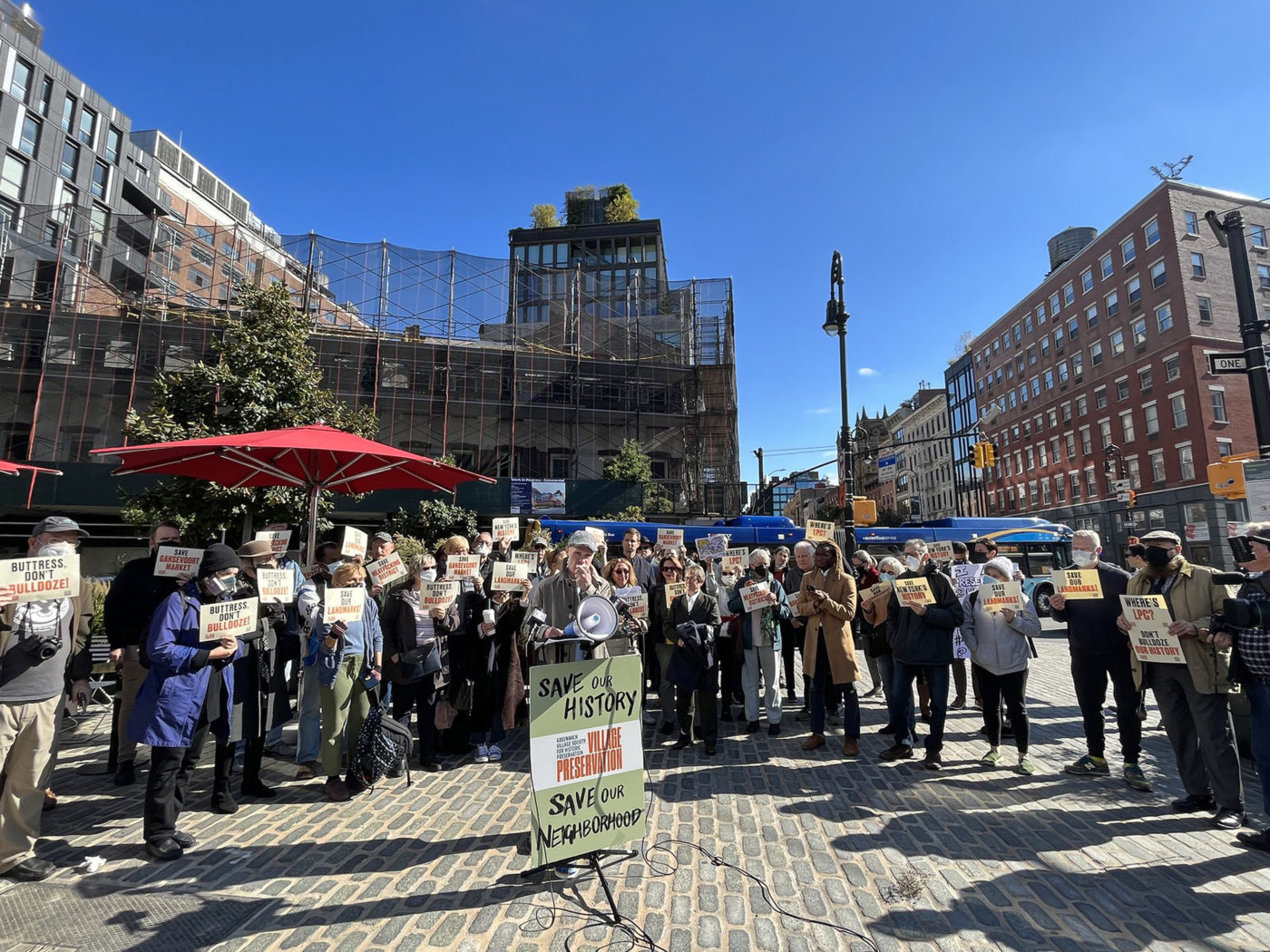 City Officials Must Be Held Accountable for Gansevoort Demolition Deception
Freedom of Information requests reveal that city agencies hid expert opinions that the nine landmarked 1840s houses at 44-54 Ninth Avenue/351-55 West 14th Street could have been been preserved rather than having their facades demolished. This type of deception, hiding of information, and government by lobbyists is unacceptable, and all involved must be held accountable.
---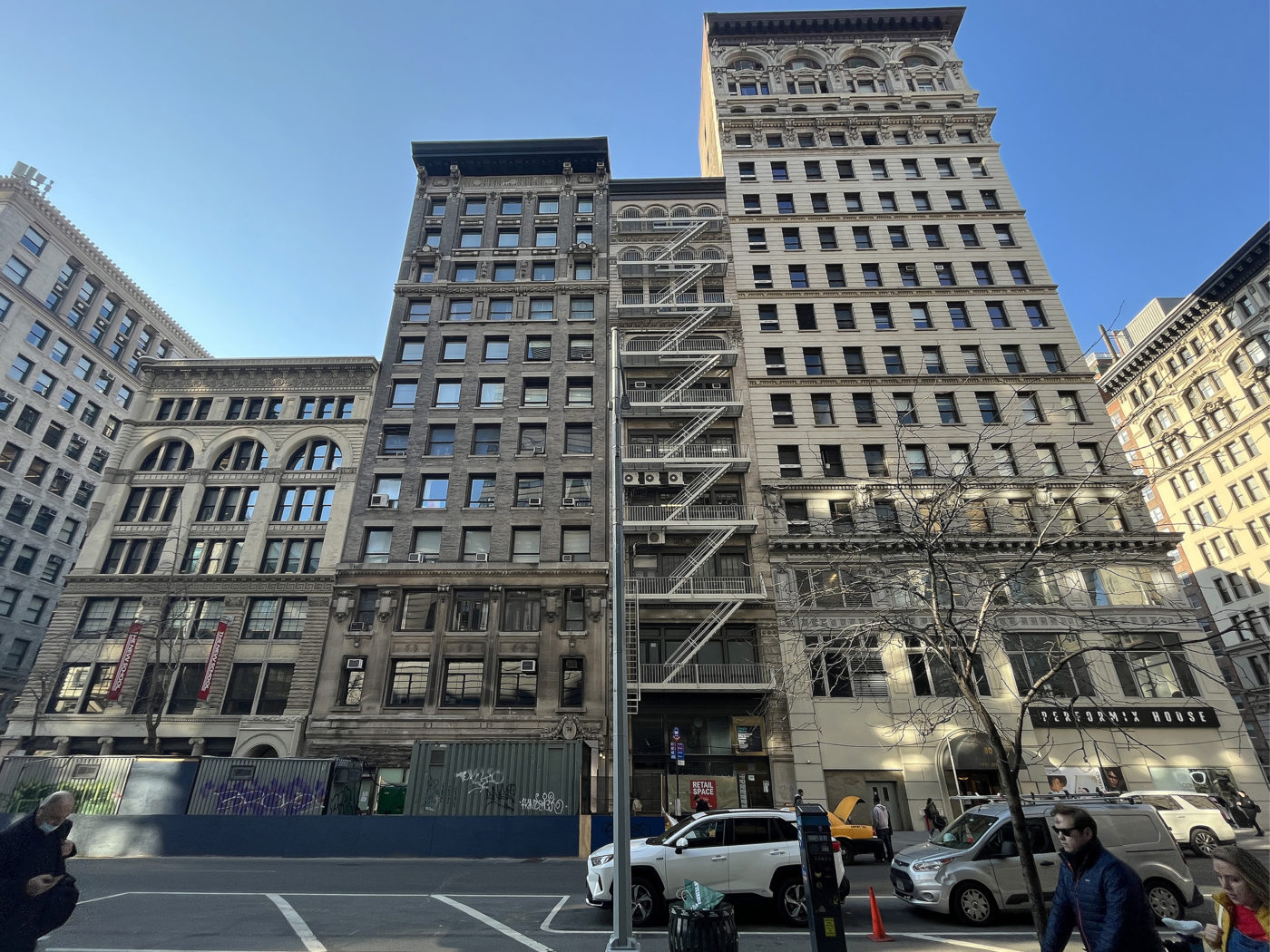 Preserve one of NY's "Seven to Save" — Landmark #SouthOfUnionSquare NOW!
The proposed South of Union Square Historic District has been named one of New York State's "Seven to Save" — one of the seven most important endangered historic sites in all of New York State. Tell our city's leaders — via email, tweet, or both — that they need to act immediately and support landmark designation of this area.
---
Urge City Officials to deliver on their 'Equity Framework' and landmark 285-287 East 3rd Street
Tell the Landmarks Preservation Commission to take immediate action in honoring the legacy of Steve Cannon with 285-287 East 3rd Street's designation as a landmark.
---
Save the Merchant's House Museum
Proposed construction next door to the Merchant's House Museum could do grave damage to this historic and vital public resource.
---
Expand Landmark Protections in the East Village
Urge the LPC Chair to to support significantly expanded landmark protections in the East Village, as advocated for by the Greenwich Village Society for Historic Preservation and a broad coalition of neighborhood and preservation organizations.
---