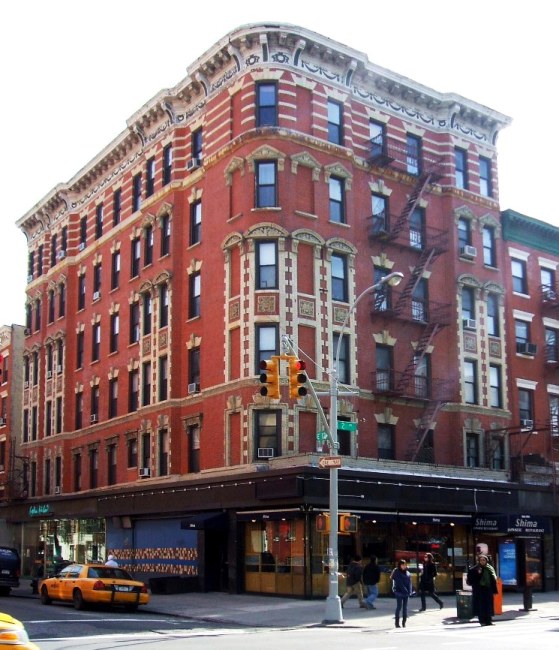 Researching the history of a building – as we're doing for thousands in the East Village – can often be an arduous task. So it's a great gift when sites like the Museum of the City New York's fantastic new online photo collection become available to us. Browsing through the site, we came across an 1938 photo of the Café Royal (viewable here and here; unfortunately copyright laws prevent us from showing the photos on our site) which one would scarcely know ever existed in the ground floor of the No. 190 Second Avenue at the corner of East 12th Street. This "New Law"  tenement building, which today houses the Japanese restaurant Shima, was constructed in 1903 by the architectural firm of Bernstein & Bernstein, prominent tenement architects responsible for dozens of similar buildings all over the neighborhood. The presence of Cafe Royal in the ground floor transformed an otherwise typical vernacular building into something legendary.
When lower Second Avenue was the heart of New York's Yiddish Rialto, Café Royal was the stomping ground of the stars that made it beat. Described by the New York Times in 1939 as "the Delmonico's, the Simpson's and the Fouquet's of Second Avenue, all in one," the world-famous Café Royal flourished under this roof from 1908 to 1952. Here, socialists, artists, rebels, writers and chess players mingled with Broadway stars and the most renowned of the Yiddish performers. As The New Yorker stated in 1937, "everybody who is anybody in the creative Jewish world turns up at the Cafe Royal at least one night a week. To be seen there is a social duty, a mark of distinction, and an investment in prestige."
"Cafe Crown," a 1942 Broadway play based on the restaurant, was rewritten as musical in 1964 and shown at the Martin Beck Theater. It was revived as a play 1988 by Joseph Papp and the Public Theater.
Looking across the street at the Yiddish Art Theatre – the East Village's only interior and exterior landmark – one can begin to imagine the creativity and passion that once emanated from these walls. Still, the legacy of the Rialto lives on in theatres throughout the neighborhood that to contribute greatly to the special character of the Village.
For more information on the Cafe Royal:
Sunset on Yiddish Empire, NY Post, October 29th, 2010
OSCAR SZATHMARY.; Owner of the Cafe Royal Dies After Being Ill a Few Hours, NY Times, December 2nd, 1930
In Lower Manhattan, the Echo of the Yiddish Stage Endures, NY Times, January 26th, 2007
Hymie the First, NY Times, March 1st, 1942
Theater Review, NY Times, October 26th, 1988