← Back
A Slice of East Village History is Destroyed
EV Grieve sends some sad news from the East Village today, where 326 & 328 East 4th Street – the two remarkably intact 1837-41 Greek Revival buildings the City refused to landmark after we tried desperately to save them last fall – are being destroyed after 170 years. Apparently, the developer was not as keen on preserving them as he once claimed to be.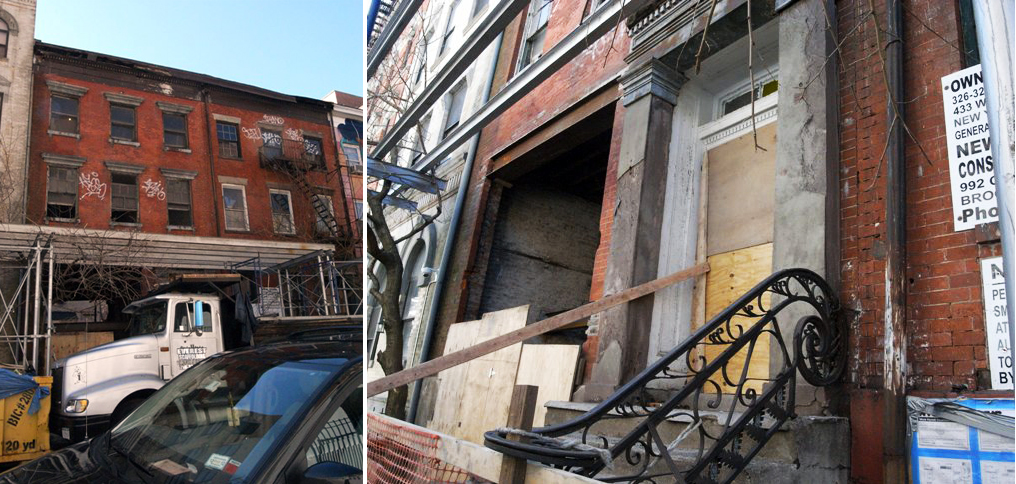 The fact that these are two of the first buildings ever to be constructed in the East Village makes this tragedy all the more difficult to swallow. Nos. 326 & 328 East 4th Street were only buildings ever to stand in their place; prior to their construction, the area was primarily farmland. They have seen the neighborhood through several waves of drastic change, from its origins as the center of New York City's shipbuilding industry to its transformation into an immigration hub to its rebirth as a haven for artists. Reflecting this history, they have housed merchants affiliated with the shipyards (No. 326 was developed by Francis Fickett, who many credit with the construction of the first steamship ever to cross the Atlantic Ocean), religious institutions (No. 328 was home to a synagogue for decades), and most recently an art collective (until last year, both buildings were home to the Uranian Phalanstery).
Until their recent destruction, the buildings wore proudly a collection of fine architectural details dating from more than two decades before the Civil War. They were rare treasures that hearkened back to far simpler time in history.
This most recent loss points to the urgent need for a thoughtful preservation plan for the East Village. To that end, GVSHP is deep in the midst of documenting the histories of the more than 3,000 buildings in the neighborhood. To find out more about our East Village Preservation efforts, click here.
For an in-depth history of Nos. 326 & 328 East 4th Street, read our letters to the Landmarks Preservation Commission here and here.