← Back
43 MacDougal Street – Demolition by Neglect?
By all accounts it looks like we're in for a rainy week, which doesn't bode well for 43 MacDougal Street, the neglected and badly deteriorating 1846 house on the corner of King Street in the Charlton-King-Vandam Historic District that we've been urging the City for years to step in and save.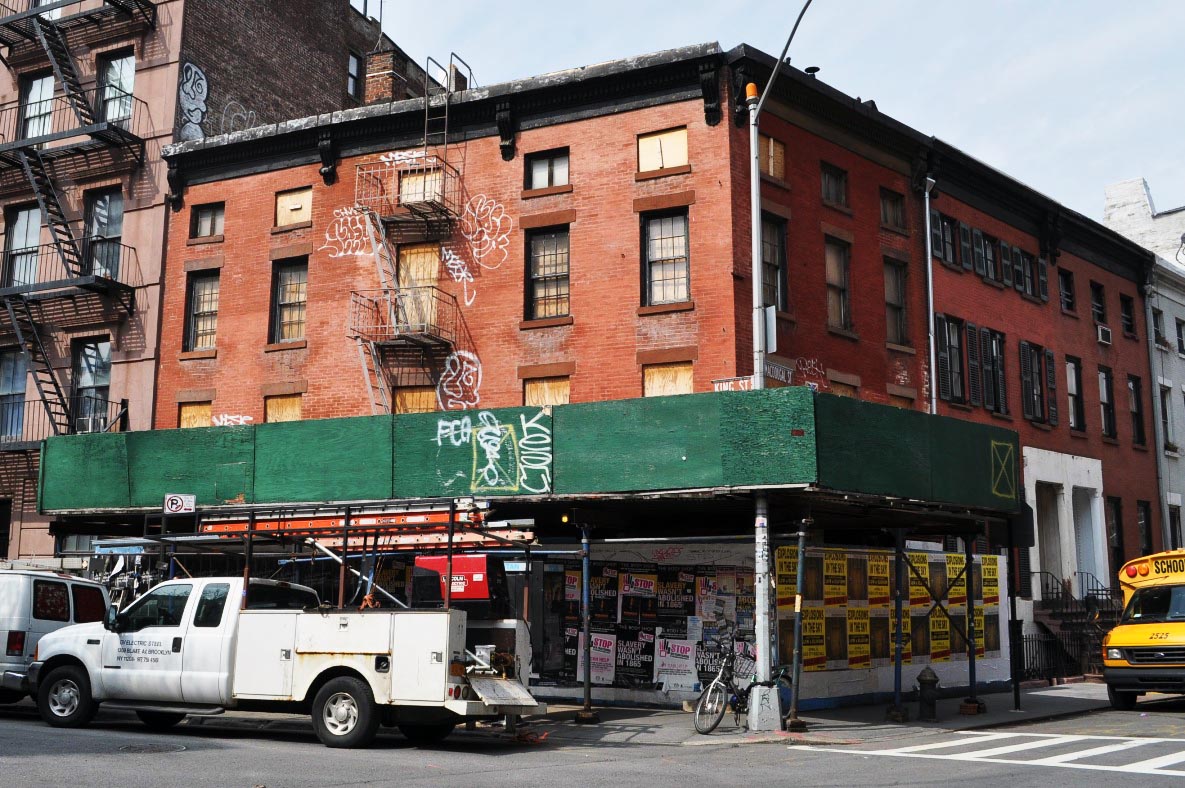 April showers mean increased leakage and damage to the roof and historic facade. Over the years this house has seen it all: graffiti, water damage, squatters, rats, garbage, broken windows… the list goes on and on. Last year someone even smeared feces across the front, which resulted in quite a stench during those hot summer months. Things have been nothing short of unbearable for the neighbors and for the kids attending the school right across the street.
Needless to say, no one should have to live with this, nor should any landmarked structure be left in this state…

The City Council didn't think so either back in 2005, when it passed the Demolition by Neglect Law allowing the City to sue owners who were letting their landmarked properties deteriorate to the point of no return. But while the City did – at our urging – begin initiation of such a lawsuit at 43 MacDougal Street in 2009, we've been frustrated at the speed at which the process has moved forward; in fact, in the nearly two years since this time, only the roof has been shored.
According to the LPC, the slow action on their part is due to the fact that the owners have recently passed away and the estate is being probated. How long this will go on is anybody's guess, and we just hope the LPC will do it's job and make sure this historic gem doesn't get lost in the shuffle. You can help by writing a letter to the City urging them to take action.
As an aside, just to prove things weren't always this bad, here's a shot of the building in its better days when its storefront housed a tailor:
But this same storefront is now deteriorating:
For more information, view our webpage on 43 MacDougal Street, which chronicles our efforts to urge the City to take action. Or read an article on Demolition by Neglect written by the legal counsel for the Landmarks Preservation Commission and published by the Historic Districts Council.