← Back
Second Avenue Mansions of Yesteryear
Woah! Can you believe the corner of St. Marks Place and Second Avenue once looked like this?
Our survey of the history of every single building in the East Village has turned up photos of some of the mansions that once lined Second Avenue – the neighborhood's prime residential thoroughfare in the first half of the 19th century.

Though most famous as a hotspot for counterculture, St. Marks Place was one of the most elite streets in the entire city when it was first built up in the 1830s by developer Thomas E. Davis. Davis built this mansion at the corner of Second Avenue in 1836. It was purchased a decade later by Eugene Keteltas, and remained in the Keteltas family for the rest of its life. Eugene's daughter Alice was its last resident; she lived there for 70 years before moving to Fifth Avenue & 79th street in 1912. That same year, a permit was filed to replace the mansion with a movie theater. Newspaper articles claim that the before its destruction, the mansion was the last remaining grand private dwelling in the neighborhood, and the final holdout from Second Avenue's original glory days.
The 1912 building that housed the theater still stands today:
Here's a view of the mansion from Second Avenue:
And along St. Mark's Place, as it was being demolished:
Just up the Avenue was another beautiful mansion. At the northwest corner of East 11th Street stood the Rutherford mansion, built for Peter Gerard Stuyvesant in 1845. Stuyvesant died unexpectedly only two years later, after which the home was given to Stuyvesant Rutherford (son of the renowned scientist Dr. Lewis Morris Rutherford) on the grounds that his name be changed to Rutherford Stuyvesant (is was). Rutherford then deeded the house to his father, who built an observatory in the yard from which he took his groundbreaking photographs of the sun, moon & stars.
In 1885, the house was converted to apartments, and in 1915 was acquired by St. Mark's Hospital. It was finally replaced in 1935 with the six-story apartment building that stands on the site today.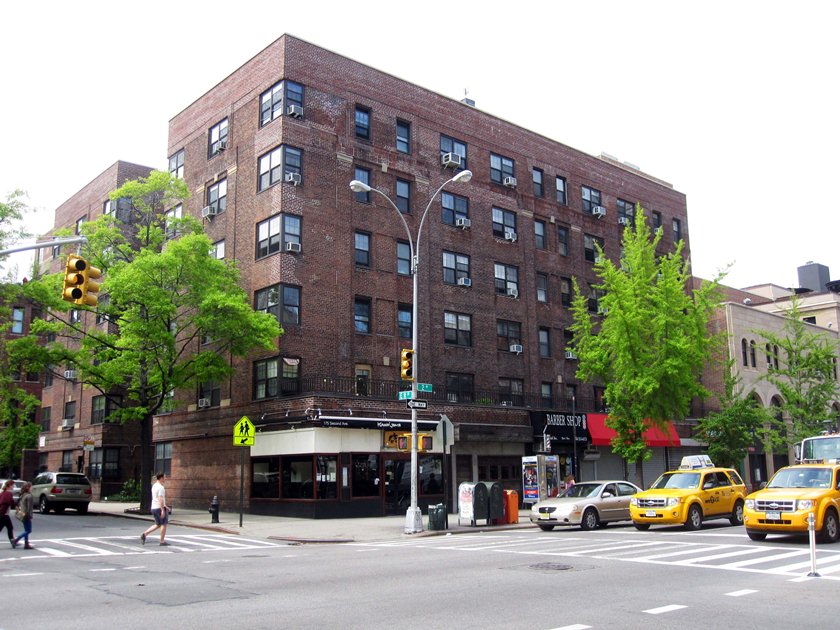 Which takes us to the third and final mansion we'll visit in this post. On the east side of Second Avenue between 9th & 10th Streets stood the Ransom House, which a 1937 New Yorker article claimed was occupied by relatives of the Astors.
The mansion later became Cafe Boulevard, a famed Hungarian restaurant and chess room. In 1900, the New York Times proclaimed Second Avenue from Houston to East 10th Street "The Hungarian Broadway" for the sheer preponderance of Hungarian restaurants to be found there.
It was finally sold and demolished in 1915, and replaced with the apartment building that occupies the site today and houses Chase Bank (formerly the Second Avenue Deli).
If you're interested in learning more about our work in the East Village, visit our East Village Preservation page!