← Back
Another Chase? Don't Bank On It
We were – to put it calmly – a tad bothered when we read recently on EV Grieve that 160 Second Avenue (corner of East 10th Street), the former home of Cafe Centosette, would house a Chase Bank/Starbucks combination package. Since the cafe's closing last April, we had been holding out hope that whatever replaced it would honor not only the architectural integrity of this building, but the neighborhood's history as a center of small business.
Well, all hope is not lost. Having learned that the sign on the storefront is a hoax, we are relieved that Chase has no plans (at least, of which we're aware) to give this storefront its standard, formulaic architectural treatment. Indeed, much of the exterior of 160 Second Avenue has survived since its construction in 1892. The upper stories are laced with carved ornamentation and that rounded cornice is a lovely defining feature. While the existing storefront is not original to the building, it at least respects the building's historic character and has continuously fostered beloved neighborhood small businesses.
As we breathe a sigh of relief, let's visit the site…

Yes, as can be seen vividly in the reflection, there is indeed a Chase Bank right across the street.
Let's see this from a better vantage point:
Standing next to the storefront, one can see both a Chase Bank AND a Starbucks right on the next block.
Our investigation into this hoax is obviously not the first time we've realized that this portion of the East Village – once a hotbed of local businesses – has become over-saturated with chains. GVSHP's offices are just around the corner, on East 11th Street, and we walk along this stretch of Second Avenue daily. We are more than a little familiar with way banks and other chains have taken over many of the corners.
Take, for example, the Capital One Bank on the SW corner of East 10th Street:
The Starbucks on the opposite corner of the same block: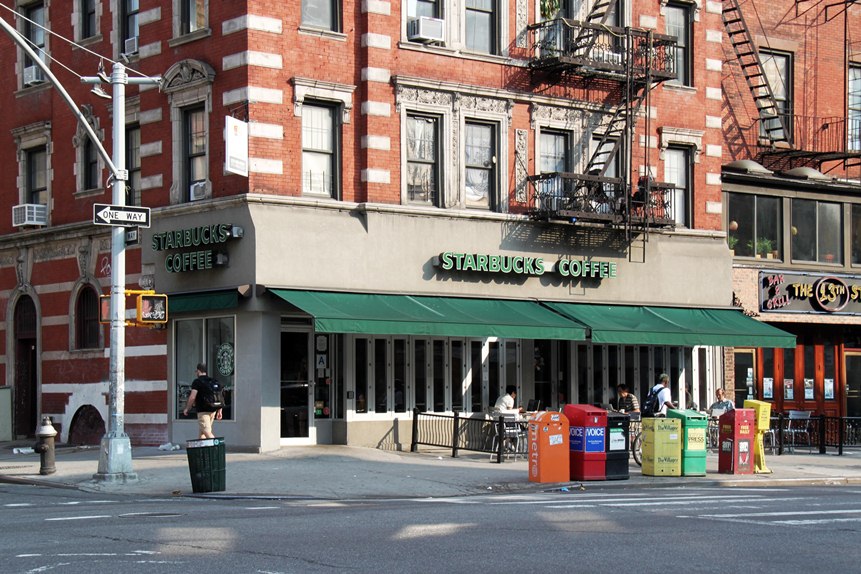 The HSBC just across the street from the Starbucks:
And – believe it or not – another Chase Bank, on the SE corner of St. Mark's Place:
If a Chase/Starbucks combo HAD opened at 160 Second Avenue, it would have meant that three of the four corners at the intersection of East 10th Street and Second Avenue would have been occupied by banks. Consider this in stark contrast to the fourth corner, on which sits St. Mark's Church-in-the-Bowery, one of the oldest buildings in the entire neighborhood. We are happy to know that this new Chase opening is not actually happening, but even the fact that two of the four corners house banks is enough to make us cringe.
We know a thing or two about 160 Second Avenue, because we've done research on the history of every building in the entire East Village. But here's an odd twist. Looking closely at a 1928 photo of the site, we noticed a curious thing…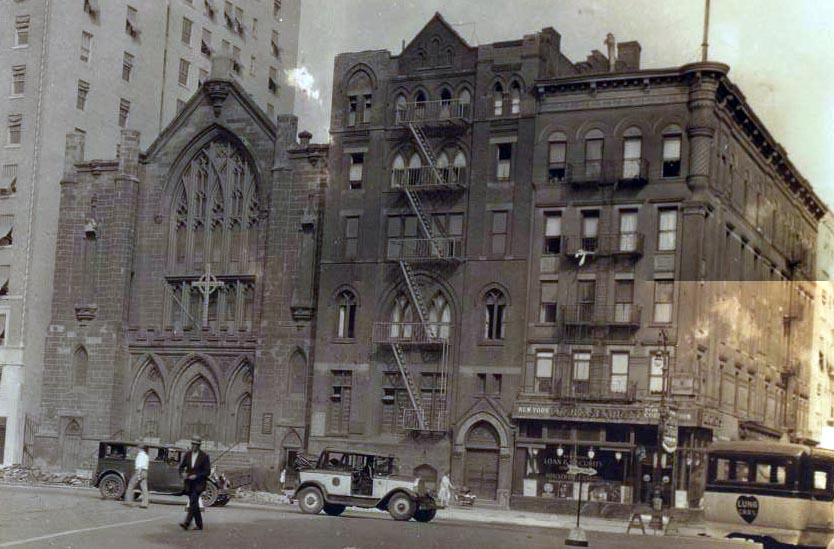 Zooming in, one can clearly make out lettering that reads "New York Loan and Security Corporation." Could this building actually have housed a bank in 1928? The New York Loan and Security Corporation dissolved in 1938, according to the New York Times. And it did indeed occupy this space at least into the 1930s.
Pretty ironic and even a little funny, though it hardly would make us support another bank's move to this location. Banks are certainly needed neighborhood amenities, and historically have always been a part of New York. But no one can deny that there are a disproportionate number of them in the Village and in many other neighborhoods in the city today, especially on corner buildings, which are considered prime real estate. Unless the city does something to protect beloved small businesses, global corporations such as these will continue to buy up the most desirable locations and turn them into dead spaces that in no way relate to the color and unique character of our individual neighborhoods. GVSHP is working to ensure that our neighborhoods maintain the small businesses that are such a rich and healthy part of their make-up.
While we await news of what will actually move into 160 Second Avenue, we ask: What would YOU like to see there?