← Back
Time to Celebrate the Twins
The first weekend every August, thousands of twins from across North America will descend upon Twinsburg, Ohio for the annual Twins Festival.
Not to be outdone, New York is full of twins as well, and not just of the flesh and blood variety.  Our city's architectural landscape has been dotted with notable twins for most of its existence, from the solemnly memorialized twin towers of the World Trade Center, to the twin towered apartment buildings of Central Park West which remain among the most cherished elements of New York's skyline.
The Village and East Village have their share of noteworthy twins as well — some picture-postcard famous, others more obscure but just as interesting in their histories and appearances.  Since unlike human twins, twins of the brick and mortar variety cannot so easily congregate in one place for celebration and recognition, we thought we'd use the occasion of this weekend's festival to assemble and tip our hats to some of the Village and East Village's most notable architectural twins.
Starting in the west and moving east, our first pair of twins is probably the most most famous and perhaps the most iconic in the Village — the twin houses at 39 and 41 Commerce Street.  The bend in Commerce Street and its dead-ending onto Barrow Street provides a particularly charming setting for this pair (sometimes actually referred to as "the Twins"), which look as though they belong on a back-alley in Paris.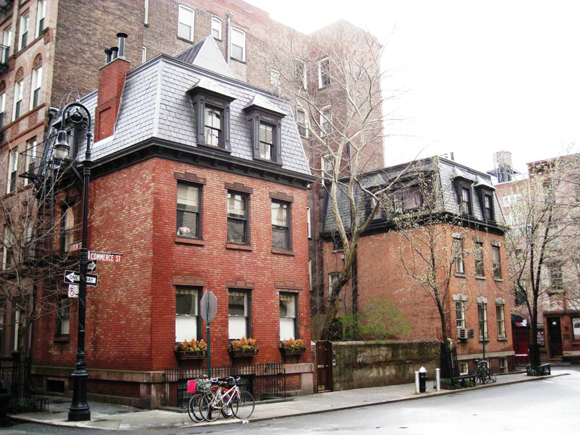 The feature of the houses which most frequently inspires admiration is the generous garden between them, which then raises the questions as to why these houses have such open space when this is such a rare commodity in the densely built up city.  In fact, an urban legend of sorts developed around this, the myth being that the houses were built by a wealthy sailor for his two feuding daughters, who refused to share a home.  In reality, according to the designation report for the Greenwich Village Historic District (always available for perusal through GVSHP's "Resources" webpage), the houses were built in 1831-32 in the federal style for Peter Huyler, a milkman.  A more likely explanation for the large garden is simply that in the early 19th century when these houses were built, having open space around houses was actually not uncommon.  Most such spaces have simply been built upon in the intervening time (for some examples, read our post on the narrowest houses in the Village), whereas these, miraculously, kept theirs.
The houses have also somewhat miraculously kept much of their original appearance, save for the French-style mansard roofs which were added in the 1870's.  Other than that the houses remain pretty true to their original form, at least on the exterior (some of you got to see the interior of #41, which has of course changed over the years, on our 2004 Annual Benefit House Tour). 39 and 41 Commerce Street have been featured in many a picture postcard view of the Village, and even achieved their 15 minutes of MTV fame (well, more like 15 seconds actually) in a 1984 Tina Turner music video.
Our next set of charming twins can be found in the South Village at 130 and132 MacDougal Street.  According to GVSHP's research on the South Village these houses were built as a pair sometime between 1845 and 1852, and reflect the then-fashionable Greek Revival style with an unusual iron veranda over the entrance still intact.  While noteworthy simply for their age and architecture, No. 130 is perhaps best known as the one-time home of Bronson Alcott, father of Louisa May Alcott.  Some literature claims that she lived there briefly while writing "Little Women,"while some Alcott scholars dispute that claim vociferously.
Built jointly in the mid-19th century, the buildings have been owned by NYU since the early 1980's.  NYU demolished several neighboring structures on 3rd Street to build D'Agostino Hall in 1986, but kept these to house students.  The houses were considered for individual landmark status by the City in 1966 but were never designated; they were part of GVSHP's proposed South Village Historic District, and were designated as part of "Phase II" in 2013.  These two lovely houses are in the undesignated portion, and thus could be demolished by NYU, or any other owner, at any time (NYU of course not exactly being shy about demolishing historic buildings in the neighborhood).
Lest you think that all our architectural twins are houses, our next pair are Old Law Tenements just around the corner at 116 and 100 West 3rd Street, at the corners of MacDougal and Sullivan Streets, respectively.  100 west 3rd is painted a sharply contrasting brown and yellow, while 116 is all a sandy beige.
This, along with the fact that these two buildings are actually a block apart, might throw you off the track of recognizing them as twins (apparently architectural twins, like their human brethren, sometimes dress differently to distinguish themselves).
But according to the original building files unearthed by GVSHP as part of our South Village research, both are an impressive 95 feet long (on 100 feet long lots — thus with only 5 foot side yards!) and only 25 feet wide, and are each 7 stories tall with no elevators (as tenement house laws got more restrictive and required builders to provide more light and air — and thus build on smaller percentages of their lots — tenements tended to get taller and taller, to make up for the lost income-producing space).
They were built in late 1900/early 1901 by owner Leopold Kaufmann, and designed by architects Schneider and Herter.  While both were designed in what could generally be called a Beaux-Arts style, they also sport some Romanesque details such as rounded arched windows with braided columns, along with carved cherub's faces and basket-shaped iron fire escape balconies.
As for why the developer and architect chose to design and build twin buildings at the northwest corners of MacDougal and Sullivan Streets along West 3rd, there does not seem to be a clear explanation.   Were they trying to create a monumental entrance to the South Village like Bernini did at the Piazza del Popolo in Rome?  The neo-classical details on the tenements and the Italian-American character of the neighborhood at the turn of the last century make this a tempting, but nevertheless improbable, explanation.  In spite of the lavish details on the exterior of these buildings, they were in fact built to house poor immigrants as cheaply as possible, in a neighborhood which had been largely taken over by the poor and working class. Monumental gestures were therefore not likely.
A more likely explanation would be that, as per architectural historian Andrew Dolkart's report commissioned by GVSHP about the South Village, tenement house architects often picked ornament from catalouges and merely used features which were mass-produced and available.  In this case, when faced with two lots of the same size, the developer and architect may have simply decided that it was cheaper and easier to build the same design for both.   They may have been in a hurry as well — the Tenement House Act of 1901 (or the "New Law") took effect just before these buildings went up, requiring a provision of light and air and other amenities for residents of new buildings which might have made the current designs impossible and likely made the developments more expensive (in fact, as described in prior posts, there was a huge rush to build tenements before the 1901 law took effect, thus making 1900 and 1901 among the busiest years for residential construction in New York City).
While 100 and 116 west 3rd Street may be architectural twins above the ground floor, their ground-floor commercial tenants certainly distinguish them.  Since 1927, 116 West 3rd Street has been the home to Cafe Reggio, known as the first coffee house in America and the place where cappuccino was first introduced in this country (and a 2010 GVSHP Village Award recipient). 100 West 3rd, on the other hand, may now be best known as the home to the Peanut Butter & Co. , with it's all-peanut butter menu.
Our final pair of twins could actually be considered quadruplets, or perhaps more accurately two sets of conjoined twins.  122-126 St. Mark's Place and 115-119 St. Mark's Place in the East Village are identical sets of new law tenements on either side of St. Mark's Place just west of Avenue A and Tompkins Square Park.  According to GVSHP's East Village research, they were built by Harris and Ely Maran of 235 Henry Street in 1903-04 .  Each is actually two mirror image buildings with separate entrances and a shared party wall.  All are designed in a robust Beaux-Arts style, with very pronounced Ionic columns and entablatures around the 2nd and 3rd floor windows, elaborate stone trim, and rich red brick set to look like layers of marble on the top floor.
As at 100 and 116 West 3rd Street, the reason why the buildings were built in identical style and form is a bit of a mystery, though the explanation of expediency and economy of scale may be a reasonable guess here as well.  What makes this set of twins just a little more mysterious than its West 3rd Street counterparts, however, is the fact that while Department of Buildings records show the architects of 115-119 St. Mark's Place to be Horenburger & Straub, prolific Lower East Side tenement house architects, the Office for Metropolitan History actually lists Trowbridge & Livingston, architects better known for high-profile Wall Street and Fifth Avenue commissions, as the architects for 122-126 St. Mark's Place.
If true, this would in essence make these twins with different parents.  How these identical twins ended up with two different sets of architects credited for their designs defies easy explanation, though it's always possible that the records indicating the architect in this case are incorrect.
Regardless of their pedigree, these two sets of twins form a striking mirror image at the eastern end of St. Mark's Place, and have likely inspired more than one double-take over the years.