← Back
Happy 20th Anniversary, Blue Man Group!
Twenty years ago today, on November 17th, 1991, Blue Man Group "Tubes" opened at NoHo's own Astor Place Theatre, where the group continues to dazzle audiences to this day. Happy Anniversary to one of our favorite things in the Village!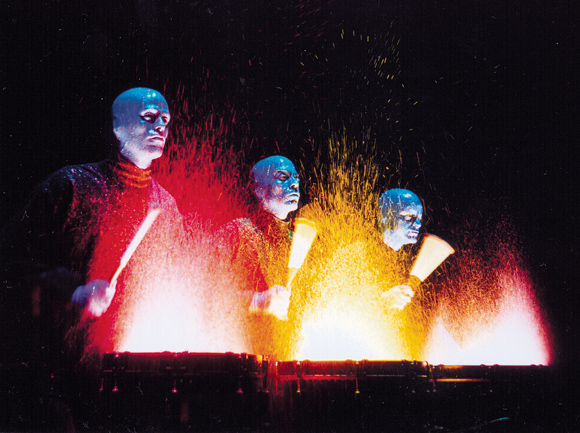 Blue Man Group was the creation of Matt Goldman, Phil Stanton and Chris Wink, who "went blue" around 1998 but did not have an official home until the opening of "Tubes." According to the NY Times' original review of the show, the three men formed the group out of a frustration for the cultural climate of the 80s; they yearned for the collaborative creative spirit of the 60s. Says the review, "they were looking for 'this wonderful bistro salon scene, where all the beat poets would have congregated . . . the heir to Warhol's Factory, the heir to the Algonquin Round Table, the Left Bank, all would fuse together.'" And where better to do this than the Village?
The Astor Place Theatre – housed in the magnificent landmarked 1831 Collonade Row – itself opened in 1968. Today the theatre is owned by Blue Man Group. Though the Village served as a breeding ground for many off-Broadway theatres just like this, the collection is disappearing at an alarming rate (recently, it was announced that MacDougal Street's Manhattan Theatre Source, home of the beloved Greenwich Village Follies, will be the latest to close its doors). The Provincetown Playhouse, Circle in the Square, and the Sullivan Street Playhouse have all recently been lost. We are holding out hope the Astor Place Theatre and the Blue Men stick around for many anniversaries to come.