← Back
Before Stonewall: The "Sip In" at Julius'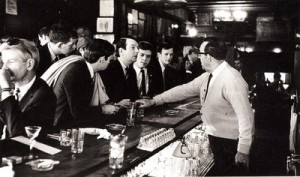 GVSHP recently received an inquiry from a researcher looking for information about the historic 1966 "Sip In" that took place at the bar Julius'. This seminal protest, which challenged the regulation that bars were not allowed to serve homosexuals, took place three years before the historic Stonewall Rebellion. While there are many resources for those looking into the LGBT history of the West Village, there is no published information on the Sip In that took place at Julius's. So we turned to Tom Bernardin, the unofficial historian of Julius' Bar, who directed us to some reliable sources.
The story goes that members of the New York City Mattachine Society, a national gay rights organization taking inspiration from the civil rights sit-ins of the South, decided to challenge the regulation that prohibited bars from servings gay clients. With reporters in tow, four activists declared they were gay and asked to be served at Julius'. While Julius' was a historically gay bar, they had recently been raided, which meant they were under observation. Their denial of service helped launch a court case, which declared that the New York State Liquor Authority could not stop service to gay patrons.
While there are no published books dedicated to the history of the Sip In, fortunately there are several online resources, including an interview with Dick Leitsch, a Sip-In participant. There are also a number of online summaries of the event, including one on the Bowery Boys blog and the Daytonian in Manhattan blog.
Want to take a closer look? Julius' is still open for business at West 10th Street and Waverly Place and welcomes all to its historic bar. If you see him on your visit, Tom will gladly give you a detailed history of the historic watering hole. Want more information about LBGT history in the Village? Check out GVSHP's resource page on the topic or this recent Off the Grid post.