When you've been living in, working in, and researching the East Village for many years you sometimes start to think you know it all. But then there are moments when you're casually walking down the street, look up, and see something you have never before noticed and know nothing about (this is the beauty of such an eclectic and historically rich neighborhood), which is exactly what happened to me the other day on the corner of East 11th Street and 1st Avenue. I noticed a secondary street sign that read "Jodie Lane Place."
When I got back to the office I went straight to Google and learned that Jodie Lane was a woman who lived in the East Village until her life took a tragic turn on the southwest corner of 11th Street and 1st Avenue.
Jodie Lane came from Texas to New York in 1994 when she attended Sarah Lawrence College. Ten years later she was living with her longtime boyfriend and their two dogs in the East Village on 12th Street. She applied to Columbia University's Teachers College for her master's and Ph.D. work in the Clinical Psychology program, and was one of eight accepted into the program out of two hundred applicants. Just before Spring classes commenced, on January 16, 2004, Jodie was walking her dogs paid a visit to Veniero's, one of her favorite spots. Upon exiting, her dogs began to act erratically, biting each other and barking uncontrollably. Jodie called for help and bent down to help the dogs when she was fatally electrocuted. Both she and her dogs had received an electric shock from a metal Con Edison junction box installed in the sidewalk that had shorted, sending out stray voltage.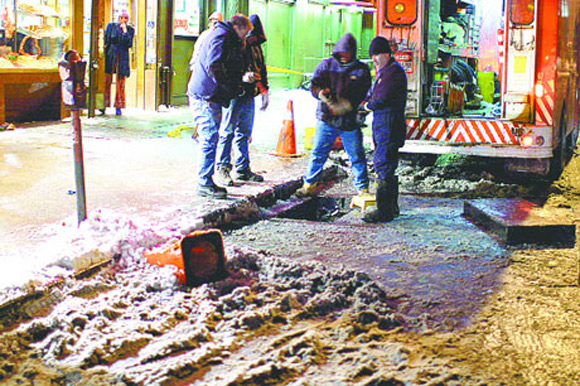 The event shocked people all over the City- it could have happened to anyone. A Con Ed spokesman at the time, noted that in the winter, when salt has been put on the street and slush seeps into the junction boxes, shorts can occur. Such a comment led many to believe that the incident could have been prevented had Con Ed taken stricter safety measures. This belief piloted the creation of the Jodie S. Lane Public Safety Foundation, a "non-profit, 501(c)(3) organization with a mission to improve pedestrian safety and prevent people and pets from being electrocuted, shocked or injured as a result of stray voltage. As part of the settlement reached with Con Edison, the Lane family, and in turn the Jodie S. Lane Public Safety Foundation, has access to Con Edison's database of all stray voltage detected throughout New York City. This data has been instrumental in the Foundation's advocacy. All of the information and analysis on this site, along with the recommendations for improving public safety, are derived from this data."
The foundation reports:
In struggling to make sense of this tragedy, Jodie's family determined three objectives they wanted to achieve in her memory:
A monetary settlement with Con Edison, the power utility responsible for Jodie's death;
A scholarship in Jodie's name, as she was pursuing her PhD in clinical psychology;
Improved public safety in New York City, Jodie's home and the city she adored.
According to a Villager article, "Although no lawsuit was filed, Con Ed and Lane's family reached a $7.2 million settlement. As part of the settlement, Con Ed will donate $1 million over the next four years to Columbia University for clinical psychology studies. Also, two experts — one picked by Roger Lane [Jodie's father], one by Con Ed — will regularly review the utility's progress in increasing safety of its street fixtures and report back to the Jodie Lane Safety Foundation. The family also received a cash settlement."
Jodie's fiance, Alex Wilbourne, wanted to memorialize Jodie in another way as well. He took to the streets with a clipboard in hand, gathering almost 3,000 petition signatures to have the block renamed for his late fiance. Family and friends all noted that Jodie loved New York City, especially the East Village, and Wilbourne felt that "dedicating the street in her name would irrevocably weave her into the fabric of the city and the neighborhood she adored." In May of 2005, Wilbourne's dream came true when the new street sign for Jodie Lane Place was revealed. The Villager described his journey:
He said when he'd gone before Community Board 3 — by chance on her birthday — to make his pitch for their support for the street co-naming, he realized it was an "unorthodox naming." Jodie Lane wasn't the sort of person who usually gets a street sign: she wasn't a hero in the usual sense — like a police officer or firefighter who fell in the line of duty — or a poet or a musician. But the outpouring of support was tremendous.
Unorthodox, maybe, but an important way to keep the memory of Jodie Lane alive, to remind the public of the tragedy which took place at that spot, and to help further the cause of making the City a safer and better place. It certainly raised my awareness, and hopefully this post will in some small way continue to do that.