← Back
Walking East 3rd Street: Tenement Synagogues & Jewish Life
Walking East 3rd Street is a collaboration between GVSHP and the students in NYU's Fall 2012 Intro to Public History course. Each pair of students was tasked with researching the cultural history of one particular block of East 3rd Street and sharing with us something fascinating they discovered along the way. All posts in the series are written by students.
The second post in the series, by Yonni Walker, Mary Corcoran and Alyssa Anderson, focuses on East 3rd Street between 1st & 2nd Avenues.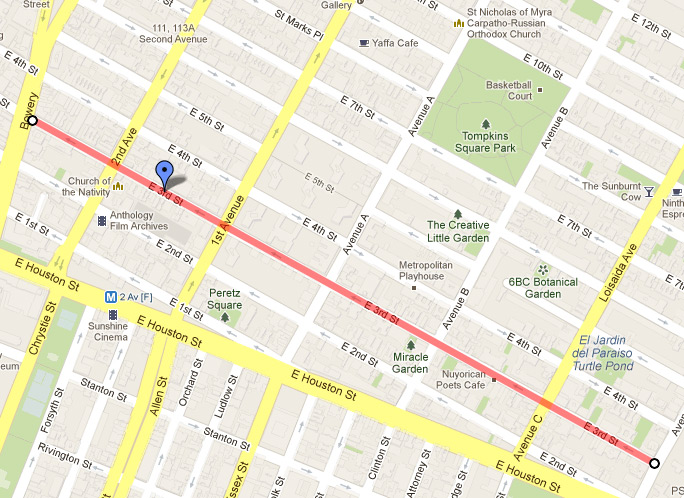 Our block is the slice of East 3rd Street located between First and Second Avenues. And while our first round of research did not uncover the murder mysteries or landmark riots we had hoped our block might have hosted, we did stumble upon a synagogue that had once existed at 65 East 3rd Street. Part of the structure's allure rested in its lack of documentation. With our two grainy images of the synagogue and a couple official papers regarding the building's multiple conversions from a tenement-to-synagogue, and then subsequent conversion back to tenement, we set off running.
The tenement synagogue phenomenon was the product of several factors. Before emigrating, much of Eastern Europe's Jewish population had been forced to live in social and political isolation, a situation they responded to by organizing their own internal community structure, termed "kehillah," in which the rabbi served as leader of the shtetl, handling both religious and secular matters. Once in America, many of these Jewish immigrants sought to recreate the strong communities that they had formed in Europe. The mass emigration of Eastern European Jews to the United States is estimated at 2.2 million people in total between 1880 and 1920. When kehillah is capitalized, it refers specifically to the New York Kehillah, which speaks to the magnitude of Eastern European Jewish influence on the settlement of the Lower East Side.
Within newly organized ethnic communities, the New Americans developed hundreds of landsmanshaftn for social and philanthropic purposes. Landsmanshaftn were organizations first organized around shared origins in Europe, but over time, their missions grew varied. By the turn of the 20th century, the majority of landsmanshaftn again redefined their identities in order to reflect more assimilationist desires than their elders.
Throughout the late 19th and early 20th centuries, depending on their means, societies and associated congregations sometimes rented spaces as small as single rooms in tenement apartments or in wedding halls. They worshipped wherever they could, and often, single houses of worship were home to multiple societies. Occasionally, larger congregations were able to purchase entire tenement buildings for conversion into synagogues, which gave rise to a Lower East Side phenomenon known as the "tenement synagogue."
The tenement synagogue at 65 East 3rd Street was in operation throughout much of the 20th century. And though we ultimately could not verify when the building was originally constructed, records show that the structure was sold in 1907, and then altered from a tenement to a synagogue in 1908 by Otto Reissman, a then well-known architect on the Lower East Side. Of the many congregations who undoubtedly moved in and out of the synagogue during its tenure, we were able to uncover information about two of them: Kochob Jacob Anshe Kamenitz de Lite and Beth Haknesseth und Chevra Chochmath Adam M'Plinsk.
Beth Haknesseth und Chevra Chochmath Adam M'Plinsk (Synagogue and Association of Chochmath Adam of Plinsk, Poland) was a congregation of Polish immigrants who studied the writings of Rabbi Avraham Danzig. Danzig was a dayan, or judge in a rabbinic court. Sometime before 1812, he was asked by European Torah authorities to produce a work that would summarize all the laws in the Yoreh De'ah section of the Shulchan Aruch, or the Code of Jewish Law, which was originally authored in 1563. Originally composed as a digest, Chochmat Adam or, "The Wisdom of Man," along with another digest, Chayei Adam, were widely popular, and chevros, or associations, were formed throughout Europe devoted to the study of either Chochmat Adam (laws of kashrut or Jewish dietary laws) or Chayei Adam (which studied laws of daily conduct, prayer, Sabbath, and holidays). We suspect that the founding members of this congregation were likely members of a Chevros Chochmat Adam in Poland who wanted to continue their association following immigration to New York. By the 1940s, this congregation had changed its name to simply Wisdom of Man of Plinsk, further evidence of Anglicization.
Kochob Jacob Anshe Kamenitz de Lite(Star of Jacob, People of Kamenitz, Lithuania) also worshipped at this synagogue. Little is known about the life of the congregants in New York, but there was a legendary yeshiva in Kaminetz that came to be known as one of the greatest Torah centers in all of Jewish society in pre-war Lithuania. By 1926, however, the congregants had moved to a newly constructed synagogue located at 108 East 1st Street.
In more contemporary history, as of 1999, the 3.5 story synagogue was sold and torn down to make way for luxury condos comprised of 4 stories with a 5th story penthouse. Not all tenement synagogues have faced the same fate, but very few remain in existence today. The need for such multi-use spaces declined as the 20th century wore on and the Jewish population of the Lower East Side dispersed. This decline in Jewish life is most often attributed to the opening of the Williamsburg Bridge in 1903, which allowed for the overflowing population to spill into Brooklyn, where affordable housing was more widely available. Other contributing factors include the expansion of the subway further into Brooklyn, and the Immigration Act of 1924, which effectively drove Jewish immigration to a full halt.
During our research, we came to believe that nearby Congregation Mezritch Synagogue, located at 415 East 6th Street, was the last functioning tenement synagogue on the Lower East Side, but our understanding of the phenomenon was challenged and enhanced by one community member in the audience who was able to correct an early inaccuracy on our part: Congregation Mezritch Synagogue is in fact joined on the very brief list of functioning tenement synagogues by The Stanton Street Shul. And while it looks like tenement synagogues may be heading for extinction, they remain an integral part in the memory and identity of the Lower East Side.