← Back
Today in History: Remembering the Triangle Shirtwaist Factory Fire
On March 25, 1911, at approximately 4:40 PM, a fire broke out at the Triangle Shirtwaist Factory at the corner of Greene Street and Washington Place, just east of Washington Square Park. One hundred and forty-six women and men, mostly recent Jewish and Italian immigrants, many under the age of 20, died in the fire. The fire was a pivotal moment in the nation's history, informing workplace fire and safety laws, labor policy and laws, uplifting the labor movement, and even influencing building codes.
While the building—currently owned by New York University and known as the Brown Building—was able to withstand the fire, almost all manners of egress from the building were faulty. Fire trucks arrived, but their ladders only reached the 6th floor, while the fire burned on the 8th, 9th, and 10th floors. Workers who tried to exit through the fire escape fell to their deaths when it collapsed. On the 9th floor, a critical exit in the stairway was locked. People on the street watched as the workers began to jump out the windows. The elevators ran as long as they could as workers pressed into the cars; some tumbled down the elevator shaft.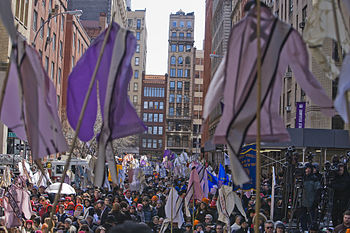 The company's owners, Max Blanck and Isaac Harris, who survived the fire by fleeing to the building's roof when the fire began, were indicted on charges of first- and second-degree manslaughter for locking the door. They were found not guilty. Memorials took place across the city, including many at Our Lady of Pompeii Church. The Committee on Public Safety was formed in New York City, headed by a young Frances Perkins, and State resources were devoted to strengthening public safety laws.
There are many resources devoted to learning the history of the fire.  GVSHP's webpage with lots of helpful links and information about the fire and it's impact can be found here.  GVSHP supported having the building designated an individual New York City landmark, and you can access the designation report here. GVSHP's Civil Rights and Social Justice Map, which includes the site and its role in labor and social justice history, is here, and the many entries on our blog about this historic event can be found here.
The Kheel Center at Cornell University also houses interviews of survivors and witnesses and a transcript of the trial. The Remember the Triangle Fire Coalition also has many resources on its website, including an open archive of memorial objects, a list of names, and a calendar of events and activities.