← Back
The Artist: Anthony F. Dumas and His Theater Drawings
An amazing resource that we have featured here and there on Off the Grid is the theater drawings of Anthony F. Dumas. From the Jewish Rialto along lower Second Avenue to the little gems hidden in the nooks and crannies of the Village's quirky streets, Dumas seemingly covered it all.
And while many of these theaters are familiar to us, the name Anthony F. Dumas is not, at least to most of us.
So who was Anthony Dumas?
Actually not much is known about Mr. Dumas, though he was a prolific artist of theaters not only in our neighborhoods, but throughout the five boroughs, the state, the country, and even the world. One look through his impressive portfolio on the websites of the Museum of the City of New York (MCNY) and the Library of Congress shows that he would probably be a handy teammate to have on your side during theater trivia night.
What we can piece together about Anthony Francois Dumas is that he was born in St. Etienne, France in 1882 and immigrated to the United States two years later with his parents. By the turn of the century, the family moved from Passaic, New Jersey to an apartment at 105 West 98th Street on the Upper West Side; Dumas' love of drawing extended to his meticulous recreation of the building's elevation and floor plan.
Later, Dumas and his wife Marie lived in the Bronx and he was drafted into the army during World War I and World War II. He died in 1943 at home in the Bronx, according to the MCNY. His trade was listed as "ornamental plaster."
The collection of the MCNY runs from c. 1916 to 1942, which is about the same time period as the one from the Library of Congress. We're not sure where he was trained, but he sure was a natural, wasn't he? The 1940 U.S. Census indicates that his formal education stopped after high school and that he was working for the government.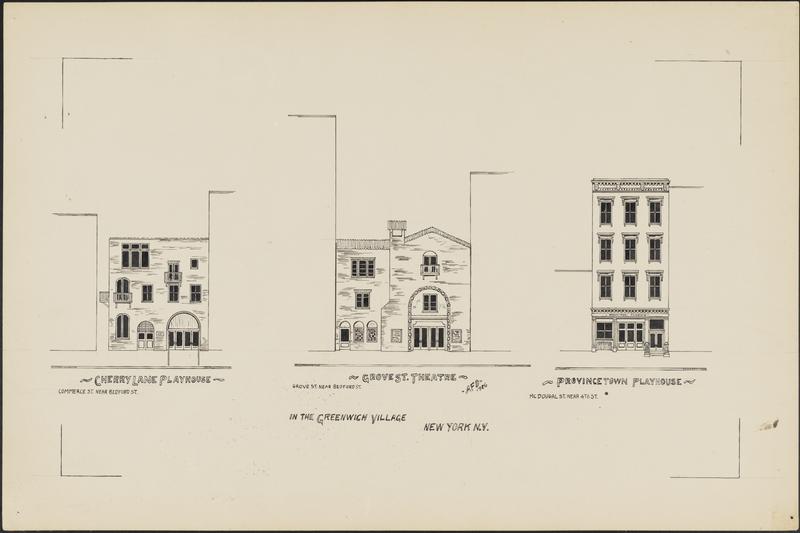 As you can see, his pen and ink drawings are of incredible value to us. Not only can we see what existing buildings looked like in the pre-World War II years, but we can also catch a glimpse of theaters that no longer stand. According to the Theatre Historical Society of America, Dumas either drew these buildings as they were or he used photographs to help document already-demolished ones.
The three venues above "in the Greenwich Village" show the Cherry Lane Playhouse, the Grove Street Theatre (no longer here, but quite close to the apartment building used on "Friends"), and the sadly destroyed Provincetown Playhouse.
And how about this mighty theater that served as the gateway to Second Avenue's Jewish Rialto? It's hard to imagine when you look at this area now, but you couldn't blink without seeing a theater here 100 years ago. I was lucky enough to work on hand drawings in architecture school before the switch to AutoCAD, and I'd like to think that Mr. Dumas enjoyed switching between different pen weights to get just the right depth and texture for a building like this.
If you're interested in seeing what pieces of the Jewish Rialto do remain in this area, you might want to check out the designation report for the East Village/Lower East Side Historic District available on our Resources page.
And a final Dumas drawing we'll feature here today is of the Yiddish Arts Theater, which is just around the corner from the GVSHP office. It also happens to be a New York City Landmark for both its exterior and interior. Learn more about this rare survivor of the Jewish Rialto by looking through its designation report, once again available on our Resources page.
So while there is still some mystery about the life and work of Anthony F. Dumas, it is certainly fitting that a quick internet search will typically include "artist" next to his name. That he certainly was, and this isn't the last you've seen of his work! We look forward to uncovering the history of more theaters like we did with last week's Loew's Avenue B, so thoughtfully drawn by Mr. Dumas.