On October 1, 1998, Charlie Zito passed away after years of baking bread on Bleecker Street, in the heart of the South Village. There is nothing like the aroma of fresh-baked bread, and when Zito's Bakery was making bread, I remember that aroma on Bleecker Street – because sometimes it would stop me in my tracks! If your timing was good you could get the bread when it was still warm, fresh out of the oven.
The little storefront of A. Zito & Sons at 259 Bleecker Street, between 7th Avenue South and Carmine Street, had a front window filled with loaves of Zito's famous bread. To the right was the front door, just a little step up. Once inside, there were some shelves on the wall to the right and the main counter to the left. Behind the counter was bread heaven. I used to like the whole wheat loaf, with its crunchy crust but light inside. Sometimes I would get the focaccia, which was really rich.
It was Charlie's father Antonio who relocated the family bakery from Sullivan Street to Bleecker Street in 1924. Charlie and his brothers and sisters worked there when they were children. In later years, Charlie's brothers Julius and Jimmy managed the business, and Charlie worked in the storefront, and was the public face of the bakery. He was on a first-name basis with Ed Koch and Frank Sinatra. Charlie would even accept packages for neighbors who couldn't be home to sign for them, and he even kept spare keys for some neighbors in case they got locked out!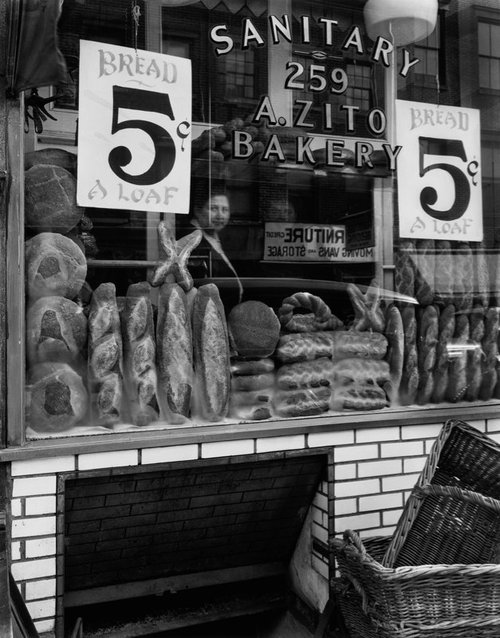 As other bakeries in the neighborhood closed, Zito's remained strong. They continued to bake bread the old-fashioned way, in a coal-burning oven in the basement. I remember seeing early morning sacks of flour being delivered, sitting on palettes on the sidewalk, then being sent down the wooden chute into the basement.
After Charlie died, his nephew Anthony ran A. Zito & Sons Bakery until 2004. But things had changed. Rents went up, the price of coal went up, and the number of loyal customers went down. Low-carbs fads like the Atkin's Diet didn't help. After 80 years, Anthony had to close the doors for good.
I remember that day and the long line of people waiting for one last loaf of Zito's bread. The space is now occupied by Pizza Roma, who kept much of the original interior from Zito's, but they are temporarily closed for renovation.