← Back
My Favorite Things: Greenwich Village To Day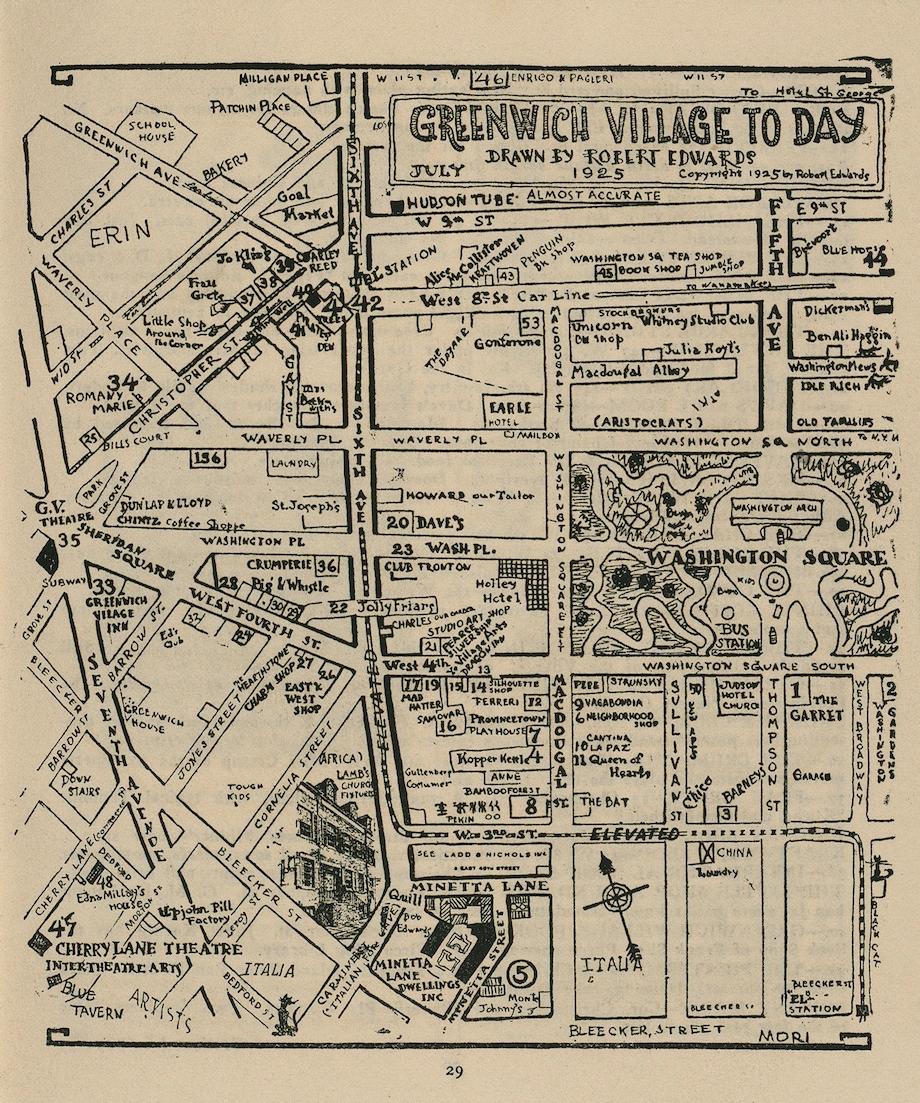 Geography has never been my forte. I've been lost more times than I can count while holding a perfectly good map in my hand. (See the past post: My Favorite Things: The Corner of West 4th and West 10th Streets for more on the subject of getting lost in Greenwich Village.) So it has to be a special map indeed to be included as one of my favorite things. This map, published by Quill magazine in 1925, allows us a closer look at Bohemian Greenwich Village.
The map was drawn by Robert Edwards, publisher of Quill, a magazine founded in 1917 that highlighted the art, culture, and theater of the neighborhood. The map highlights the businesses, institutions, and cafes and restaurants of the West Village in 1925. A few even remain today. Mr. Edwards notes at the top of the map that is "almost accurate." While the map's inaccuracies may be a turn-off to the more cartographical, to me, it makes the map more endearing. I have always found my way by landmarks, and this map has plenty to mark your way.
Perhaps my favorite part of this map is the tongue-in-cheek breakdown of the Village into "ethnic neighborhoods." "Erin," the Irish section of the neighborhood, is located west of 6th Avenue and north of Christopher. "Italia," where Italians made their home, is located south of West 3rd and running along Bleecker Street. The African-American section, or "Africa," is situated along Cornelia, the Minettas, and Bleecker Streets. "Old Families," "Aristocrats," and the "Idle Rich" live along Washington Square North. The map declares that "Artists" live south of Bleecker Street along Leroy and Morton and that the Village had "Tough Kids" hanging out on the corner of Bleecker and Cornelia Street.
And despite knowing that the extension of 6th Avenue in 1925 cut through Bleecker, Downing, and Carmine Streets, this map really allows me to imagine what it looked like before. Perhaps, seeing that Mr. Edwards shows the location of the Quill office right along the path, this map might have been prompted by the imminent change coming to the streetscape. Whatever the impetus, this map is one of my favorite things.
Map via the Harry Ransom Center's on-line exhibit on the Greenwich Village Bookstore and Slate.com.