← Back
Community Cornerstone: Little Red School House-Elisabeth Irwin High School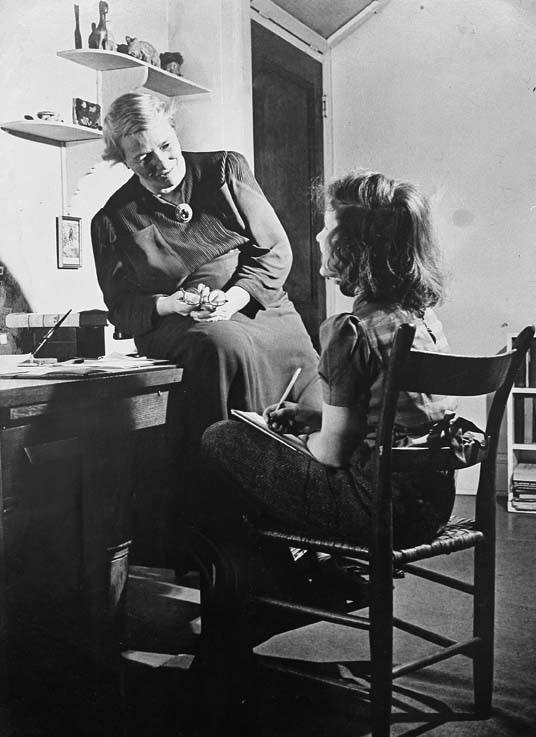 In 2012, GVSHP spotlighted the work of Little Red School House/Elisabeth Irwin High School on Off the Grid as part of our tribute to the winners of the 2012 Village Awards. The school was recognized for their "service as a trailblazer of progressive education for children of diverse backgrounds" and their commitment to "fostering true inquiry and learning." Since we have been exploring some of the institutions that have such strong educational and artistic roots in the Village in our Community Cornerstone series, we thought we would take another look at Little Red. As an added bonus, Little Red is also located in the neighborhood's newest historic district, the South Village. You can read more about the history of the building in the designation report.
Over ninety years ago, educator, psychologist, and reformer Elisabeth Irwin founded the Little Red School House, a program with an experimental curriculum in the annex of PS 61 in the Village. While the school has grown over the years—it is now an independent school offering a 14-year experience for students—Little Red continues its progressive curriculum of social justice, active citizenship, and community service.
Elisabeth Irwin began her career as a reformer in the settlement house movement of the Lower East Side. There, she experienced first-hand the overcrowding in New York City's public schools and began her lifelong career reforming education. She began the pilot program that would become Little Red in 1921, changing both the layout of the classroom as well as the rote curriculum of the day. She emphasized the importance of play and the cultivation of the imagination. There were no recitations or textbooks, no report cards or corporal punishment. Students explored the community around them on frequent field trips, and expressed themselves through storytelling, writing, painting, block building, singing, dancing, and performing. In essence, at Little Red, students learn by doing: both then and now.
Budget cuts forced the closure of Little Red as a public school during the Great Depression, but parents and reformers raised funds to reopen Little Red as a private institution. Eleanor Roosevelt was an outspoken supporter of Irwin and the school and served on the Board of Advisors for decades. In 1941, the school expanded to include a high school, which opened on Charlton Street and expanded again in 2010 with the purchase of a neighboring townhouse.
The school has remained committed to its origins of public service, serving a diverse student population at a reasonable cost. Today, approximately 30% of attendees receive financial aid. LREI was founded on—and continues to promote—the ideals of reform and progressivism, ideals that speak to and build upon the larger history of the Village. And we are proud to call them a Community Cornerstone.
Enjoy this series? Past Community Cornerstone posts can be found here.